Back to the blog
How You Can Gift Memories, Not Things with Multi-Activity Vouchers
November 1st, 2023
Activity vouchers offer a unique way to create lasting memories and meaningful experiences that stand out in a world cluttered with material possessions. Nowadays, there's a growing sentiment that the most cherished gifts aren't things you can wrap in fancy paper and tie with a bow. Instead, it's the moments, the experiences, and the memories that we hold close to our hearts. In this fast-paced life, where time seems to slip through our fingers, gifting experiences has emerged as a meaningful way to show your loved ones just how much they mean to you. And there's no better way to do it than with Activitygift, where the art of gifting memories and experiences comes to life.
Why You Should Gift Experiences Over Things
If you value sharing unique experiences with your loved ones more than giving material things then you've come to the right place. With our gift vouchers for activities, you can give a unique experience to your loved one in a fun, flexible and easy way. Do you know someone with an undeniable lust for life? That's constantly travelling to a new place? Then our multi-activity vouchers are the present for them.
How do Activity Vouchers work?
Our activity gift vouchers are not your average gift card; they're a gateway to over 50,000:
incredible tours
mesmerising sightseeing excursions
thrilling sports activities
and captivating theatre and music events.
I bet you can already picture yourself (or a loved one) diving into the vibrant energy of bustling cities, discovering hidden gems, and immersing yourself in the rich culture of a dream travel destination. With an Activitygift voucher, you have the freedom to choose from over 680 destinations across more than 160 countries. The possibilities really are endless!
A Last-Minute Gift Idea for Every Occasion
Not only does a multi-activity gift voucher unlock thousands of unique experiences in countries across the globe, but it's also the perfect last-minute gift idea that suits every occasion. From:
An activity gift voucher can truly do it all. Personalise your Activitygift with a photo and message to add a sentimental touch to your gift and even email it directly to them! It's perfect if you're scrambling for something last-minute but special.
Take the Stress Out of Gift Giving with Activity Vouchers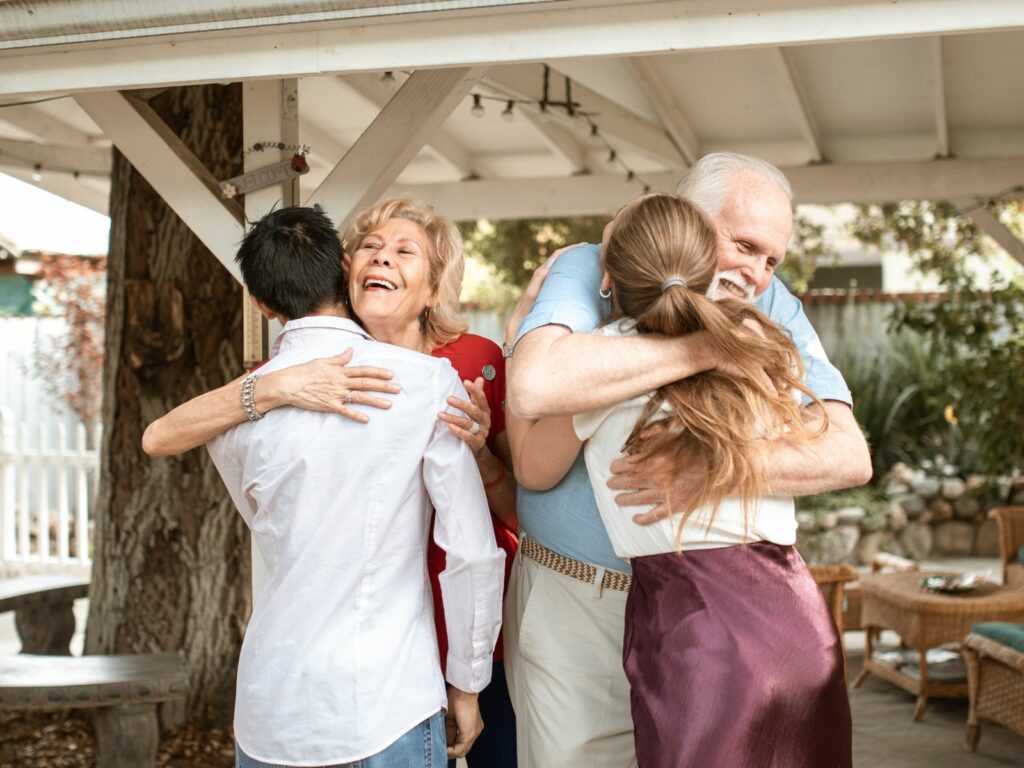 Finding the perfect gift can be stressful, but with our activity vouchers, the process becomes effortless. These activity vouchers offer a thoughtful and tailored way to show you care about your loved ones' interests and passions, all while eliminating the stress of decision-making. Unlike your average gift, there's no need to worry about size, colour, or fit with activity vouchers, as you give your recipient the freedom to choose exactly how to use their gift voucher. They're also the perfect solution for last-minute gifting, as they can be purchased and personalised online in just a few clicks. Additionally, by choosing activity vouchers, you're making an eco-friendly choice that aligns with sustainability trends thanks to our partnership with Eden Reforestation Projects.
Affordable Activity Vouchers to Suit Every Budget
We doesn't just cater to every interest, but to every budget too. Our experience gift cards start from just £25, meaning you'll be able to find a wide range of activities that will leave your special someone beaming with joy without breaking the bank.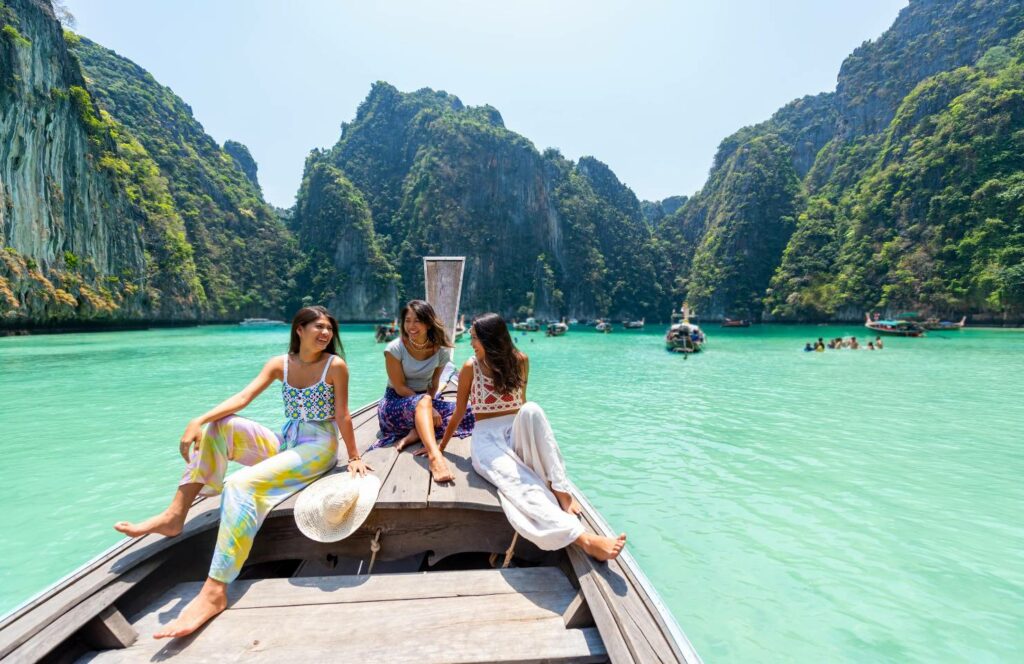 How do I buy an Activity Voucher?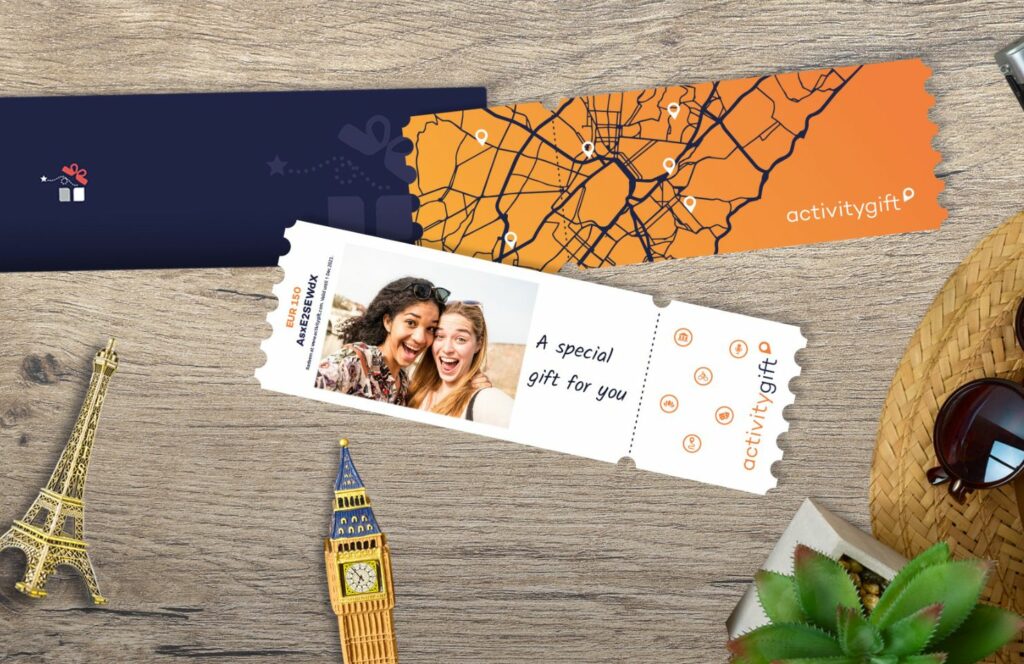 Now, let's dive into the exciting ways you can personalise your activity voucher. Just like Hotelgift and Flightgift, an activity gift voucher can be given in three different formats:
Luxury Rose Gold Physical Gift Card: Imagine the joy on their face as they receive a beautifully designed physical gift card, elegantly crafted in luxurious rose gold. Personalise it with a special photo and personal message and have it delivered straight to their door.
Printable PDF Gift Voucher: Today, convenience is key. With Activitygift's printable PDF option, you can effortlessly customise the experience gift with an image of your choice and a heartfelt message. It will be delivered straight to your inbox within minutes, ready to be printed and presented with love.
Animated eGift: Want to add a touch of magic to your gift? Activitygift offers an animated version of their multi-activity vouchers option that can be customised with an image and easily sent online within minutes.
What Gift Experiences are Available with Activity Gift Vouchers?
Our activity vouchers offer an incredible range of experiences to suit every taste and preference. For the adventurous souls, imagine the thrill of skydiving or a dawn hot air balloon ride. If you're a culture enthusiast, explore renowned galleries and museums with guided tours. Food lovers can indulge in cooking classes, while relaxation seekers can enjoy spa days and wellness retreats.
But it doesn't stop there – Activitygift also caters to those seeking wacky and unique adventures. How about swimming with dolphins, racing supercars on a track, going on a comedy walk in Amsterdam or even taking a ride in a vintage biplane? From wildlife safaris to theme park visits, there's a gift experience for every member of the family.
How do I Redeem an Activity Gift Voucher?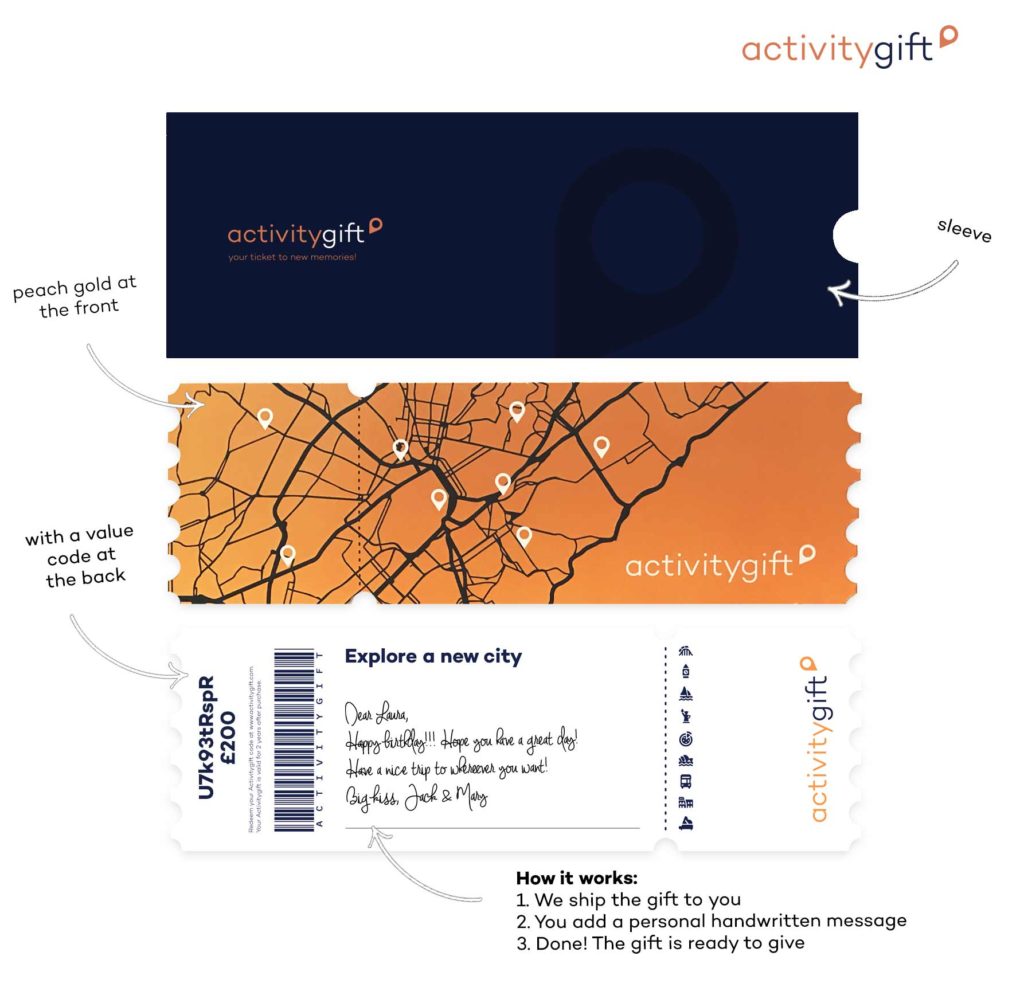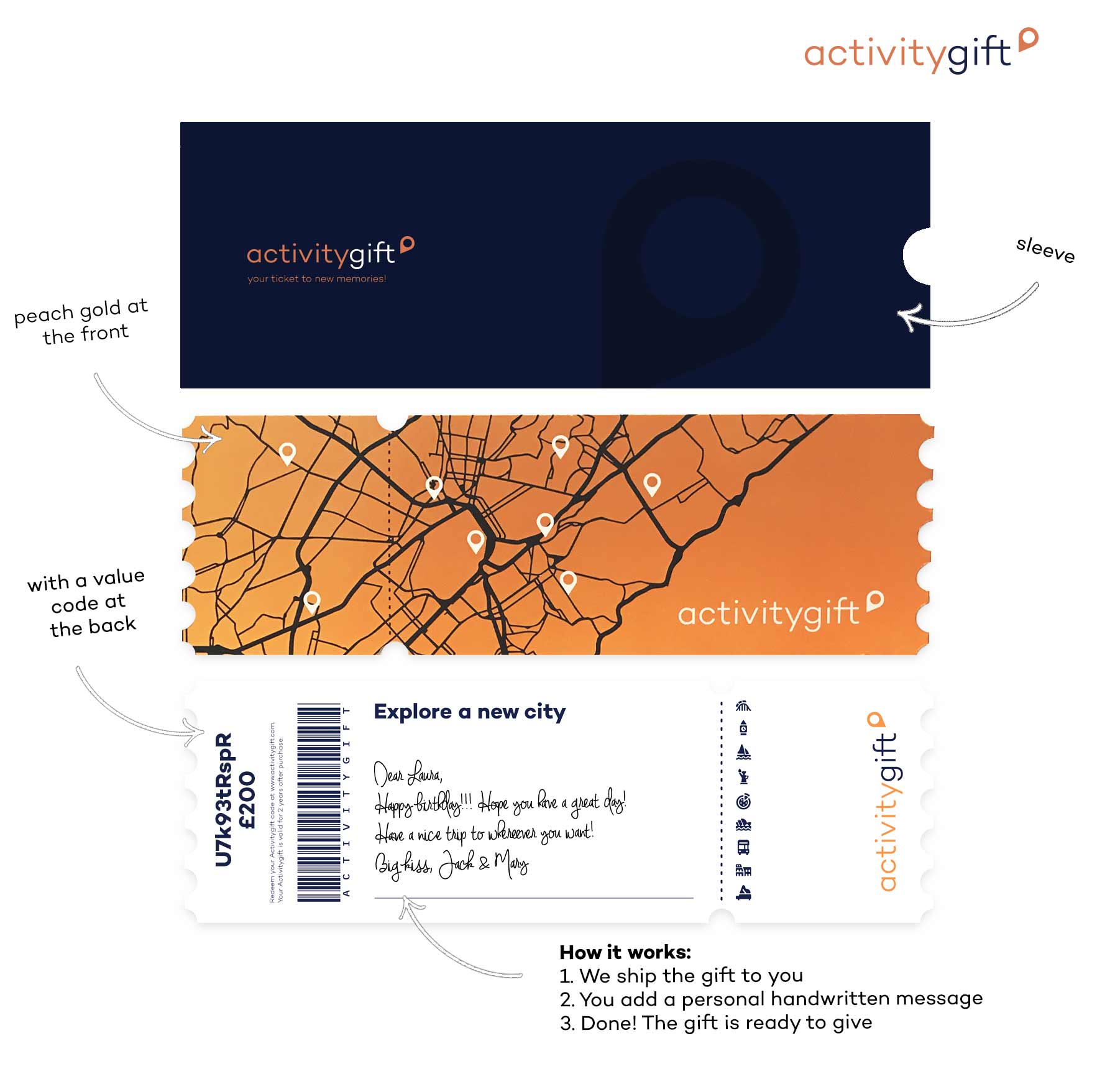 Redeeming one of our activity vouchers couldn't be easier. All you have to do is go to the booking engine and enter your desired destination and dates. You will see a wide range of activities available at your selected location. Filter them by type, depending on how you fancy exploring a new place. Afterwards, simply enter your unique activity voucher code at the checkout. Don't forget to save the date to your calendar so you can look forward to your adventure!
An Activity Gift Card That Keeps on Giving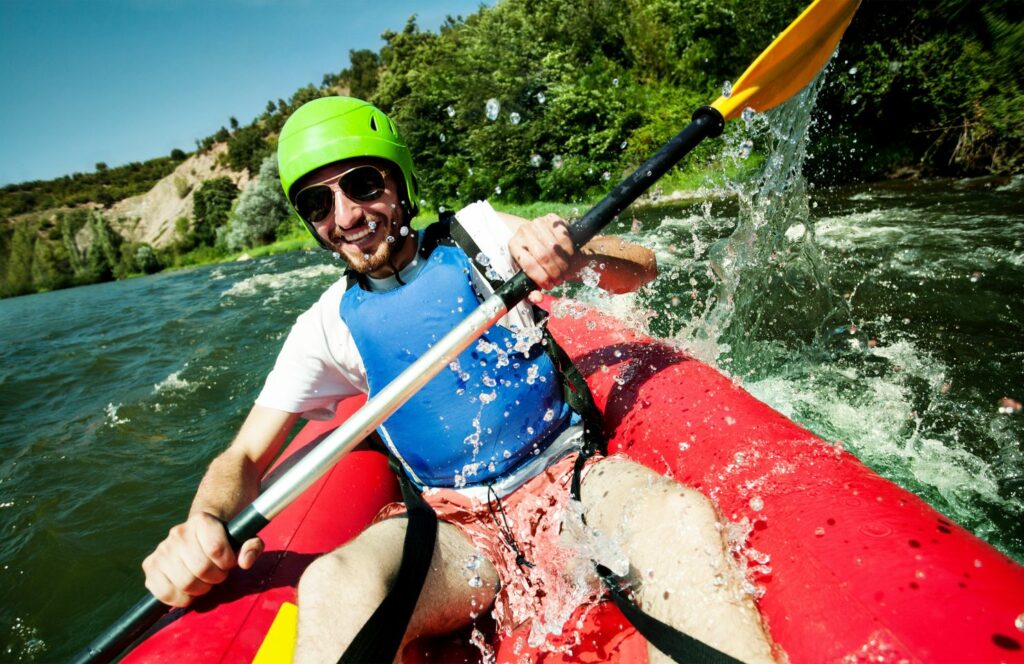 An Activitygift voucher opens the door to a realm of adventure, relaxation, and cultural immersion. Whether you're treating yourself or surprising a loved one, the Activitygift card ensures that memories are made, passions are pursued, and dreams are realised.
How Do I Redeem My Activity Gift Voucher?

If you're lucky enough to receive an Activitygift voucher, head to the Redeem page of our website to view the full list of unique experiences. Don't have your mind set on anything specific yet? We know, there's so much choice it can be tricky! Luckily, your activity gift card is valid for 24 months after purchase so you have plenty of time to decide.
Personalised Activity Vouchers that Go the Extra Mile
So, whether you're planning on buying an activity gift or have been lucky enough to be given one, we hope you've been blown away by the flexibility this mighty activity voucher offers. And if you have any questions at all, the customer service team is available 24/7, so you can be assured a seamless experience.