Back to the blog
The 10 Most Popular Manchester Experiences
November 16th, 2023
Manchester, a city pulsating with vibrant culture and a rich industrial history, has evolved into a top-notch destination for tourists seeking unforgettable and quintessential Manchester experiences. This dynamic city in the heart of England is celebrated for its legendary music scene, historical landmarks, and diverse gift experiences that cater to all types of adventure-seekers. Whether you're a football fanatic, an art aficionado, a foodie, or simply looking for a good time, Manchester has it all.
In this blog, we'll dive into the vibrant vibe of Manchester, highlighting what makes it a must-visit destination, before unveiling our 10 most popular Manchester experiences that you can unlock with our experience vouchers that are sure to make your visit to Manny truly memorable.
Why you should add Manchester to your travel bucket list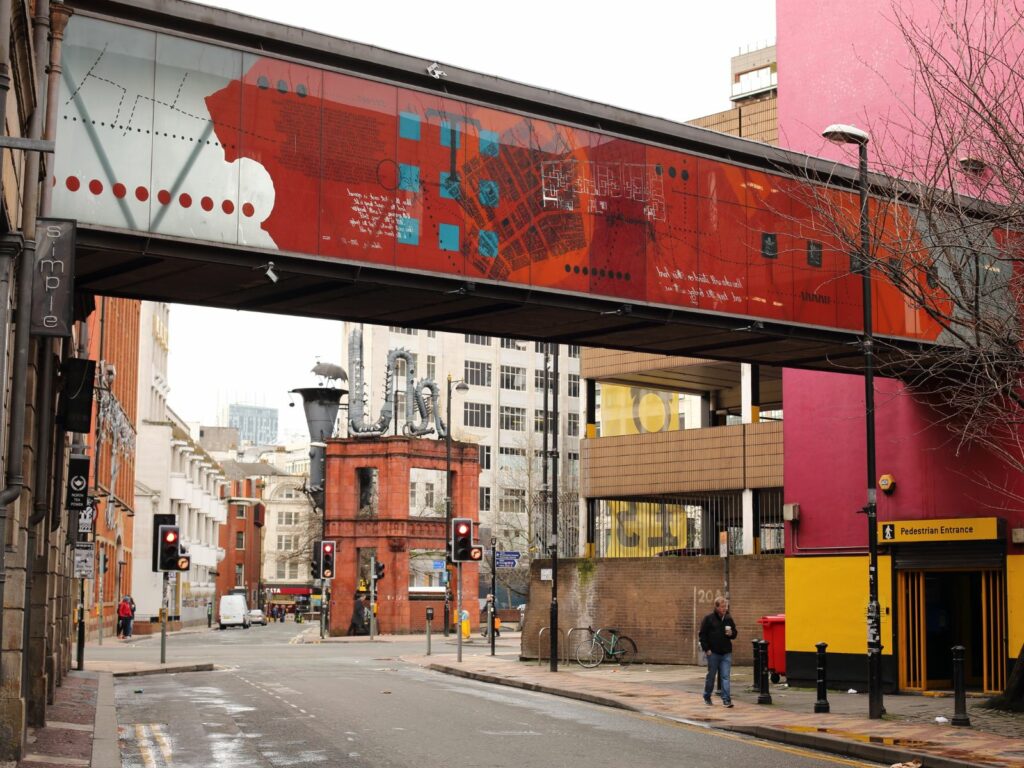 Manchester is a city that effortlessly blends its industrial heritage with a modern, cosmopolitan atmosphere. It's a place where the past meets the present, creating a unique and lively ambience for tourists.
Here are just some of the reasons why Manchester is one of the best UK travel destinations:
The Birthplace of the Industrial Revolution: Manchester played a pivotal role in the Industrial Revolution, and its rich industrial history is evident in the beautifully preserved mills and warehouses that dot the city.
World-Class Sports: Football fanatics flock to Manchester for its two iconic football clubs, Manchester United and Manchester City. The rivalry between these clubs is legendary, making a visit to their stadiums a thrilling experience.
Music Mecca: Manchester is synonymous with legendary bands like The Smiths, Oasis, and Joy Division. The city's live music scene is thriving, with numerous venues offering diverse musical experiences.
Art and Culture: The city boasts a wealth of art galleries, including the Manchester Art Gallery and the Whitworth, where you can explore everything from classical art to contemporary exhibitions.
Buzzing Food Scene: Manchester's food scene is a true reflection of its multiculturalism. From traditional British fare to international cuisine, the city offers a delectable array of dining options.
Now that we've convinced you to head to Manchester for your next UK staycation, let's dive into the 10 most popular Manchester gift experiences redeemable with our gift vouchers for experiences.
Our 10 Most Popular Manchester Experiences
1. The Manchester City Guided Stadium Tour
First on our list of the most popular Manchester experiences is a Manchester City guided stadium tour. On this Manchester gift experience, you can feel the heart of Manchester's football passion with a 75-minute Etihad Stadium tour. Your adventure begins at Entrance M, where a pro guide greets you warmly. Explore exclusive areas not open to the public, like the home team dressing room for a selfie with your favourite player's shirt. Walk the iconic tunnel, experience the dugouts from the manager's seat, and engage in a virtual press conference with Pep Guardiola.
2. Manchester Music Scene Tour

Next up is a Manchester music scene tour. Embark on a musical adventure through Manchester, guided by a passionate local music lover. In a city where live music reigns supreme, recently earning the title of the UK's best city for live shows, you'll delve into Manchester's soulful music culture. Explore iconic venues like the Free Trade Hall, known for hosting the infamous Sex Pistols gig and gracing The Smiths' album covers. Descend into a unique subterranean bar, once a public bathroom, that unexpectedly inspired an Elbow song, a testament to Manchester's creative spirit. Conclude your journey in the Northern Quarter at Piccadilly Records, where you can sift through an impressive collection of vinyl records. If you're a music lover, you can't afford to miss this Manchester gift experience.
3. Silent Disco
This one's for the movers and shakers! Our 3rd most popular Manchester experience is a silent disco.
Get ready for the most exhilarating, uproarious hour of your life in the heart of Manchester! Join this unique, award-winning, five-star tour that transforms the iconic streets of the Manchester into a roaming, rhythmic riot like no other.
With super hi-tech headphones, you'll groove to a musical journey spanning the decades, from banging old-school classics to today's chart-toppers, all while singing like you do in the shower and dancing like you do at home. Your team of groovy guides and a hysterical host will keep you laughing and moving throughout this unforgettable Manchester experience.
4. Manchester Food and Craft Beer Tour

The Mancunians love their beer, so it's only right that you embrace tradition on this Manchester food and craft beer tour. Your local guide will lead you on a delicious adventure, introducing you to local breweries, traditional pubs, food trucks, and bustling markets. Along the way, indulge in samples of local brews, trendy cocktails, street food, and hearty pub meals.
Manchester's food culture shines brightly during this tour, as you explore over 30 independent breweries to discover the art of beer-making and savuor various beer samples. The trendy Northern Quarter invites you to taste global flavours with food samples from around the world, offered by local food trucks.
5. Football Walking Tour
Another one for the footie fans, this Manchester gift experience is a football walking tour around the city. Dive deep into Manchester's football history on this guided tour. Discover where the Football League was born in 1888 and explore Manchester City's former Maine Road grounds. Visit either Manchester United or Manchester City stadium (admission not included) and soak in the iconic atmosphere. Enjoy a pint at the famous Maine Road pub or pass by Old Trafford, where the echoes of "glory, glory Man United" linger. Don't miss the National Football Museum to wrap up your football adventure. Book now and experience Manchester's football legacy firsthand!
6. Ghosts of Manchester Haunting stories Exploration Game
Are you on a tour of the most haunted places in the UK? Then you can't miss this top Manchester experience which includes solving spooky clues as you explore this historic city. It's a unique and interactive way to get to know another side of Manchester.
7. Romantic Guided Walking Tour

This Manchester gift experience is for the lovebirds. Although Manchester doesn't seem like the most UK romantic destination, you would actually be surprised! Redeem your experience gift voucher on this romantic walking tour around Manchester and fall more and more in love. You'll be taken past iconic Manchester attractions like the Manchester Cathedral, the Museum of Science and the very instagrammable Piccadilly Gardens.
8. Guided Cheese Crawl

For all the cheese enthusiasts out there, this Manchester experience is an absolute must! Embark on a delicious cheese adventure across Manchester, where you'll indulge in the city's finest cheese offerings. This guided walking tour will lead you to various cheese-centric locations, allowing you to sample a delectable array of cheese types.
But it's not just about tasting; this experience promises a fun and informative journey. Engage in a cheezy quiz that's bound to tickle your taste buds, and learn fascinating facts about cheese, from its making to its history. Your tour is a veritable cheese paradise, packed with brie-liant flavours and opportunities to share your cheesiest puns, leaving your group chuckling faster than a wheel of Wensleydale.
9. Personalised Manchester Walking Tour

Experience Manchester like never before with this personalised walking tour, where the city becomes your playground, and your local guide transforms into a trusted friend. This tour is all about flexibility, ensuring that your Manchester holiday aligns perfectly with your interests and desires.
In Manchester, art and culture abound, from esteemed institutions like The Lowry to the picturesque canal side scenes. Your expert guides are ready to customise the tour to cater to your specific interests. After booking, the local operator will reach out to you, seeking your input and preferences to craft a tailor-made experience.
Whether you wish to dive into the city's rich cultural heritage, explore its vibrant neighbou rhoods, or discover hidden gems known only to the locals, this tour is your canvas. Your guide will meet you at your accommodation or a central location in Manchester, and the adventure will unfold according to your wishes. lease note that this tour is fully personalised, allowing you to add on extras like attraction tickets, transportation, and dining experiences, all arranged for your convenience. With a maximum group size of eight, you can expect an intimate and immersive gift experience through Manchester's treasures.
10. Family Walking Tour
Last on our list of the 10 most-popular Manchester experiences redeemable with our activity vouchers is a family-friendly walking tour. This exclusive family-friendly walking tour is your ticket to exploring this dynamic city while keeping both kids and adults entertained. The tour is designed with an easy pace, making it suitable for all ages, and it takes you on a leisurely stroll through the city centre. Along the way, you'll discover Manchester's famous cultural and architectural landmarks, and the guide will share fascinating stories and fun facts that are sure to spark curiosity and even a few giggles.
Elevate Your Manchester Trip With Our Experience Gift Vouchers

If you know someone heading to Manchester soon, why not buy an activity gift voucher to elevate their Manchester experience. They'll be able to choose from all of these incredible Manchester gift experiences plus many more! Our experience gift vouchers can also be personalised, come in multiple currencies and are valid for an incredible 2 years. But your loved one doesn't just have to stick to Manchester, our experience gift vouchers can be redeemed on activities in over 160 countries worldwide. Whether they're seeking a soothing spa experience, activities in New York to enjoy with friends or quirky things to do in Dublin, our gift vouchers for experiences have got them covered. And if you or your loved one are planning a tour of the best UK cities, check out our blogs on Inverness, Edinburgh and Glasgow to help inspire your travel itinerary.