Back to the blog
8 Unforgettable Best Friend Experience Gifts
June 22nd, 2023
Looking for the perfect gift for your best friend who's been there for you through thick and thin, is challenging. You've shared countless memories, laughter, and adventures together, strengthening your unbreakable bond. Now, it's time to show her just how much she means to you and make her feel truly special. And what could be better for your go-getter bestie than an experience gift that gives you both the chance to make new memories, laugh until you cry and get a little outside your comfort zone?
We've gathered 8 unique best friend experience gifts from around the UK so that no matter where you're based, you can gift your BFF a birthday unlike any other:
1. Bungee Jumping in Liverpool

Bungee jumping has become increasingly popular in recent years and for good reason. It's an activity that pushes boundaries, encourages a sense of adventure, and provides an exhilarating rush like no other. Liverpool, with its vibrant energy and iconic landmarks, offers the perfect backdrop for this heart-pounding experience. Your best friend will have the opportunity to conquer her fears, embrace the adrenaline, and create a lasting memory that she'll cherish forever. This unique activity will not only provide an adrenaline rush but also symbolise the leaps and bounds you've taken together as best friends, making it the perfect birthday activity.
2. Rum Tasting Experience in London
Rum-tasting experiences have been gaining popularity as people develop a newfound appreciation for the rich and diverse world of rum. From smooth and sweet to bold and spiced, each rum offers a unique flavour profile that tells a story. By treating your best friend to a delightful rum-tasting experience, you're giving her the opportunity to explore this captivating spirit in a fun and educational way. From learning about the production process to understanding the different ageing techniques, she'll unlock the secrets behind the perfect sip. This unique and immersive experience will not only tantalise her taste buds but also deepen her appreciation for the craftsmanship and artistry behind rum-making. It's the perfect best friend's birthday activity because it allows her to indulge in a refined and sophisticated experience while celebrating her special day.
3. Indoor Skydiving in Brighton

Indoor skydiving has been on the rise as a thrilling activity that allows people to experience the exhilaration of free falling without the need for a parachute or jumping from an aeroplane. Brighton, with its vibrant coastal atmosphere, provides the ideal setting for this gravity-defying adventure. Your best friend will soar on a cushion of air, defying gravity and experiencing the pure joy of flight. This unique activity not only offers a thrilling adrenaline rush but also empowers her to conquer her fears and embrace her inner daredevil. It's the perfect best friend birthday activity because it allows her to feel a sense of freedom, liberation, and accomplishment while celebrating her special day in an extraordinary way.
4. Hot Air Balloon Ride in Scotland
Hot air balloon rides have captured the hearts and imaginations of many, making them an increasingly popular activity worldwide. Scotland, with its stunning landscapes and rugged beauty, provides a breathtaking backdrop for this magical experience. Your best friend will soar high above the earth, witnessing panoramic views and revelling in a sense of tranquillity and wonder. This unique activity not only offers a serene escape from the hustle and bustle of everyday life but also provides an opportunity for reflection and connection with nature. It's the perfect best friend birthday activity because it allows her to embrace a sense of awe and create memories that will stay with her forever.
5. Water Zorbing in Cornwall
Water zorbing has gained popularity as a fun-filled activity that combines laughter, thrills, and a splash of excitement. Inside a giant inflatable ball, your best friend will roll and bounce on water, defying gravity and experiencing a unique sensation of weightlessness. This activity guarantees laughter, camaraderie, and unforgettable moments of pure joy. It's the perfect best friend birthday activity because it brings out the inner child in both of you, creating shared memories and bonding over shared laughter.
6.Bungee Jumping in Belfast
Bungee jumping has been captivating the hearts of adventure enthusiasts all over the world, and Belfast offers a thrilling location to take the leap. With breathtaking views of rugged cliffs and scenic landscapes, bungee jumping in Belfast promises an adrenaline-pumping experience like no other. As your best friend plummets towards the earth, she'll feel a rush of excitement and a surge of courage that will make her heart race. This unique activity not only tests her limits but also symbolises the fearlessness and resilience you both share in your friendship. Bungee jumping in Belfast is the perfect best friend birthday activity because it encourages her to embrace the unknown, conquer new heights, and create memories that will forever bond you together.
7.Afternoon Tea in Derby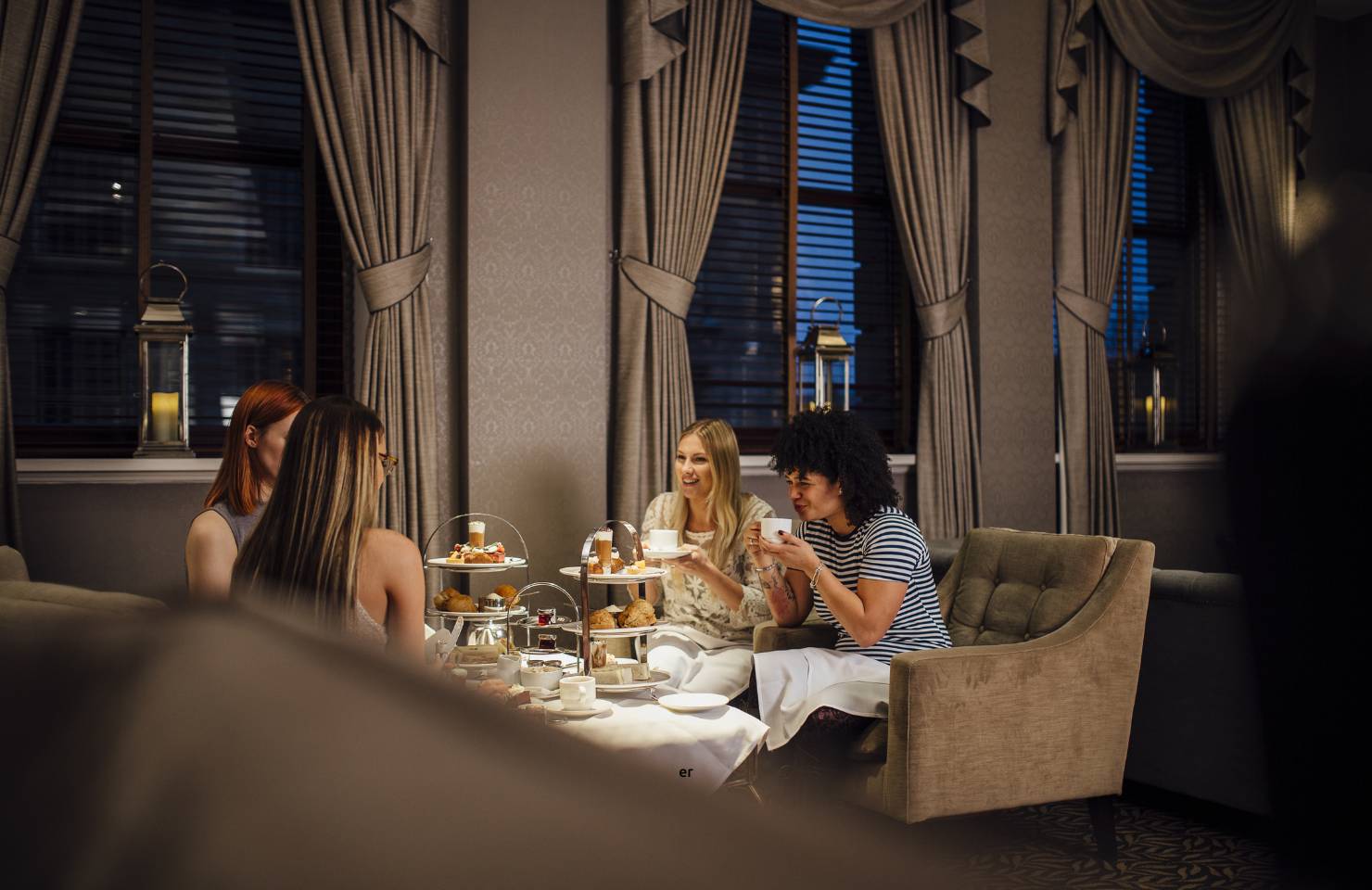 Afternoon tea has become a timeless tradition that combines sophistication, delectable treats, and heartfelt conversations. Derby, with its charming tea rooms and picturesque surroundings, offers the perfect setting for a delightful afternoon tea experience. Your best friend will be treated like royalty as she savours a selection of finely brewed teas, delicate finger sandwiches, freshly baked scones with clotted cream and jam, and an array of delicious pastries and cakes. This unique activity allows her to indulge in the finer things in life while enjoying quality time together. Afternoon tea in Derby is the perfect best friend birthday activity because it combines elegance, relaxation, and the opportunity to create cherished memories over a cup of tea.
8. Helicopter Ride in Glasgow
A helicopter ride over Glasgow presents a remarkable way to see the city from a new perspective and revel in its architectural wonders and natural beauty. As your best friend takes to the skies, she'll witness panoramic views of iconic landmarks, lush green parks, and the winding river Clyde. The exhilaration of floating above the cityscape and the gentle breeze against her face will create a sense of awe and wonder. This unique activity not only offers a thrilling adventure but also provides a chance to appreciate the grandeur of Glasgow from an entirely different vantage point. A helicopter ride in Glasgow is the perfect best friend birthday activity because it allows her to soar to new heights, capture breathtaking photos, and make memories that will forever hold a special place in her heart.
Give Your Bestie the Choice of Thousands of Experience Gifts with our Activity Vouchers
If none of these experiences are to your best friend's liking, don't stress. Just give her one of our activity vouchers. With this special experience gift voucher, she'll have the option to choose from thousands of fun activities she definitely wouldn't have tried otherwise. No matter which experience she chooses, she'll be creating new memories and embracing the joy of trying something a bit different and you're not just giving her a gift, but the opportunity to create new memories and celebrate her special day in a truly unforgettable way.
Plus you can personalise our activity vouchers with a special photo and message, choose from our own funky designs or upload your own! It's super simple and can be done in a matter of clicks. What's more, is that when you choose to send one of our physical activity vouchers, you get free worldwide shipping and they're printed on top quality photo paper that your bestie can display for years to come.
So, go ahead and surprise your best friend with an Activitygift card. Let her choose the adventure that speaks to her soul, and who knows, she might even invite you to join in the fun! Would you rather whisk your BFF away for her birthday? Why not try New York