Back to the blog
How to Gift a UK Chocolate Making Experience
October 10th, 2023
For adults with a penchant for chocolate, there's nothing quite like getting down and dirty in a UK chocolate making experience. The UK boasts a wide array of fun chocolate activities that cater to the tastes and preferences of even the most discerning chocolate connoisseurs. Whether you're visiting Edinburgh, Dublin, London, or other fantastic locations, these experiences are designed to indulge your sweet tooth and offer an educational yet entertaining adventure. Dive into this guide to discover the best chocolate activities in and around the UK, curated especially for adults seeking a delightful chocolate making experience.
The Best UK Chocolate Making Experience
1. Chocolatarium Edinburgh

If you're planning on visiting Edinburgh, make sure to explore the Chocolatarium. If you're thinking of a fun way to spend the day in Edinburgh, this popular chocolate factory specialises in delicious chocolate tours with lots of exciting tastings along the way. Learn about how beans are transformed, and discover fun facts about how chocolate is made. The best part? You'll also have the chance to make your own chocolate bar. Round off the tour by sampling more than 30 varieties of chocolate. Choose from dark chocolate, Japanese chocolate, and even the haggis-infused kind.
2.Butlers Chocolate Experience, Dublin
For a hands-on chocolate making experience in Dublin, don't miss Butlers Chocolate Experience. This renowned venue offers adults the opportunity to immerse themselves in the art of chocolate crafting. Under the guidance of expert chocolatiers, you can create your very own customised chocolate delights. Mould, dip, and decorate chocolates to your heart's content, and explore the secrets behind Butlers' world-famous chocolates. Whether you're making truffles, pralines, or other exquisite chocolate creations, it's an outstanding opportunity for adults to indulge in a creative and delectable adventure in Dublin. Unleash your inner chocolatier and take home your scrumptious masterpieces.
3. Chocolate Craft, London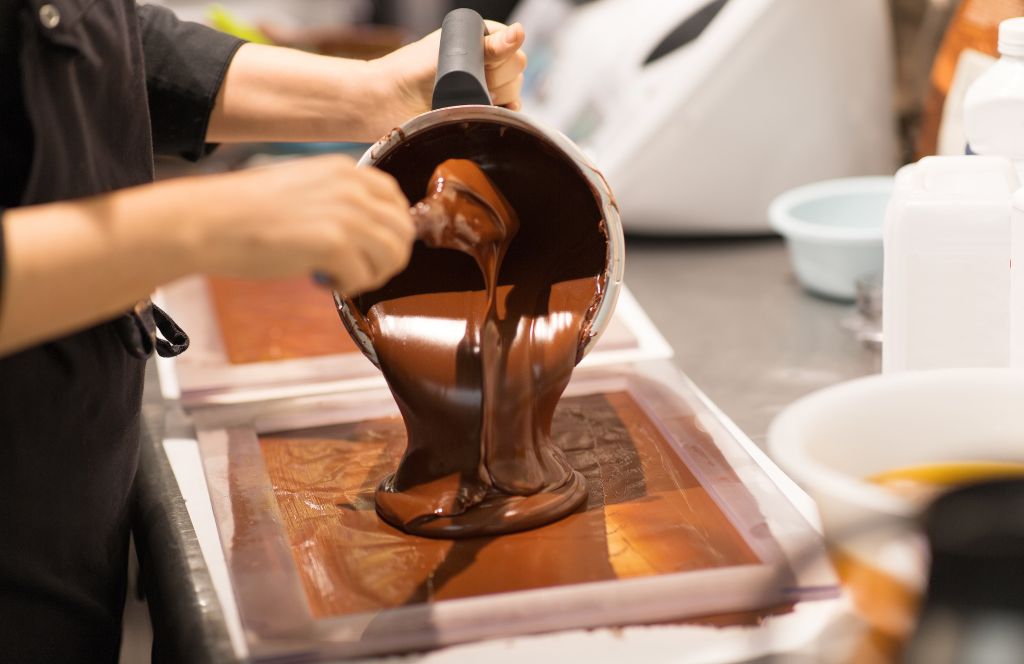 For another delectable chocolate making experience in the heart of London, consider Chocolate Craft. This venue offers a hands-on chocolate making experience for adults. Under the guidance of skilled chocolatiers, you can create your own customised chocolate treats. Craft and decorate delicious chocolates, experiment with various ingredients, and take home your handmade masterpieces. It's the perfect activity for chocolate-loving adults seeking a creative and tasty adventure in the city.
4. York Cocoa Works, York

In the heart of York, tourists can uncover a delightful chocolate experience at the York Cocoa House. Here, chocolate enthusiasts can dive into the art of crafting delectable chocolate creations and learn about the rich heritage of chocolate in this historic city.
Beyond the charming chocolate shop, the Cocoa Academy offers a fascinating glimpse into the world of chocolate. Skilled chocolate makers and chocolatiers work their magic, creating innovative chocolate recipes and new chocolate delights.
Tourists have the opportunity to participate in a range of chocolate workshops designed for different levels of experience and interests. Options include drop-in activities like Chocolate Lollipop and bar making, immersive Chocolate Taster Workshops, and even specialised Chocolate Masterclass Series. For those seeking a comprehensive understanding of chocolate crafting, full-day and weekend Chocolate Courses are also available.
5. The Chocolate Tart, Bristol
Indulge your passion for chocolate at The Chocolate Tart in Bristol. This delightful chocolate school opens its doors to visitors of all ages and offers a variety of workshops, including a 1.5-hour Chocolate Making Workshop and the immersive 4-hour Masterclass Chocolate Making Workshop. Explore the art of tempering, ganache making, and more with the Pro Masterclass One-to-One workshop, or savor a Tutored Chocolate Tasting, taking your taste buds on a journey from bean to bar. Whether you're a chocolate enthusiast or a complete beginner, The Chocolate Tart promises an engaging and immersive experience for all.
6. Mrs. Potts' Chocolate Bar Workshop, Bath

Mrs. Potts' Chocolate Bar Workshop is your golden ticket to a delectable and immersive chocolate adventure. Nestled in the historic heart of Bath, this workshop promises to ignite your inner chocolatier. Whether you're a seasoned pro or a chocolate-making novice, we have a range of workshops tailored just for you. Dive into the 1-hour Chocolate Bar Workshop and, overlooking the Roman Baths, get creative as you handcraft and decorate four delightful Mrs. Potts chocolate bars. While your creations set, indulge in your choice of a Mrs. Potts' treat paired with a delightful beverage. Once your chocolate bars are ready, package them for a memorable souvenir from your time in Bath.
7. Chocolate Collective, Manchester
Chocolate enthusiasts in Manchester, don't miss the opportunity to experience Deluxe Chocolate Truffle-Making Workshops, ideal for individuals, couples, and small groups. These workshops are a delightful blend of education and hands-on fun, led by an experienced chocolatier. Participants will receive an insightful introduction to the world of chocolate, followed by the art of crafting Belgian dark chocolate truffles from scratch, using melted chocolate and cream. With expert guidance, you'll learn the techniques of mixing, piping, shaping, coating, and adding your creative flair to your handmade truffles. Afterward, you'll have the pleasure of elegantly packaging your chocolate creations to take home.
Gift A Chocolate Making Experience with our Activity Gift Vouchers

Ready to share the joy of these fun chocolate activities for adults with your favourite chocolate lover? You can do so by gifting them our activity gift vouchers. These activity gift vouchers allow your loved ones to choose and book their own chocolate making experience, ensuring they have a fun and memorable adventure. Whether it's a chocolate-making workshop in York, a tasting tour in Bristol, a pairing experience in Bath, or a sculpting class in Manchester, they can select the activity that suits their taste.
Or if they're not the biggest chocolate lover, they don't need to stick to chocolate making experiences! They can literally choose from thousands of incredible gift experiences in the UK and abroad. From museum tours, sky-diving experiences to escape rooms, they'll find the activity that excites them the most and be able to book it in just a few clicks via our Redeem page.
So whether you're shopping for a:
Our multi-activity gift vouchers are your one-stop-shop for finding a fun and flexible gift that shows your loved one you care.