Back to the blog
The 14 Best Golf Experience Days
November 16th, 2023
For all the golf fanatics out there, we've compiled a list of our 14 best golf experience days redeemable with our activity gift cards. Get ready to explore a world of fairways, greens, and unforgettable moments that will have you shouting, "Fore!" in excitement. Whether you're a die-hard golf fanatic or on the hunt for the perfect golf gift, prepare to get inspired with our golf experience gift guide.
The 14 Best Golf Experience Days
1. La Estancia Golf Course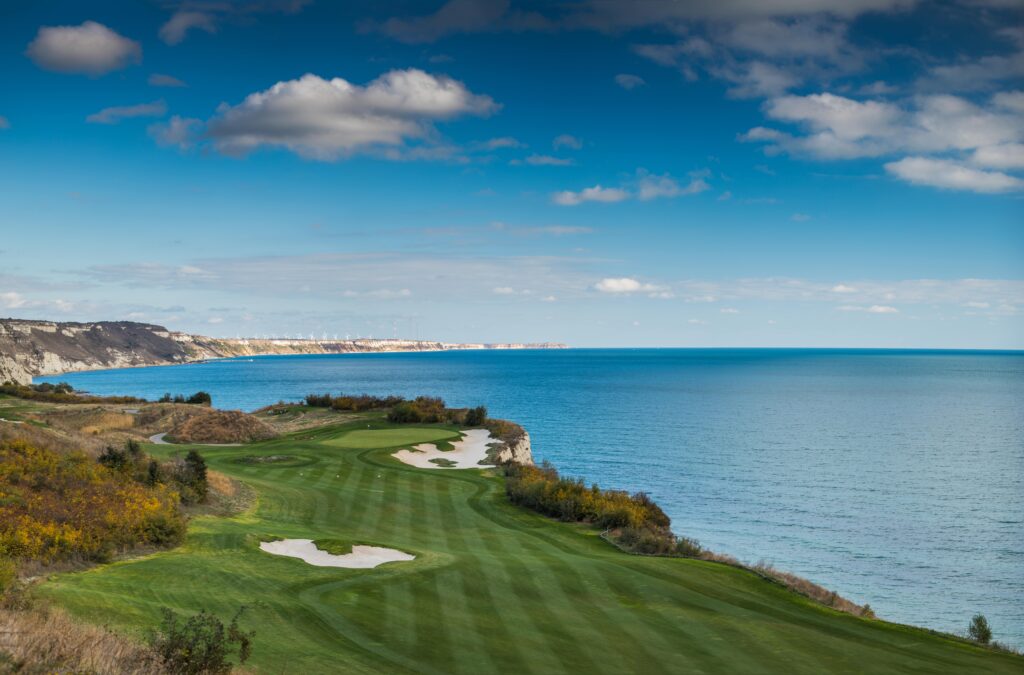 First on our list of the best golf experience days is a golf day out at La Estancia Golf Course in Spain. When you've been given an activity voucher, you can redeem it on access to this golfer's dream located just 3 kilometres from La Barrosa beach! This 72-par course sprawls across 82 hectares and welcomes golfers of all levels.
What makes it truly special? The expansive, undulating greens, offer countless flag positions, ensuring every round feels like a fresh adventure. Plus, the course seamlessly blends with the natural environment, and the wind adds an exciting twist to your game. Plus, at La Estancia Golf Club, you'll find a fantastic driving range with 35 tees (including 10 covered), perfect for refining your skills, rain or shine.
2. Baviera Golf Course
Our second golf experience day is entry to Baviera Golf Course in Malaga. With our activity gift cards, you're just one swing away from Baviera Golf Course—an extraordinary golfing haven nestled in the picturesque landscapes. Located just moments from the serene Mediterranean shores, this golf course offers an exceptional golfing experience suitable for players of all skill levels.
What sets Baviera Golf apart? Its meticulously maintained fairways and greens provide a splendid canvas for your golfing escapades. With each round, you'll appreciate the thoughtful design that incorporates natural beauty seamlessly into the course. And speaking of natural beauty, the Mediterranean breeze is your constant companion here, adding an exciting dimension to your game. It's a golfing challenge that's as refreshing as it is rewarding. Baviera Golf Course also boasts a superb driving range with multiple tees to fine-tune your shots and get you in peak golfing form.
3. Dubai Hills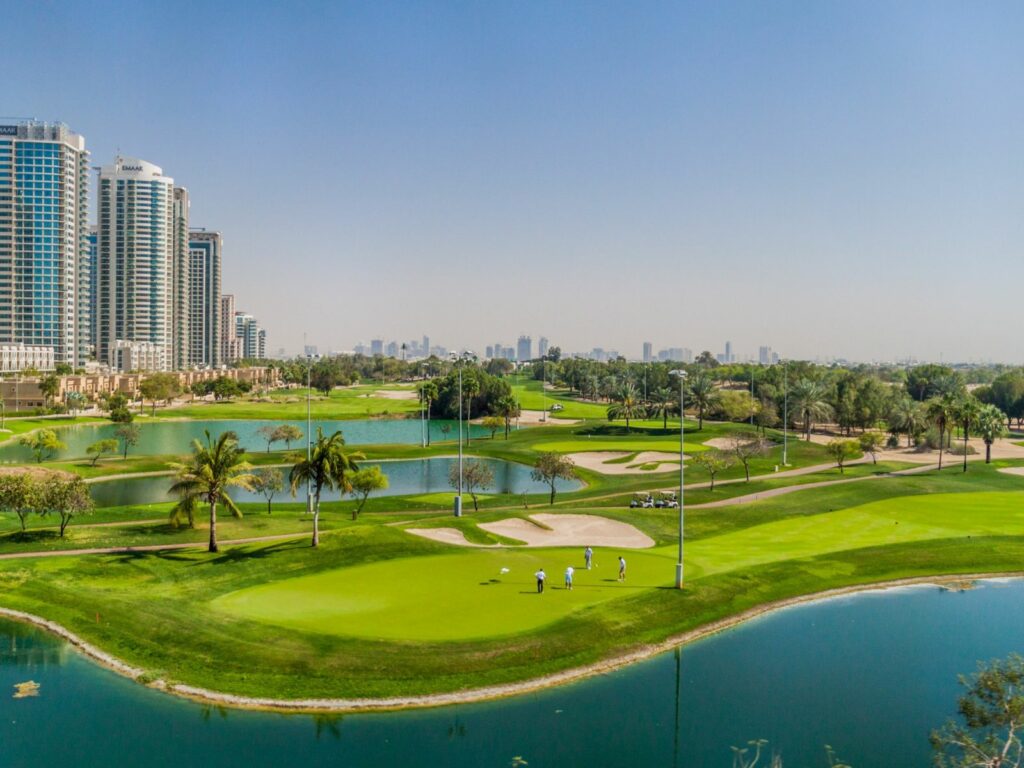 Imagine gifting your favourite golfer an unforgettable experience at the Dubai Hills Golf Course? With our activity gift cards, you can! This remarkable golfing paradise, established in 2018, caters to golfers of all skill levels, making it an ideal gift for any golf enthusiast.
What makes Dubai Hills Golf Course stand out? Its meticulously maintained fairways seamlessly blend with the captivating Dubai landscape, providing stunning views with the iconic Dubai skyline as a backdrop. It's a golfing haven where your loved one can truly indulge in their passion. Dubai Hills Golf Club offers fantastic facilities, including a driving range to improve their swing and a putting green to refine their precision. To make this golf gift even more special, you can reserve their tee-off time after the purchase using the provided link. While rental clubs aren't available, you can be sure that your golf experience gift will be met with a warm welcome and exceptional service from the Dubai Hills Golf Club team.
4. Dom Pedro Golf Millennium Golf Course
For your favourite golfer, the Millennium Course in Vilamoura is the ultimate golf experience gift. As the fourth and newest golf course in Vilamoura, it's a golfer's paradise that promises an exceptional experience.
This course unfolds over vast, open landscapes, with generous fairways and expansive greens, offering a golfing haven for players of all levels. What adds to its allure are the challenging holes nestled among ancient trees, where precision is key, thanks to narrow fairways and an abundance of bunkers. Your thoughtful golf gift can be made even more special by reserving their tee-off time after purchase.
5. Oberlausitz-Platz by Scholz Gruppe
Whether your favourite golfer is a seasoned pro or simply enjoys a leisurely round, the Fleesensee Golf Club offers an unparalleled golf experience day that will leave them with cherished memories. Gift them the chance to explore this golfing haven and tee off amid the stunning landscapes of the Mecklenburg Lake District. One of the highlights of the Fleesensee Golf Club is the Oberlausitz-Platz, a par 67 course that spans 4,816 meters. It presents a unique challenge, with numerous water hazards that demand strategic play and pinpoint precision. It's the perfect alternative to sprawling courses, ideal for a quick round of golf in the late afternoon.
6. Cornelia Faldo Course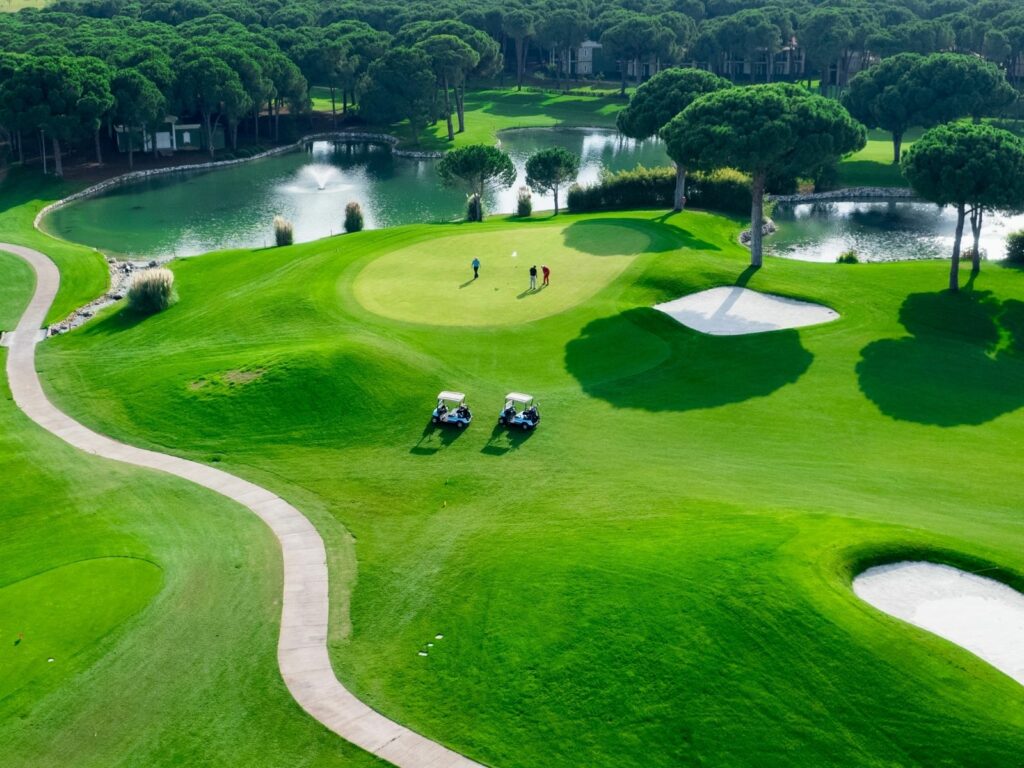 If you've been lucky enough to get an activity gift card, you can choose to redeem it on one of our most popular golf experience days – tickets to the Cornelia Faldo Golf Club. This golf course was designed by none other than the legendary Nick Faldo himself. The King, Queen, and Prince Courses at Cornelia Faldo Golf Club weave through a gently undulating dune landscape, surrounded by ancient pine trees that add a touch of natural beauty to every swing. While the fairways are generally forgiving, the 2nd hole of the King Course, affectionately known as "The Corridor," adds a thrilling challenge.
One of the course's standout features is the breathtaking 5th hole—a picturesque pond graces the vicinity of the green, enclosed by a majestic stone wall. And when it comes to clubhouses, Cornelia is a strong contender for the title of Turkey's finest golf course. With 27 holes to explore, the Cornelia Faldo Golf Club promises a golfing adventure like no other.
7.The Montgomerie Maxx Royal Golf Course
Up next on our list of the best golf experience days, we head to Turkey for the Montgomerie Maxx Royal Golf Course. 18-hole championship course that bears the name of one of the golfing world's greatest stars. This extraordinary course, part of a series of modern golf courses in Belek, is a golfing gem unlike any other. With your activity gift card, you have the chance to explore a golf course that is synonymous with golfing excellence.
The Montgomerie Maxx Royal Golf Club is renowned for its challenging deep bunkers and strategically placed ponds that demand the utmost attention from golfers. But it's not just about the course design; it's also about the illuminated areas between the 10th and 18th hole, promising a truly unique golfing experience at any time of day. One of the course's standout features is the clubhouse tower, which offers a breathtaking panoramic view of the lush fairways—a perfect spot to relax and soak in the natural beauty that surrounds you.
8. Quinta do Lago North Course
Our next golf experience day takes us to stunning Portugal. Immerse yourself in the exceptional beauty of Quinta do Lago North golf course, a golfer's paradise surrounded by stunning natural landscapes and fragrant pine groves. This course is renowned for offering a truly unique challenge, featuring gently rolling greens, strategically placed water hazards, and bunkers that will test your skills in the most exhilarating way possible. The sandy soil, adorned with heather, gorse, and wildflowers, is a reflection of the area's natural splendor. In the spring, a vibrant carpet of wildflowers blankets the rough, creating a golfing experience that's as picturesque as it is thrilling.
9. Secret Valley Golf Course
Nestled within the heart of a picturesque valley, the Secret Valley Golf Course invites you to embark on a golfing adventure like no other. As you step onto this incredible golf course, the first four holes greet you with a sense of ease and charm, setting the perfect tone for your round. However, be prepared to elevate your game as you progress, for this course demands precision amidst a scenic landscape adorned with olive trees, lush bushes, and rugged rocky terrain. It's here that the real challenge unfolds, with strategically placed bunkers that beckon your skill and determination. At the heart of it all, you'll discover the warm embrace of the Secret Valley Golf Club, complete with a driving range boasting 12 tees, where you can hone your skills and savour the joy of golfing in this serene valley setting.
10. Sultan Golf Course
Why should you absolutely indulge in this golf experience day? The Antalya Golf Club in Belek offers an irresistible combination of golfing excellence and natural beauty that's simply unparalleled. This golfing haven boasts not one but two remarkable 18-hole courses, both ranking among the very best in Belek. The Sultan Course, designed by European Golf Design, promises a golfing experience like no other, particularly on the second 9-hole stretch. Here, you'll encounter humped fairways that challenge your precision, pot bunkers that test your strategy, and gracefully meandering water hazards that demand your best shots. Yet, it's not just the golf that makes this place extraordinary. The Antalya Golf Club's enchanting surroundings, coupled with its ideal climate, create the perfect backdrop for your golfing escapade. And if history fascinates you, you'll be delighted to discover the wealth of nearby historical sites and ruins, adding an extra layer of charm to your golf getaway. So, embark on this golfing adventure at the Antalya Golf Club and let the magic of Belek captivate your senses.
11. Alcaidesa Heathland Course
At eleventh place on our list of the best golf experience days is access to the fabulous Alcaidesa Heathland Course in Spain. This hidden gem has been gracing the Alcaidesa Golf Club since 2007, and it's a game-changer in every sense. As you step onto the course, you'll quickly notice its distinctive character – significantly hillier than its counterpart, the links course. But it's these rolling hills that add a touch of challenge and excitement to your round. Beware of the strategically placed water hazards that come into play, testing your precision and strategy at every turn. And that's not all; the Alcaidesa Golf Club also boasts a top-notch driving range with a whopping 72 tees, 36 of which are conveniently covered. Whether you're an experienced golfer or just starting your journey, this Spanish golf club offers an unparalleled golf day out that's as invigorating as it is beautiful.
12. Abu Dhabi Golf Course

Discover golfing nirvana at the Abu Dhabi Golf Club, where an inviting driving range, chipping/pitching green, and putting green await to sharpen your skills. This paradise boasts a world-class 27-hole championship course, featuring the challenging 18-hole National Course and the delightful 9-hole Garden Course, generously manicured greens, strategic bunkers, and a rich history as the host of the PGA European Tour Abu Dhabi Golf Championship. The clubhouse, resembling a majestic falcon, adds a touch of grandeur, and the signature hole, the par 3 hole 12, promises an unforgettable challenge. So redeem your multi-activity voucher today for a fantastic golf day out at the Abu Dhabi Golf Club.
13. Vall D'Or Golf Course
Attention all activity gift recipients! It's time to unlock an unforgettable golfing adventure at the Vall D'Or Golf Club in Palma De Mallorca, Spain. With a fantastic driving range and a pristine putting green at your disposal, this is the place to perfect your golf game. Located just 7 km from Cala D'Or on the stunning eastern coast of the island, the course itself is a golfing paradise. Its hilly fairways and lightning-fast greens promise a round of golf that's both diverse and thrilling. Plus, the views of the rugged surrounding landscape are simply breathtaking. So, why wait?
14. Aphrodite Hills Golf Course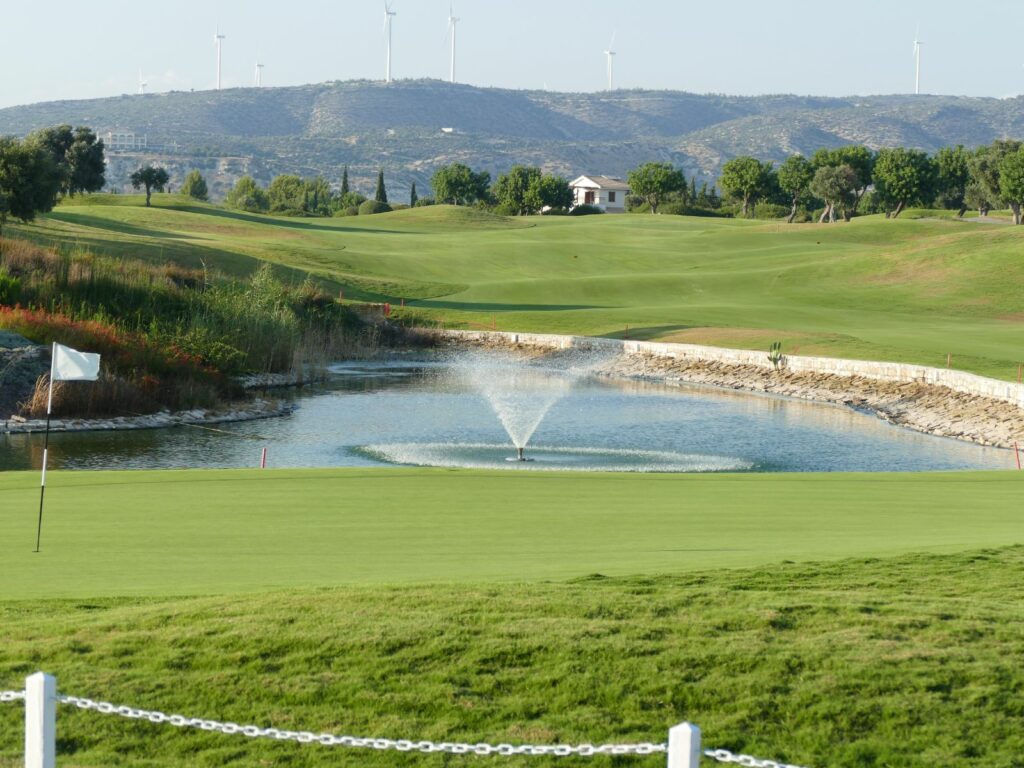 Last on our list of the 14 most popular golf experience days is entrance to the The Aphrodite Hills Golf Course, an 18-hole marvel, sits majestically on two plateaus 300 meters above the Mediterranean Sea. With an activity gift voucher, golf enthusiasts can revel in this unique golfing experience.
This popular golf course is marked by gently undulating fairways and large greens guarded by impressive bunkers. The real treat, however, is the breathtaking views of the Mediterranean Sea, notably on the 3rd hole, where golfers must cross a stunning 190-meter gorge with their tee shot. Aphrodite Hills Golf Club offers warm hospitality and top-notch facilities, including a driving range, chipping/pitching green, and putting green. Your tee-off time can be conveniently reserved after purchase.
Unlock Thousands of Golf Experiences Days with Activity Gift Cards
If you're searching for the best golf gift, you've got to buy an activity gift card. Not only will this activity voucher unlock all of these incredible golf experience days, they can choose from spa experiences, birthday experiences, family experiences and many, many more! Our activity gift cards take the stress out of gift shopping as you give the recipient the power to choose their own experience gift.