Back to the blog
Raise the Roof: 10 Wild 40th Birthday Experiences
August 7th, 2023
Who said 40 was when you start slowing down? These 10 wild 40th birthday experiences are going to show you exactly why life begins at 40. It's truly a milestone worth celebrating with flair and excitement like never before. Gone are the days when turning 40 meant settling down and slowing down. We're going to prove that age is just a number and that the best is yet to come! So, get ready to throw off the shackles of clichéd ageing and embrace this spectacular chapter with gusto. To help you do just that, I've handpicked some wild and wacky 40th birthday experience ideas that will have you and your friends roaring with laughter and creating unforgettable memories. Thanks to Activitygift, we're in for a treat with these fantastic activities that are bound to raise the roof on your special day!
Why We Shouldn't Be Scared About Getting Older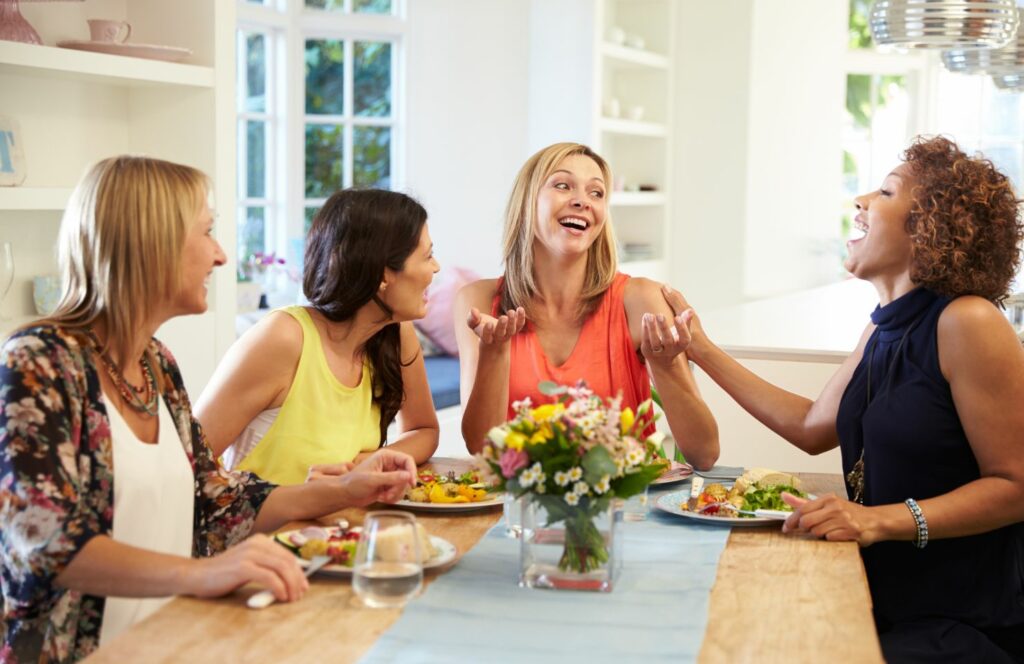 As we approach the fabulous age of 40, it's common to hear whispers of apprehension about getting older. But let me tell you, there's absolutely no need to be scared! Embrace your journey and celebrate the wisdom and experiences that come with age. With every passing year, we gain a deeper understanding of ourselves and what truly matters in life. We shed insecurities and embrace self-confidence, making us more empowered than ever before. At 40, we've achieved so much and have so much more to look forward to. Life truly begins at 40 because it's a time to set aside doubts and fears and step into a new chapter of life with a renewed sense of purpose and passion.
The 10 Best 40th Birthday Experiences
1. Trampoline Dodgeball – Jump, Bounce, and Dodge!
Who says you can't be a kid again? Trampoline dodgeball is not just for youngsters; it's for the young at heart too! Imagine the sheer joy of jumping on bouncy trampolines while simultaneously dodging balls with your closest pals. It's an exhilarating way to relive your youth while embracing the confidence and wisdom that come with turning 40. Plus, the friendly competition will awaken your inner child, leaving you with an adrenaline rush like no other. Trust me, you'll be laughing so hard that you'll forget you're all grown-ups now.
2. Wine and Paint Party – Unleash Your Inner Artist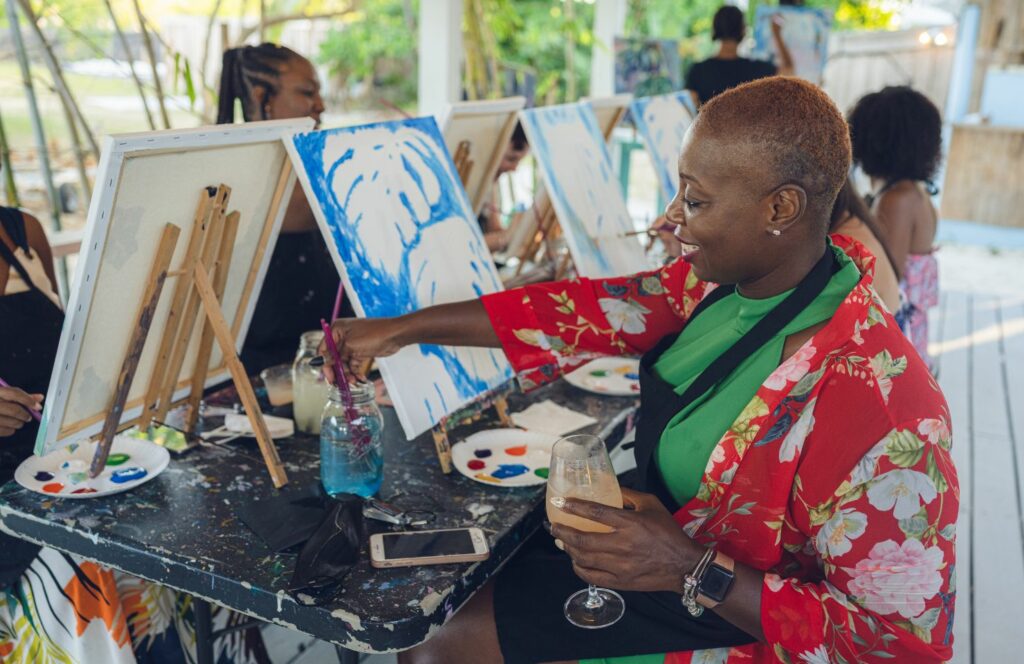 At 40, you've acquired a treasure trove of experiences and memories. What better way to celebrate them than by expressing yourself through art? The wine and paint party is a perfect blend of creativity, relaxation, and camaraderie. Sip on some fine wine and let your artistic flair shine as you create your masterpiece. No prior artistic skills are required—just a desire to have fun and get a little artsy with your loved ones. And hey, even if your art isn't gallery-worthy, the laughter and bonding experience will undoubtedly be cherished forever!
3. Escape Room Extravaganza – Crack the Code
Turning 40 doesn't mean we can't be playful and adventurous! Unleash your collective brainpower as you and your friends embark on an exhilarating escape room challenge. Picture yourself working together, solving puzzles, finding clues, and racing against the clock to crack the mystery wide open. The thrill of unlocking each clue and the sheer joy of overcoming challenges will make you feel like a real-life detective, only much cooler and way more stylish. This experience is a fantastic way to bond with your friends while tapping into your problem-solving skills.
4. Go-Karting Grand Prix – Speed Racer Showdown
Speed into your 40s with a burst of excitement and a whole lot of laughter at a go-karting grand prix. Embrace your competitive side as you and your friends compete for bragging rights on the racetrack. There's something liberating about racing without speed limits or traffic jams! Let your inner speed demon out and feel the adrenaline pumping through your veins as you zoom around the track. Go-karting is not just a birthday activity; it's a timeless experience that transcends age, making it an ideal adventure for your big 4-0 celebration.
5. Foodie Tour – Savour Delights
At 40, we've earned the right to indulge in the finer things in life—like mouthwatering culinary delights! Gather your foodie friends and embark on a gastronomic adventure with a foodie tour. Discover the hidden culinary gems of your city, savoring delectable dishes that make your taste buds sing with joy. This experience is not just about food; it's about bonding over shared experiences and creating lasting memories. Whether it's a trendy fusion restaurant or a quaint café, exploring new flavors and cuisines will be an unforgettable birthday treat.
6. Stand-Up Comedy Night – Laugh it Off
Whoever said that turning 40 is all about being serious clearly hasn't experienced the magic of stand-up comedy! Round up your crew and head to a stand-up comedy club for a night of side-splitting laughter and infectious humor. Laughter is the best medicine, and a comedy night is the ultimate cure for any signs of birthday blues. So, sit back, relax, and let the hilarious jokes and witty one-liners transport you to a world of pure joy. It's a fantastic way to celebrate life's funny moments while enjoying the company of your closest friends.
7. Glamping Getaway – Camp in Style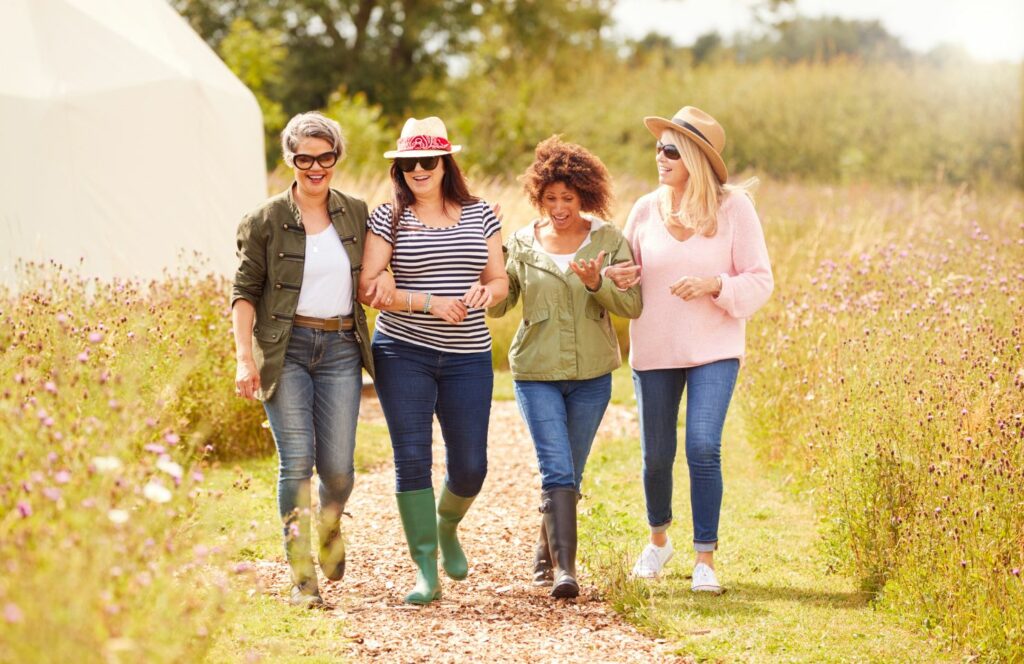 They say that life is a journey, and at 40, it's time to experience it in style! A glamping getaway is the perfect blend of adventure and comfort, allowing you to embrace the great outdoors without sacrificing modern luxuries. Picture cozy cabins nestled amidst nature's beauty, starlit skies stretching above you, and toasty campfires warming your soul. It's camping, elevated to a whole new level of sophistication. A glamping retreat is not just a birthday escape; it's a chance to reconnect with nature and unwind with your loved ones, creating cherished memories that will stay with you for a lifetime.
8. Cocktail Making Class – Mix it Up
Age is just a number, and so is your enthusiasm for trying new things! Embrace the spirit of experimentation with a cocktail making class. Shake, stir, and sip your way to becoming a master mixologist! This fun and interactive experience will have you and your friends concocting delicious drinks and enjoying the fruits of your labor. It's the perfect opportunity to showcase your creativity and impress your guests with newfound mixology skills at future gatherings. So, raise a toast to turning 40 and the exciting adventures that await!
9. Water Park Fun – Make a Splash
Whoever said water parks are only for kids clearly missed the memo on ageless fun! Dive headfirst into a day of water park shenanigans with your friends. Embrace your inner child and conquer thrilling water slides, drift along the lazy rivers, and make a splash in the wave pools. This experience is not just about the exhilarating rides; it's about relishing the company of friends and creating shared memories. The joy of laughter, the screams of excitement, and the carefree moments in the water will leave you feeling young at heart, ready to embrace the next chapter of life with zest and zeal.
10. Pamper Spa Day – Relax and Rejuvenate
After all the excitement and adventure, it's time to take a moment to pamper yourself and recharge your batteries. A spa day is the epitome of relaxation and rejuvenation—a gift you truly deserve on your 40th birthday. Indulge in soothing massages, rejuvenating facials, and blissful relaxation amidst a tranquil ambiance. This experience is not just about physical relaxation; it's about nourishing your soul and reflecting on the incredible journey that has brought you to this milestone. Treat yourself like royalty as you bask in a day of self-care and leave the spa feeling refreshed, recharged, and ready to embrace the next chapter of life. Plus, the UK is spoiled for choice with fabulous spa retreats that will have you entering your golden era on cloud nine.
Choose an Activitygift Voucher for the best 40th birthday gift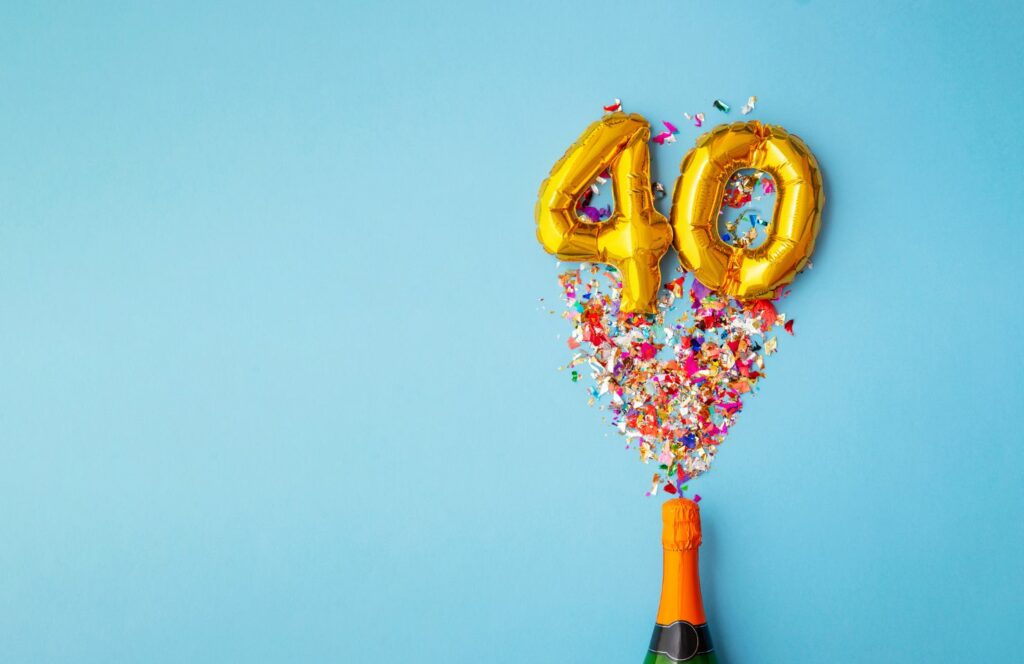 When it comes to finding the perfect 40th birthday gift, look no further than an Activitygift voucher. This one-of-a-kind activity voucher the recipient to choose from a wide range of activities that align with their interests and preferences. Turning 40 is a significant milestone, and with an Activitygift voucher, the birthday celebrant can create lasting memories with friends and family through shared experiences. The flexibility and convenience of selecting their adventure, along with the chance to embrace new and exciting activities, make this gift truly thoughtful and unique. And I bet you didn't know that these vouchers for experiences are also sustainable? Yep, when you choose an eGift, you contributeto reducing waste and environmental impact. So, let the 40th birthday celebrations begin with an activity gift voucher—a gift that brings joy, laughter, and unforgettable moments to mark this special occasion.
Which 40th Birthday Experience will you choose?
So, let's break free from the stereotype that turning 40 means slowing down. These 10 wild 40th birthday experiences have shown us why life truly begins at 40! It's a time worth celebrating with all the flair and excitement we can muster. We've shattered the notion that age defines us, proving that it's merely a number on the journey of life.
As we get older, it's natural to worry about the passing years, but there's no need to fear. At 40, we're just hitting our stride and discovering a world of endless possibilities. So, let's seize the moment and embrace the wild adventures that await us. These handpicked 40th birthday experiences are not just activities but opportunities to create cherished memories with friends and loved ones. Whether it's jumping on trampolines, solving escape room mysteries, or indulging in fine cuisine, let's celebrate this milestone with laughter and a determination to make every moment count. Remember, age is merely a stepping stone to an even brighter future, and with an open heart and a sprinkle of humour, we can make this chapter the best yet.