Back to the blog
The 10 Most Unique Experience Gifts for Parents
August 14th, 2023
We all know that our parents are the real MVPs and when they have a big occasion coming up they need a unique experience gift that shows them just how much we love them. But we all know that finding them the perfect gift can be trickier than solving a Rubik's Cube in the dark. But worry no more, because we're about to unleash a whirlwind of the 10 most unique experience gifts for parents in the UK. Brace yourselves for laughter, adventure, and unforgettable memories.
10 Unique Experience Gifts for Parents
1. Hot Air Balloon Over the Countryside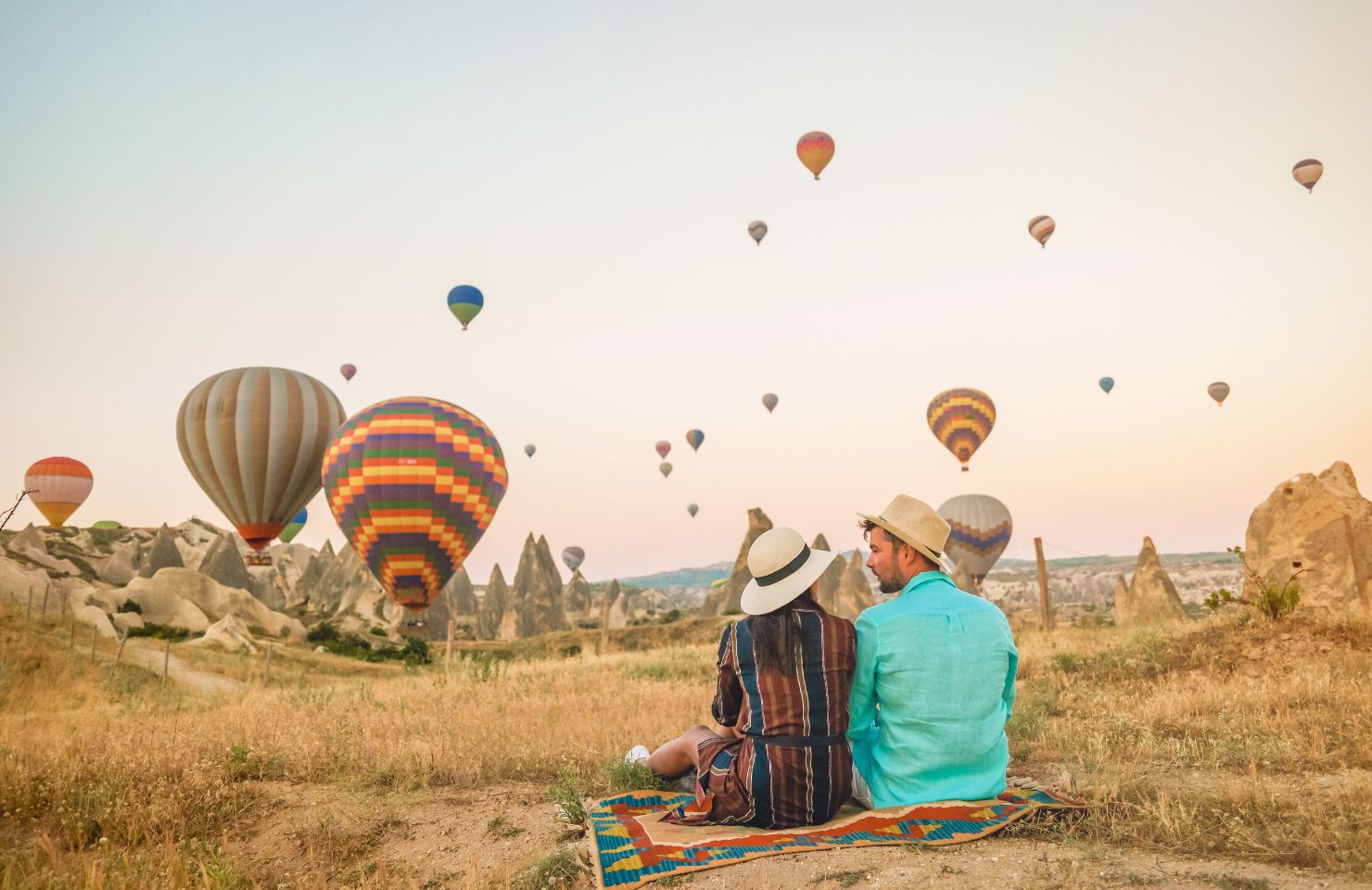 Location: Various scenic locations across the UK offer hot air balloon rides over the countryside. But our top choice? It has to be Bristol. Known as the ballooning capital of the UK, Bristol offers stunning views of the Avon Valley and the Clifton Suspension Bridge. Other options include the breathtaking Lake District, where your folks can soar over the beautiful lakes and valleys of the Lake District National Park, taking in the breathtaking vistas.
Who's it for?: This unique gift experience is perfect for parents who love tranquillity and stunning vistas.
What to Expect: A breathtaking ride over picturesque landscapes, gentle winds, and a serene escape from the hustle and bustle.
2. Gourmet Train Ride
Location: You can enjoy a gourmet train ride on many railway routes in England, Scotland, and Wales. Top picks include:
Belmond British Pullman: Departing from London Victoria Station, the British Pullman offers luxurious day trips with exquisite dining through stunning British countryside.
Northern Belle: Operating across various routes in the north of England and Scotland, the Northern Belle offers fine dining, elegant surroundings, and captivating scenic views.
Severn Valley Railway's Dining Trains: Set in the picturesque Severn Valley, this railway offers multiple dining experiences throughout the year, featuring delectable meals while enjoying beautiful countryside views.
Royal Scotsman: Embark on a journey of culinary excellence aboard the Royal Scotsman, exploring the Scottish Highlands while indulging in gourmet delights.
West Somerset Railway's Steam and Cream: Combine the charm of a vintage steam train with delicious cream tea on the West Somerset Railway, as it winds through picturesque landscapes.
Remember to check the specific schedules, routes, and offerings of each train for a truly delightful gourmet train experience.
Who's it for?: Food-loving parents with a taste for luxury.
What to Expect: An unforgettable gastronomic journey aboard a vintage train, indulging in fine dining, panoramic window views, and a touch of old-world charm – what could be better?
3. Vintage Car Tour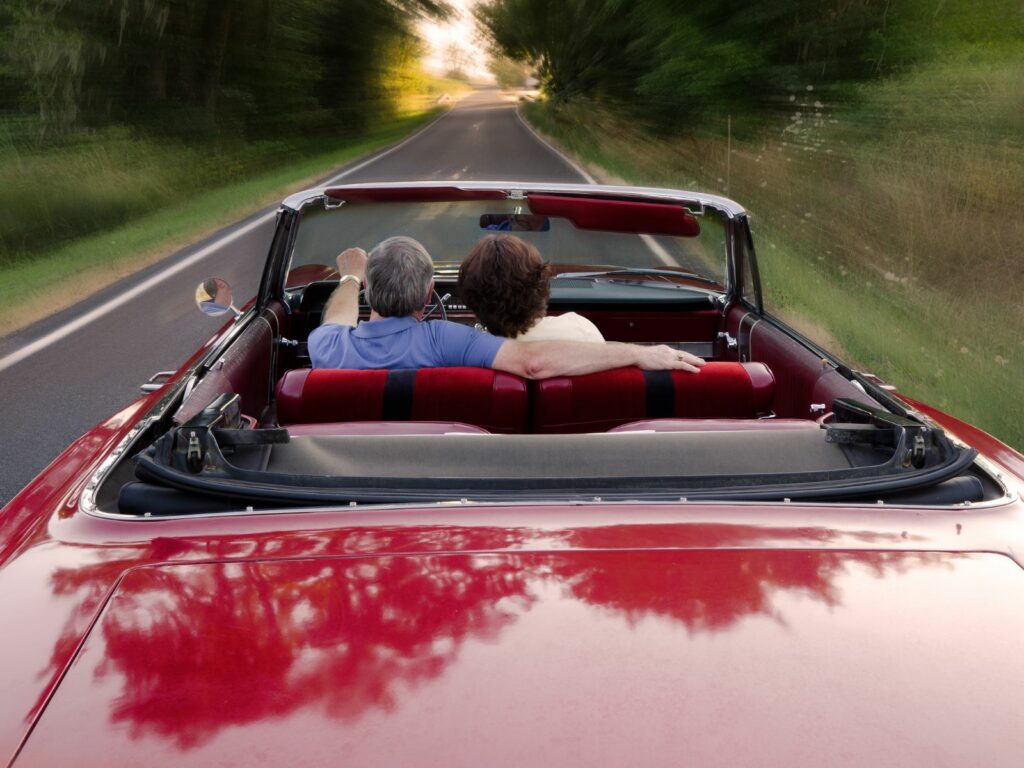 Location: Your folks can enjoy vintage car tours offered at various locations across the UK. Here are some places where they can cruise in style and relive the glamour of the past:
The Cotswolds, England: Treat your parents to a vintage car tour through the picturesque Cotswolds, where they can drive through charming villages and rolling hills.
Lake District, England: Explore the stunning landscapes of the Lake District in a classic car, taking in the beauty of lakes and valleys.
Scottish Highlands, Scotland: Embark on a Highland adventure, driving a vintage car through Scotland's rugged landscapes, lochs, and glens.
London, England: Enjoy a vintage car tour through the iconic streets of London, discovering historic landmarks and bustling city life.
Norfolk and Suffolk, England: Your parents can enjoy a leisurely drive through the scenic countryside and coastal beauty of Norfolk and Suffolk.
Cotswold Classic Car Hire, Various Locations: If they're looking to self-drive, Cotswold Classic Car Hire offers a variety of vintage cars for a memorable tour.
Before embarking on a vintage car tour, make sure to check the availability of tours, routes, and any specific requirements. Vintage car tours offer a unique way for your parents to experience the charm of yesteryears while exploring the beauty of the UK.
Who's it for?: Parents who appreciate a touch of elegance and nostalgia.
What to Expect: Riding in style in a classic car, turning heads and stopping traffic (literally!), with a personal driver to ensure a smooth journey.
4. Gin Tasting in a Castle

Location: Let your parents enjoy an authentic gin tasting gift experience at various distilleries and castles around the UK including:
Gin tasting in a castle is a unique and delightful experience that combines history with the pleasures of fine spirits. Some places in the UK where you can enjoy gin tasting in a castle include:
Dalhousie Castle, Scotland: Located near Edinburgh, Dalhousie Castle offers a gin tasting experience within its historic walls, allowing you to savor premium gins while soaking in the castle's atmosphere.
Peckforton Castle, Cheshire: This enchanting castle in Cheshire offers a gin-tasting experience in its atmospheric surroundings, allowing you to enjoy the regal setting along with a variety of gins.
Gin School at Dornoch Castle, Scotland: In the heart of the Scottish Highlands, Dornoch Castle offers a gin school experience where you can craft your own gin and learn about the distillation process.
Gin School at Lough Eske Castle, Ireland: Ok, technically not in the UK but this Irish castle offers a gin school where you can create your own bespoke gin while enjoying the castle's historic charm.
Who's it for?: Gin enthusiasts seeking a regal twist.
What to Expect: A majestic castle backdrop, guided gin tastings, history-rich surroundings, and the opportunity to craft their own bespoke gin.
5. Mystical Ghost Tour
Location: Haunted sites in UK cities like:
Edinburgh Vaults, Scotland: Beneath the streets of Edinburgh lie the infamous vaults, rumoured to be haunted. Special ghost tours take you deep into these subterranean chambers for a chilling experience.
The Ancient Ram Inn, Gloucestershire: Known as one of the most haunted buildings in the UK, this inn's history includes tales of witches, child spirits, and a malevolent incubus.
Tower of London, England: Join a ghost tour at the Tower of London, where the spirits of historical figures are said to linger within its ancient walls.
Hampton Court Palace, England: Explore the grandeur and the supernatural side of this palace, where sightings of the ghostly figure of Catherine Howard have been reported.
Chillingham Castle, Northumberland: Explore the dark corners of this medieval castle, where stories of torture, imprisonment, and ghostly apparitions abound.
Pendle Hill, Lancashire: Take a journey to the location of the infamous Pendle Witch Trials and learn about the dark history and restless spirits that linger in the area.
Who's it for?: Parents who love a good scare and tales of the supernatural.
What to Expect: A spine-tingling guided tour through historical haunted spots, intriguing stories of the paranormal, and a chance to experience the unknown.
6. Chocolate-Making Workshop
Location: Chocolatiers and workshops across the UK such as:
Cocoa Amore, Leicester: Let your parents explore the world of chocolate at Cocoa Amore in Leicester, where they can learn to craft their own chocolates and truffles under expert guidance.
My Chocolate, London: If they're in London, My Chocolate offers workshops where your parents can learn to temper chocolate, experiment with flavors, and craft personalised chocolates.
The Chocolate Museum, Brixton: In Brixton, your parents can not only discover chocolate's history but also participate in workshops to create their own chocolatey delights.
Lick the Spoon, Wiltshire: Nestled in Wiltshire's scenic setting, Lick the Spoon provides workshops for your parents to master chocolate-making techniques and create handmade delights.
The Melting Pot, Edinburgh: Treat your parents to a chocolatey adventure in Edinburgh, where they can experiment with ingredients and craft their own mouthwatering chocolates.
Cocoa Cabana, Manchester: In Manchester, Cocoa Cabana offers workshops for your parents to learn about chocolate production, create treats, and enjoy delicious tastings.
Quirky Workshops, Cumbria: Amidst the beauty of the Lake District, Quirky Workshops hosts unique chocolate-making experiences, perfect for your parents to unleash their creativity.
Callebaut Chocolate Academy, Banbury: If your parents are serious chocolate enthusiasts, the Callebaut Chocolate Academy in Banbury offers professional-level courses to elevate their skills.
Who's it for?: Sweet-toothed parents with a creative streak.
What to Expect: Hands-on experience crafting delectable chocolates, learning about cocoa origins, and creating mouthwatering treats to take home.
7. Beekeeping Experience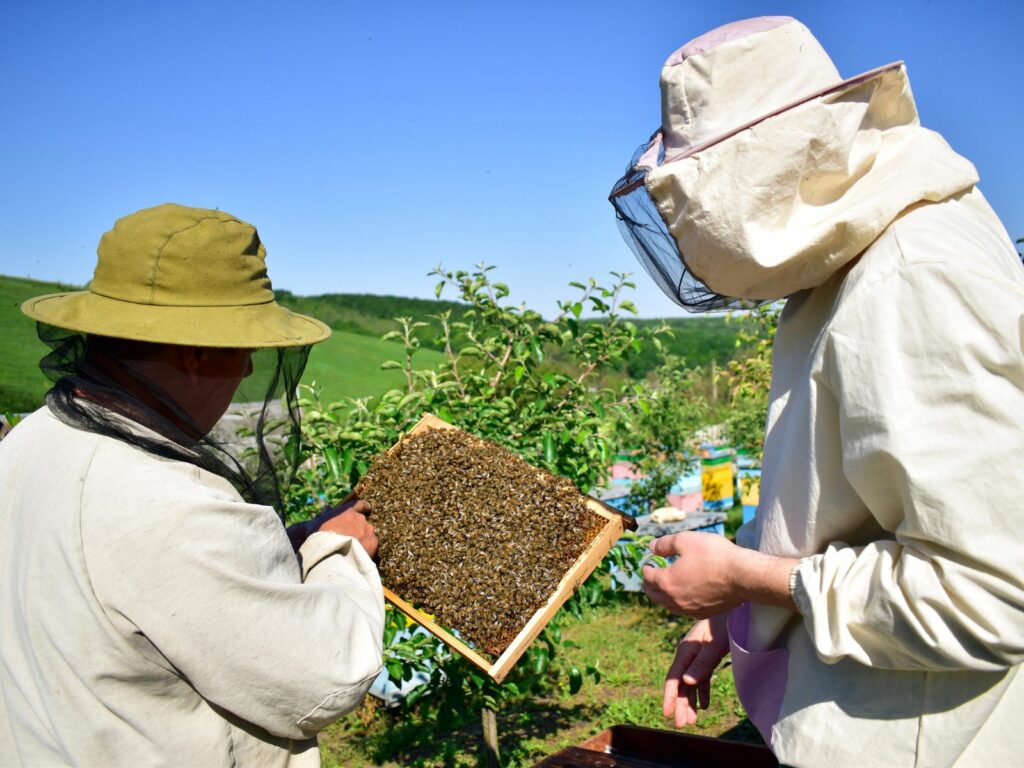 Location: Your parents can dive into the fascinating world of beekeeping with unique gift experiences available at various locations across the UK. Here are some places where they can enjoy a beekeeping adventure:
Chain Bridge Honey Farm, Berwick-upon-Tweed: Your parents can learn about beekeeping and explore a honey farm in the scenic countryside of Northumberland.
Cotswold Bees, Gloucestershire: Nestled in the picturesque Cotswolds, Cotswold Bees offers beekeeping courses where your parents can discover the intricacies of beekeeping.
Quince Honey Farm, Devon: Located in South Molton, Quince Honey Farm provides hands-on beekeeping experiences and educational tours for those curious about bees.
The Bee Centre, Lancashire: Treat your parents to a beekeeping session at The Bee Centre in Samlesbury, Lancashire, where they can get up close and personal with these fascinating insects.
Denrosa Apiaries, Fife: Your parents can explore beekeeping at Denrosa Apiaries in Scotland, where they can gain insights into beekeeping practices and the importance of bees.
Humble Bee Farm, Yorkshire: Nestled in the heart of Yorkshire, Humble Bee Farm offers beekeeping experiences that provide a window into the world of bees and their vital role.
Edinburgh Honey Co., Edinburgh: If they're in the Scottish capital, your parents can discover urban beekeeping and gain hands-on experience at Edinburgh Honey Co.
Buckfast Abbey, Devon: Buckfast Abbey offers beekeeping courses for beginners, allowing your parents to learn about beekeeping techniques and the bees' natural behaviours.
Before booking, make sure to check the availability of beekeeping experiences, any necessary equipment or clothing, and any age restrictions. Your parents are bound to find beekeeping a unique and rewarding adventure that connects them with the vital world of these incredible insects.
Who's it for?: Nature-loving parents who want to try something new.
What to Expect: Wearing beekeeper suits, learning about the fascinating world of bees, hands-on hive exploration, and maybe even a taste of fresh honey.
8. Pottery Class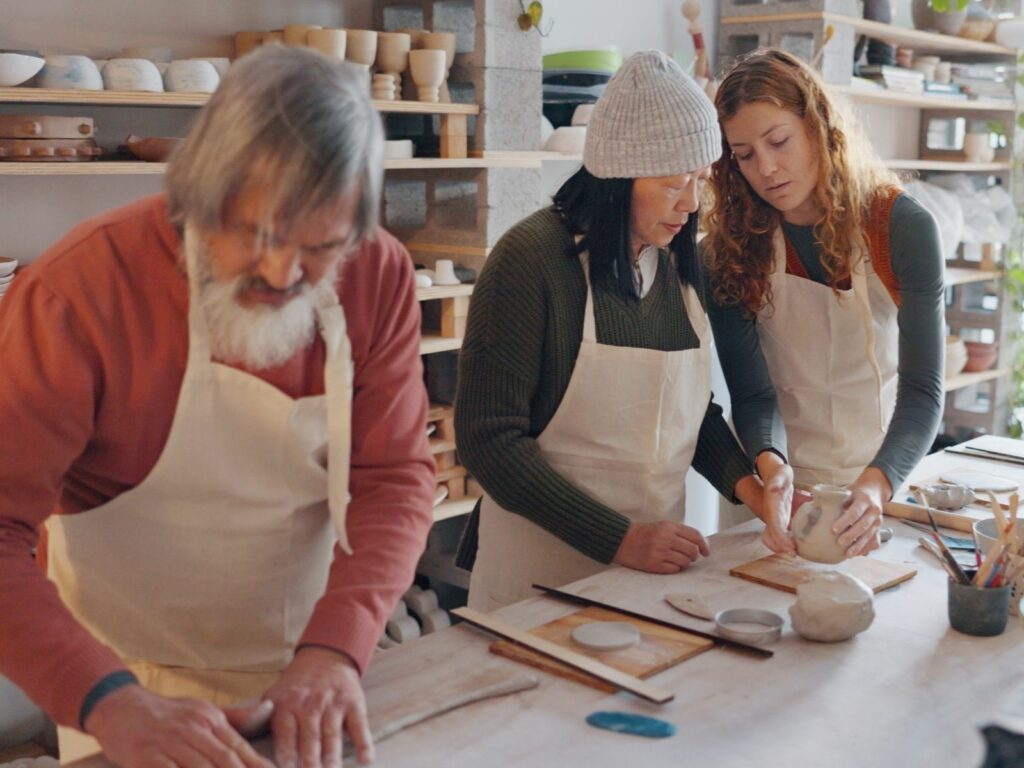 Location:If your parents have a creative streak, they can enjoy pottery classes offered at various locations across the UK. Here are some places where they can get their hands dirty and unleash their artistic side:
City Pottery, London: Your parents can dive into the world of pottery at City Pottery in London, where they can learn to shape clay into beautiful creations under expert guidance.
Edinburgh Sculpture Workshop, Edinburgh: If they're in Edinburgh, the sculpture workshop offers pottery classes that allow your parents to experiment with different techniques and create unique pieces.
The Ceramic Studio, Bristol: Nestled in Bristol, The Ceramic Studio provides pottery classes for all skill levels, from beginners to experienced potters.
Pottery Corner, Manchester: Treat your parents to a pottery class at Pottery Corner, where they can learn the art of pottery and create their own masterpieces.
London Sculpture Workshop, London: Explore pottery as a sculptural art form at London Sculpture Workshop, where your parents can learn to manipulate clay and create three-dimensional works.
Cambridge Art Makers, Cambridge: Immerse your parents in a creative pottery experience at Cambridge Art Makers, where they can learn pottery techniques and express their artistic visions.
Clay Studio Manchester, Manchester: Unleash creativity at Clay Studio Manchester, where your parents can enjoy pottery classes that range from wheel throwing to hand building.
Firefly Pottery, Belfast: If they're in Belfast, Firefly Pottery offers classes that guide your parents through the pottery-making process, from forming to glazing.
Who's it for?: Artsy parents keen to get their hands dirty.
What to Expect: Guided pottery class, learning the art of shaping clay, and the joy of creating pottery masterpieces (or quirky abstract pieces!).
9. Stargazing Retreat

Location: If your parents are fascinated by the cosmos and the wonders of the night sky, they can embark on stargazing retreats available at various locations across the UK. Here are some places where they can immerse themselves in the beauty of the universe:
Galloway Forest Park, Scotland: Designated as a Dark Sky Park, Galloway Forest Park offers breathtaking stargazing opportunities with minimal light pollution.
Northumberland International Dark Sky Park: Explore one of the largest Dark Sky Parks in Europe, where your parents can enjoy celestial views and learn about astronomy.
Isle of Coll, Inner Hebrides: This remote island offers clear skies and minimal light pollution, making it an ideal destination for stargazing enthusiasts.
Snowdonia National Park, Wales: Your parents can discover the night sky's wonders amid the stunning landscapes of Snowdonia, a Dark Sky Reserve.
Exmoor National Park, England: Explore the starry skies above Exmoor, a designated Dark Sky Reserve known for its exceptional stargazing opportunities.
Kielder Observatory, Northumberland: Your parents can participate in guided stargazing sessions at Kielder Observatory, learning about constellations and distant galaxies.
Dark Sky Discovery Sites, Various Locations: These designated sites across the UK offer optimal stargazing conditions, making them perfect for your parents to enjoy the night sky.
Who's it for?: Parents looking for a peaceful celestial escape.
What to Expect: Expert-led stargazing sessions, immersing in the wonders of the night sky, and a tranquil escape from urban lights.
10. Falconry Day

Location: If your parents are intrigued by majestic birds of prey and the ancient art of falconry, they can enjoy falconry days offered at various locations across the UK. Here are some places where they can get up close and personal with these incredible creatures:
Falconry Experience, Warwickshire: Treat your parents to a hands-on falconry experience in the heart of Warwickshire, where they can handle and fly a variety of birds of prey.
Falconry Scotland, Stirlingshire: Nestled in Stirlingshire, Falconry Scotland offers interactive falconry days where your parents can learn about and interact with hawks, falcons, and owls.
Falconry at Millets Farm, Oxfordshire: Explore the world of falconry at Millets Farm, where your parents can enjoy flying displays, bird handling, and informative talks.
Falconry Experience, Hampshire: In Hampshire, your parents can enjoy a full-day falconry experience that includes handling, flying, and learning about various raptors.
Falconry Days at Lee Valley Park Farms, Essex: Treat your parents to a falconry day at Lee Valley Park Farms, where they can marvel at flying displays and meet a variety of birds of prey.
Falconry Experience at All Things Wild, Worcestershire: Your parents can join a falconry experience at All Things Wild, where they can interact with birds of prey and learn about their behaviours.
Who's it for?: Parents intrigued by majestic birds of prey.
What to Expect: A hands-on interaction with falcons, owls, and hawks, learning about their habits, and the chance to handle these awe-inspiring creatures.
Give the Best Experience Gifts to your Parents with Activitygift
Want to take your gift giving game to the next level? Well, hold on to your hats because we've got a game-changing hack for you: an Activitygift voucher. It's not your average gift voucher for parents; it's a personalised activity voucher that unlocks incredible memories. Add a special photo and message, and voilà! A keepsake for your parents to treasure forever, reminding them of the awesome experience you gifted them. Last-minute gift worries? Consider them officially obliterated as you can choose an eGift or printable PDF activity voucher that can be ready in less than 5 minutes.
Additionally, they can choose from countless of incredible gift experiences in the UK and abroad including 40th birthday experiences, activities for friends in France and even romantic couple activites. With our activity vouchers, your parents are truly spoiled for choice. So go on, spoil them! You know they deserve it.