Back to the blog
Exploring Amsterdam's Best Markets: Uncover Hidden Gems and Unique Souvenirs
May 30th, 2023
When it comes to cool and unique things to do in Amsterdam, exploring its bustling markets is an absolute must. From the enticing aromas of freshly baked stroopwafels to the kaleidoscope of colors adorning flower stalls, Amsterdam's markets are a treasure trove of sensory delights. Each market holds its own charm and allure, offering something distinctive for every visitor. As you explore these dynamic markets, you'll have the opportunity to sample local delicacies, haggle for vintage treasures, and connect with friendly vendors who embody the true spirit of Amsterdam.
So, join us as we uncover the seven best markets in Amsterdam, where culture, commerce, and community intertwine to create an experience unlike any other:
1. Albert Cuypmarkt: A Dynamic Melting Pot of Cultures

Situated in the lively De Pijp neighbourhood, the Albert Cuypmarkt is one of Amsterdam's most famous street markets. Stroll along the bustling street and soak in the vibrant atmosphere as you peruse the stalls offering everything from fresh produce and flowers to clothing and accessories. Indulge in delicious Dutch snacks like stroopwafels or herring while exploring this multicultural treasure trove.
2. Waterloopleinmarkt: Vintage Finds and Eclectic Wonders
For those seeking a unique shopping experience, the Waterloopleinmarkt is the place to be. Amsterdam's oldest flea market, it boasts an eclectic mix of vintage clothing, antiques, vinyl records, and quirky collectables. Lose yourself in the maze of stalls and discover hidden gems that hold stories from the past. From retro fashion to one-of-a-kind curiosities, you're sure to find a truly special souvenir here.
3. Noordermarkt: Organic Produce and Artisanal Delights

Nestled in the trendy Jordaan district, the Noordermarkt is a paradise for food enthusiasts and vintage lovers alike. Start your Saturday by exploring the organic farmers' market, where you can find fresh local produce, cheeses, baked goods, and unique artisanal treats. Afterwards, head to the flea market, brimming with antiques, second-hand books, and vintage clothing. The charming ambience of this market makes it a favourite among locals and tourists alike.
4. Dappermarkt: Multicultural Delights and Budget-Friendly Shopping
The Dappermarkt, located in the east of Amsterdam, offers an enchanting blend of cultures, flavours, and affordable finds. This multicultural market boasts a diverse range of products, from exotic spices, fabrics, and jewellery to fresh fruits and vegetables. Immerse yourself in the vibrant atmosphere, engage with friendly vendors, and discover the flavours and traditions of Amsterdam's diverse communities.
5. NDSM Wharf: Creative Hub and Alternative Market

For a unique and artistic experience, head to the NDSM Wharf. Once an industrial shipyard, it has transformed into a thriving creative hub, hosting an array of artistic events and markets. The monthly flea market is a treasure trove for vintage lovers, with an eclectic mix of clothing, furniture, and unique handmade crafts. Explore the vibrant street art, grab a coffee from a converted shipping container café, and let the creative energy of this alternative market captivate you.
6. IJ-Hallen: Europe's Largest Flea Market
If you happen to visit Amsterdam on the first weekend of the month, don't miss the IJ-Hallen flea market. Located in the city's northern part, this expansive market offers an impressive selection of vintage and second-hand items. From clothing and accessories to furniture and trinkets, the possibilities for finding hidden treasures are endless. Join the treasure hunt and bring home a unique piece of Amsterdam's history.
7. Bloemenmarkt: A Colorful Oasis of Blooms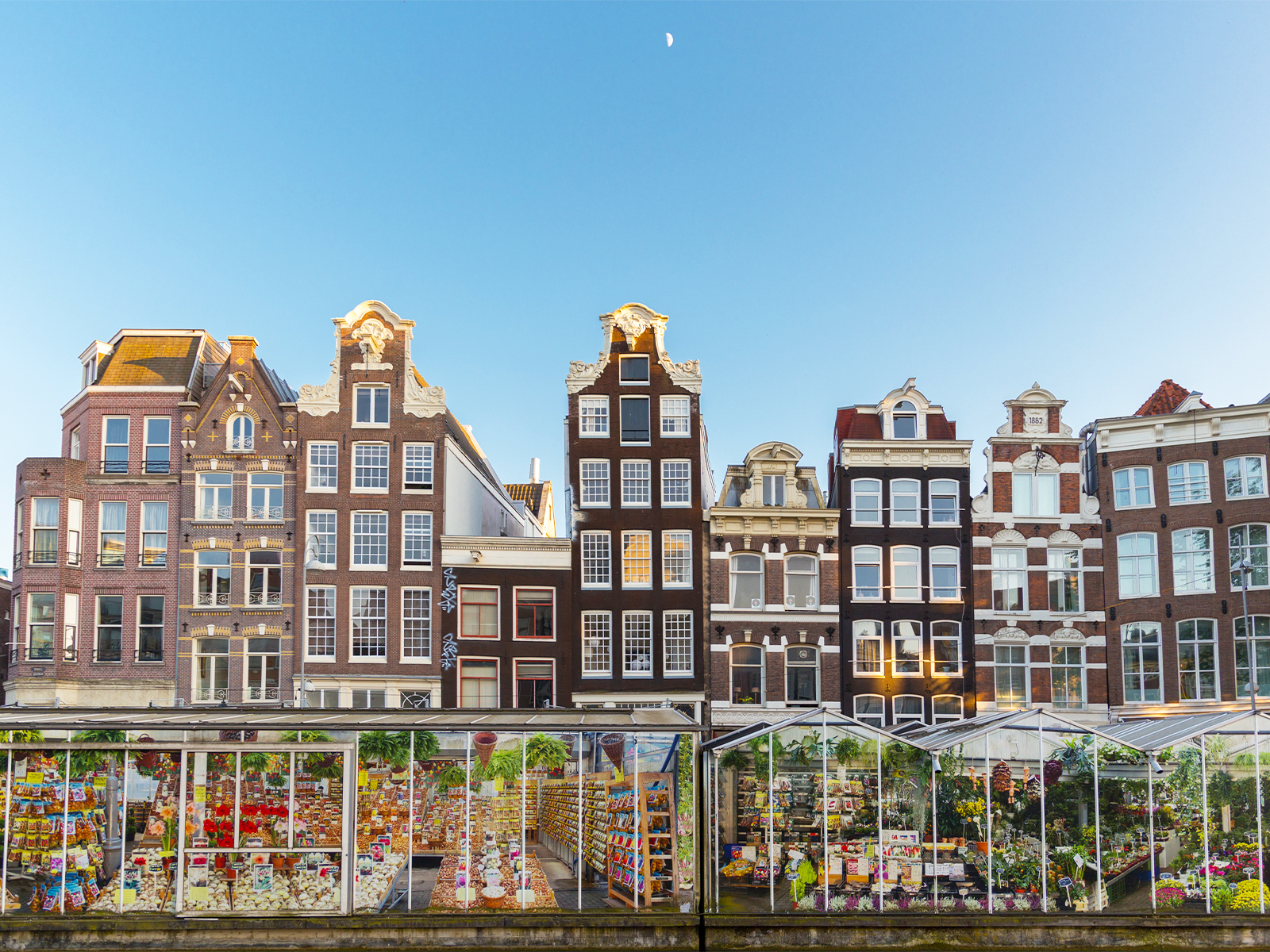 No exploration of Amsterdam's markets would be complete without a visit to the world-famous Bloemenmarkt, the floating flower market. Perched along the Singel Canal, this fragrant oasis offers a dazzling array of flowers, bulbs, and plants. Browse the stalls, admire the vibrant colors, and bring a touch of Amsterdam's beauty home with you. Don't forget to check out the unique souvenirs like hand-painted Delftware and botanical-themed trinkets.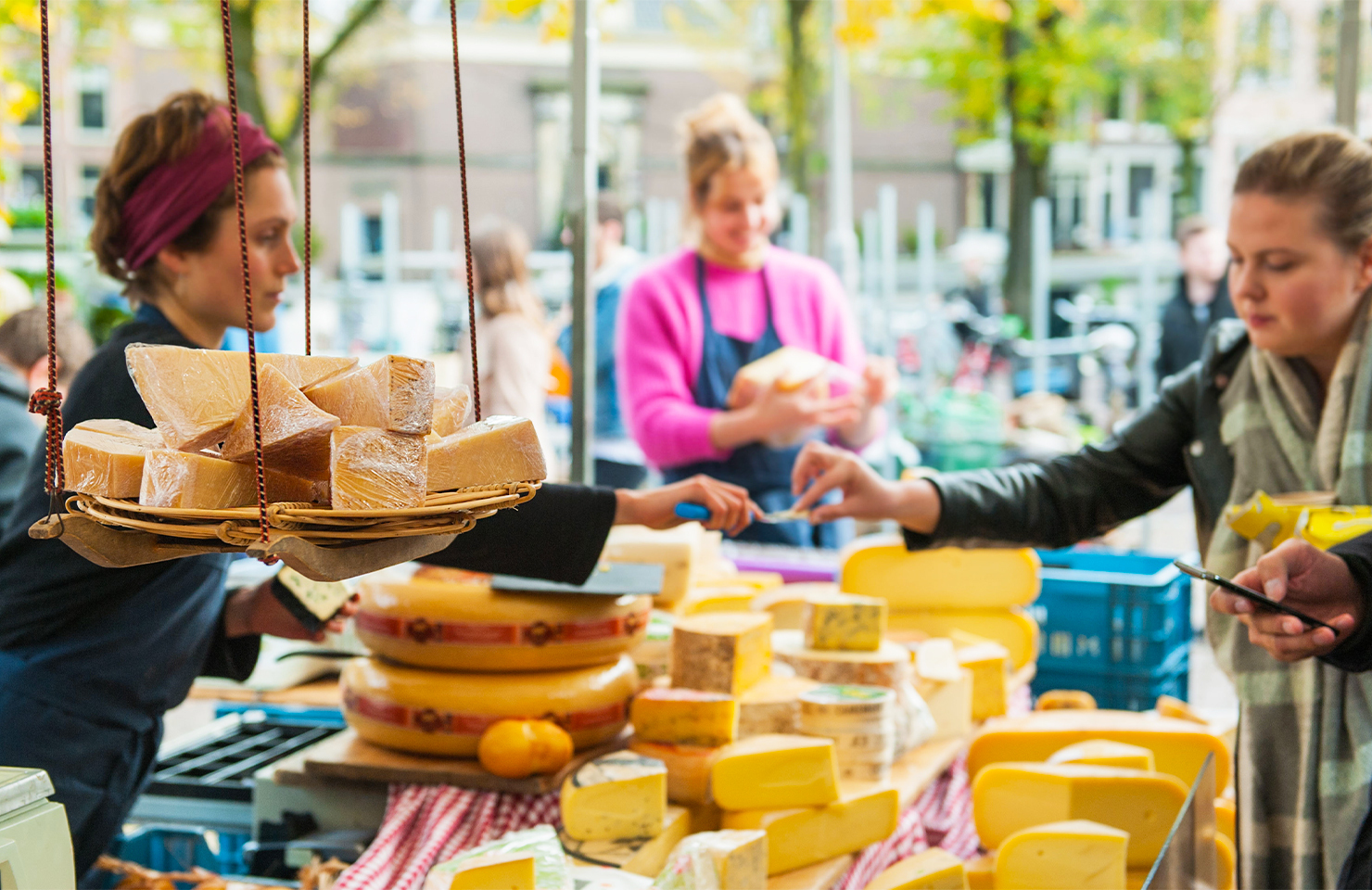 Amsterdam's markets are not just places to shop; they are vibrant cultural experiences that offer unique insights into the city's soul. From the lively Albert Cuypmarkt to the artistic NDSM Wharf, each market has its own charm, atmosphere, and array of cool and unique goods. Immerse yourself in the bustling energy, engage with friendly vendors, and bring home special souvenirs that will forever remind you of your adventures in Amsterdam.
Know anyone that's heading to Amsterdam soon? Make their trip even more special by surprising them with an Activitygift card. They can choose from a wide range of local activities that align with their interests, whether it's a food tour to explore the culinary delights of Amsterdam, a guided bike ride through the city's hidden gems, or even a traditional Dutch craft workshop. With the flexibility to choose their own experience, they can personalise their trip and create unforgettable memories. And if you're planning on visiting the Dam with your partner, here are our 6 eco friendly travel tips for couples.
So, spread the joy of Amsterdam's markets and the opportunity to explore the city's vibrant culture by gifting an Activitygift card. Your loved ones will appreciate the thoughtfulness and the chance to embark on their own adventure in the Dutch capital.