Back to the blog
The 7 Best Anniversary Gifts for Him
November 9th, 2023
Forget the cliché anniversary gifts and delve into a world of thrilling experiences that will make this anniversary unforgettable thanks to our list of the best anniversary gifts for him. As your anniversary approaches, it's time to show your man just how much he means to you. Whether you've been together for 1 year or 60, these unforgettable gift experiences are perfect for adding that extra spark to your special day and showing your appreciation.
Our list of the best anniversary gifts for him has been handpicked by us and caters to every type of man, from sport enthusiasts, avid travellers, beer connoisseurs, comedy lovers, gamers, tech aficionados, and more. Let's dive in!
The 7 Best Anniversary Gifts for Him
1. A Leisure Voucher for Adventure Sports

Is your man a sports enthusiast with an adrenaline-seeking spirit? Surprise him with an activity gift voucher that can be redeemed for an exhilarating adventure sports experience. When you buy an activity gift voucher for your man, he can choose from heaps of incredible gift experiences including:
Our activity gift vouchers offer a range of heart-pumping activities that will satiate his thirst for excitement. Plus, he can choose from exhilarating gift experiences here in the UK or abroad, giving him the ultimate gifting freedom.
2. Activity Vouchers for Travel Experiences

Next on our list of the best anniversary gifts for him, is one for the travel lovers! If your partner has an insatiable wanderlust, give him the gift of travel. When you buy an activity gift voucher for your boo, he can choose from hundreds of touristic gift experiences that will take his holiday from 0 to 100. Our activity vouchers are truly global and can be redeemed on gift experiences in over 160 countries worldwide including:
And these only scratch the surface on our incredible travel gift experiences that can be unlocked with our leisure vouchers. So if you've got a romantic couple's holiday coming up, give him a gift card for activities and he'll be able to fully immerse himself in the local culture and enhance his holiday.
3. Activity Gift Cards for Beer Experiences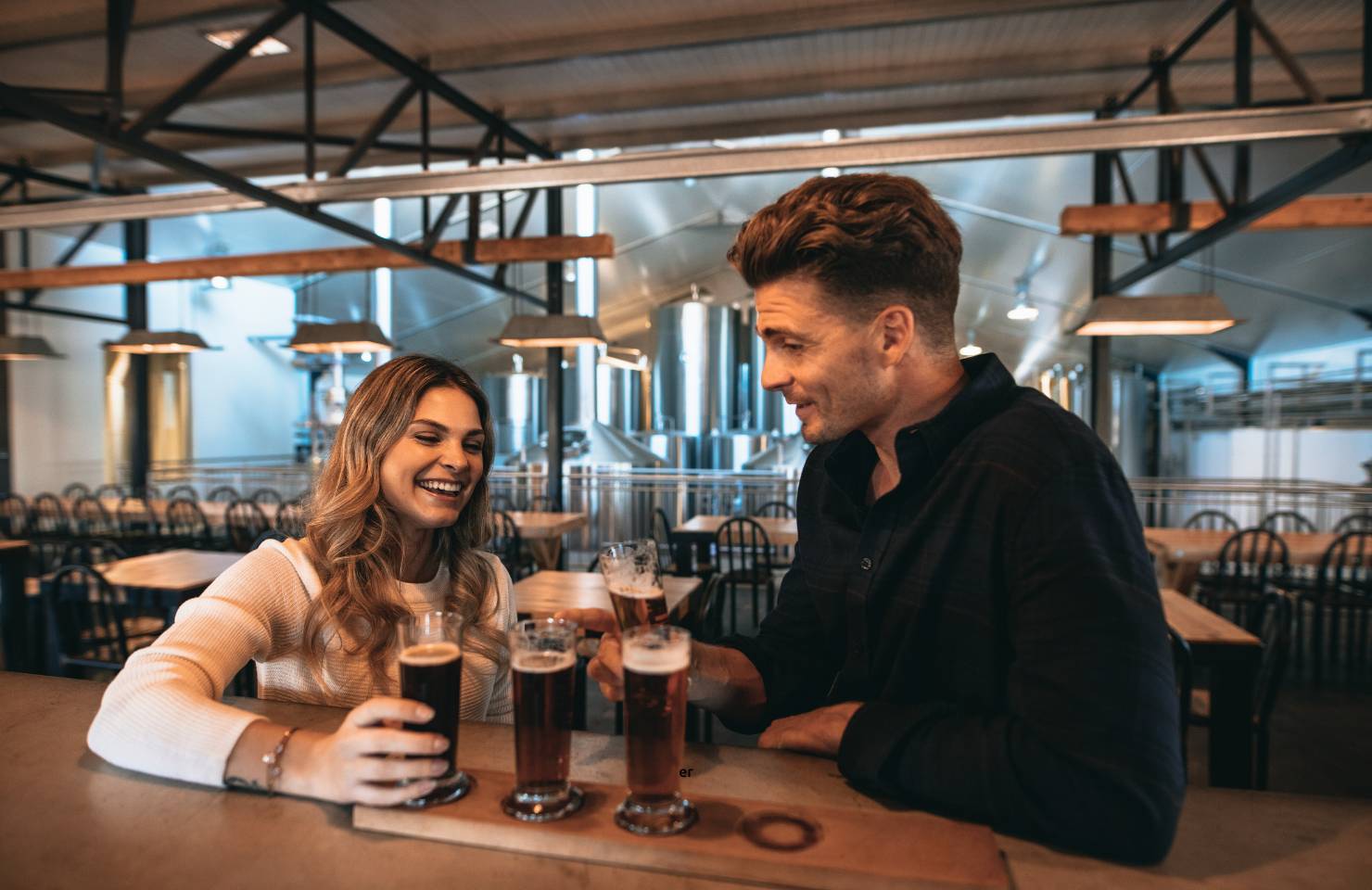 Say cheers to your love by gifting him an activity gift card for beer experiences. With our leisure vouchers, you can take him on a flavourful journey through the world of craft beer. From learning about the brewing process to sampling a variety of unique brews, this activity gift voucher is perfect for the beer-loving man who appreciates a good pint. The type of beer experiences in the UK or abroad he could pick from include:
What man wouldn't love a gift voucher for beer experiences? Especially one that allows him to pick exactly what kind of beer he wants to try, where he wants to try it and when!
4. Activity Vouchers for a Comedy Show
Laugh your hearts out together by giving him activity vouchers for a side-splitting comedy gift experience. Treat him to an evening filled with laughter and entertainment, where top-notch comedians will tickle his funny bone and create a joyful atmosphere for your anniversary celebration. Our leisure vouchers give him the choice of incredible comedy gift experiences all over the world, including:
Comedy Cruise along Bradenton Beach
So spoil him with a gift card for a comedy experience and let him blow off some steam on your anniversary.
5. Gaming Fun at VR Arcade

For the gaming aficionado, immerse him in a virtual reality gaming experience by giving him an activity gift voucher. Our gift vouchers give access to state-of-the-art VR arcades, where he can step into alternate worlds and embark on thrilling adventures. From virtual racing and immersive shooters to puzzle-solving escapades, these gift experiences will transport him to new realms of excitement. He'll have the choice of futuristic activities like:
Our gift vouchers cater to all types of interests, including gamers. Show him that you value his hobbies and gift him an incredible gaming experience.
6. Cutting-Edge Tech Workshop
If your man is a tech lover, gift him the opportunity to explore the latest gadgets and innovations with our activity vouchers. When you give him this unique anniversary gift, he'll be able to attend:
At these tech-focussed venues, he'll be able to attend hands-on tech workshops, where he can delve into topics like coding, robotics, or 3D printing. So buy a gift card activities for him and give him the chance to learn, create, and indulge his passion for technology on your anniversary.
7. Fine Dining Experience

Treat your beloved to a romantic fine dining experience at a renowned restaurant with our leisure vouchers. We offer a selection of gourmet experiences, where you and your lover can try delectable dishes crafted by talented chefs and as always, you can enjoy these gourmet food experiences in hundreds of different countries. These gift experiences include:
So raise a toast to your love and relish in the intimate ambience during one of these gourmet food experiences and make your anniversary truly memorable.
Activity Vouchers: The Best Anniversary Gift for Him
I'm sure we can agree that if you're on the hunt for a fun and unique anniversary gift for your special man, an activity voucher is the perfect option! Not only can he choose from thousands of anniversary experiences in the UK and abroad, but you can make the activity voucher extra special by adding a heartfelt message and a cherished photo of you both.
Whether he's in the mood to embrace his adventurous spirit, travel dreams, love for laughter, gaming enthusiasm, tech fascination, or appreciation for fine dining. These experiences are not just gifts; they are opportunities to create everlasting memories. So why not go on a romantic holiday and take your activity gift voucher along for the ride, you'll only grow closer as you explore a foreign country by trying something new.
So go ahead and go the extra mile this anniversary – whether it's your first or your sixtieth! Would you rather enjoy a romantic couples activity? Check out our ultimate guide that will bring you closer together than ever before.