Back to the blog
9 Spooktacular Halloween Activities for Kids
September 25th, 2023
Halloween is just around the corner, and it's the perfect time to engage your little ghouls and goblins in some spine-tingling, fun-filled Halloween activities for kids! At Activitygift, we understand the importance of making Halloween memorable for your kids.
That's why we've put together a list of 12 spooktacular Halloween activities for kids aged 5-12. From creepy crafts to haunted hide-and-seek, these unforgettable Halloween activities for kids are guaranteed to add a touch of magic to your Halloween celebrations. Plus, stick around till the end to discover how our activity gift vouchers can elevate your child's Halloween experience!
9 Spooktacular Halloween Activities for Kids
1. Pumpkin Carving Extravaganza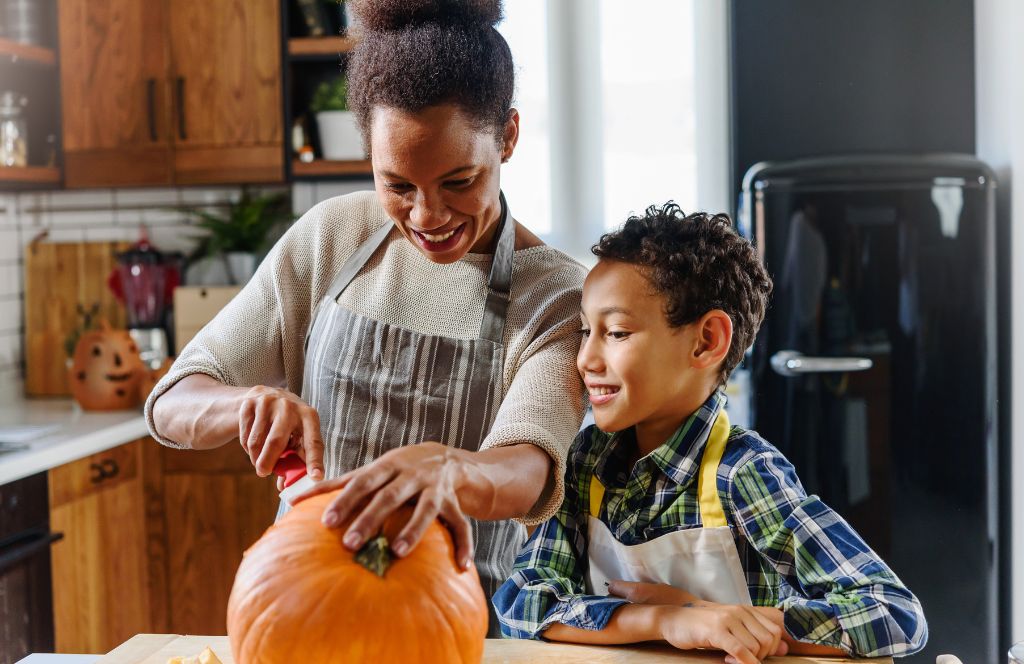 Pumpkin carving is an affordable activity that's bound to delight kids aged 5-12. You can easily find all the necessary equipment at your local supermarket for as low as £2, making it a hassle-free and budget-friendly Halloween tradition. When it comes to carving, encourage your little ones to choose from classic shapes like spooky faces, witches, ghosts, or even their favourite Halloween characters. Safety is key, so ensure they're supervised, and consider using child-friendly carving kits with blunt tools to prevent accidents. The duration of this activity typically ranges from 30 minutes to an hour, depending on the complexity of the design. Once the pumpkin is carved, don't let it go to waste! Roast the pumpkin seeds for a tasty and healthy snack. This tradition of carving pumpkins, known as 'Jack-o'-lanterns,' originated from Irish folklore about a man named Stingy Jack, who trapped the devil and used a carved turnip as a lantern. The tradition was later adapted with pumpkins when Irish immigrants brought it to America.
So, opt for pumpkin carving as a fun Halloween activity to enjoy a creative and budget-friendly Halloween with your kids through this tradition that has its roots in spooky folklore!
2. Costume Creation Workshop
A costume creation workshop offers an affordable and imaginative Halloween activity for kids aged 5-12. It allows your children to unleash their creativity by designing and crafting their very own Halloween costumes. You don't need to break the bank for this activity. Basic costume materials like old clothing, cardboard, glue, and markers can be easily sourced from around the home, your friends and family and your local shop. Let your kids' imaginations run wild as they decide whether they want to transform into witches, ghosts, superheroes, or any other character they fancy. Once their costumes are complete, they can proudly wear them for Halloween events and trick-or-treating.
3. Spooky Storytelling Night
Gather your family around a campfire in the garden, or if the weather doesn't cooperate, create a cosy pretend campfire in your living room. This imaginative activity is all about sharing tales of the supernatural. Encourage your kids to become budding storytellers by coming up with their own eerie and thrilling ghost stories. A campfire in your garden can be made with affordable materials, and for an indoor setup, use blankets, cushions, and torches to set the spooky atmosphere.
4. Eerie Scavenger Hunt
An Eerie Scavenger Hunt is a spooktacular Halloween activity for kids aged 5-12. Create a series of clues or riddles and hide them in your garden or around your home. You can easily find Halloween-themed prizes or treats to use as rewards. As the little adventurers follow the clues, their excitement will grow, and the hunt can take around 30 minutes to an hour. Once they've solved all the clues, reward them with the treasures they've collected in their Halloween-themed bags or buckets.  This fun Halloween activity is bound to add an element of excitement and mystery to your Halloween celebrations, making it an unforgettable experience that your kids will cherish for years to come.
5. DIY Halloween Decorations
Gather basic crafting supplies such as construction paper, scissors, markers, glue, and googly eyes so that your kids can make their own DIY Halloween decorations. Set up a creative workspace where your little artists can make paper ghosts, spiders, and spider webs, or even craft eerie bat mobiles to hang around the house. The crafting process typically takes an hour or more, depending on the complexity of the decorations.
Once completed, use your kids' spooky creations to adorn your home, adding a festive and personalised touch to your Halloween decor. This tradition not only allows your children to express their creativity but also contributes to a warm and welcoming Halloween atmosphere that's perfect for family and friends to enjoy together.
6. Haunted House Tour

Transform a room in your home into a spooky haunted house filled with surprises, using everyday household items and your DIY Halloween decorations. Plan an eerie journey through the darkened space, complete with hidden scares and spooky sights. Assign one child to be the tour guide while others play the daring explorers.
After the spooky adventure, gather for a post-tour debrief where kids can share their favourite spooky moments. This creative Halloween tradition fosters imagination and teamwork, allowing your children to experience the thrill of a haunted house in the safety of their own home, creating cherished memories that will last long after the Halloween season has passed.
7. Creepy Cookie Decorating

Get your kids into the Halloween spirit with a fun and budget-friendly activity: Creepy Cookie Decorating. All you need are basic baking supplies like sugar cookies, icing, food colouring, sprinkles, and spooky-shaped cookie cutters. Spend about an hour baking and cooling the cookies, and then let your little artists' creativity flow as they decorate these Halloween-themed treats. From ghostly faces to pumpkin patterns, they can transform plain cookies into deliciously eerie delights. After decorating, enjoy tasting the spooky creations together or pack them as treats for Halloween parties and gatherings.
This hands-on Halloween activity for kids not only satisfies their sweet tooth but also encourages their artistic expression, making Halloween even more delightful for your children and their taste buds. So, gather your supplies, roll up your sleeves, and get ready to create some fang-tastic Halloween treats with your kids!
8. Ghostly Science Experiments
Engage your kids in thrilling Halloween fun with Ghostly Science Experiments. You won't need anything elaborate—just some everyday household items and a dash of imagination. Spend about an hour conducting spooky experiments, such as creating erupting pumpkin volcanoes or mixing up slime that glows in the dark. Watch their faces light up with amazement as they explore the supernatural side of science. These eerie experiments not only provide entertaining and educational experiences but also allow your children to learn through hands-on discovery.
After the experiments, encourage them to share their newfound knowledge with family and friends, adding an educational twist to your Halloween celebrations. So, gather your supplies, put on your lab coats, and prepare to uncover the mysteries of Halloween with these ghostly science experiments.
9. Halloween Movie Night
Host a spooktacular Halloween Movie Night. It's an easy and enjoyable way to get into the Halloween spirit. Select age-appropriate Halloween classics, dim the lights, and get cosy with blankets and pillows. Spend an evening watching ghoulish tales unfold on the screen. You won't need any special equipment or expensive setups—just your TV or a laptop and some popcorn. It's an activity that can last a couple of hours or more, depending on the movies you choose.
Pick films that are just spooky enough to thrill but not too scary like Casper, Hocus Pocus or Coraline. Halloween Movie Night is a tradition that brings the family together for quality time, filled with laughter and shared scares. It's also a chance to introduce your children to classic Halloween movies and create cherished memories that will become part of your Halloween tradition. So, grab your favourite Halloween flicks, get the popcorn popping, and settle in for a night of cinematic Halloween fun.
Activity Gift Vouchers that Elevate the Halloween Fun

As you plan these spooktacular Halloween activities for your kids, don't forget that giving activity gift vouchers can add excitement to any occasion, including Halloween! Our activity gift vouchers can be redeemed for thousands of unique experiences, whether they're Halloween-themed or not. From thrilling adventures to creative workshops, we've got it all covered and they're guaranteed to impress both kids and adults alike. By gifting an activity gift voucher, you're giving your kids the gift of choice. Let them explore their interests and passions, and create memories that will last a lifetime. So head to our Give page to create the perfect activity gift vouchers for your little ones this Halloween.
After all, Halloween is a time for creativity, laughter, and memorable moments with your kids and thanks to these 9 spooktacular Halloween activities for kids, you can make this Halloween truly special for your children.