Back to the blog
The 5 Best Theme Parks in Europe for an Unforgettable Day
September 27th, 2023
Are you ready to dive into a world of excitement, thrills, and pure wonder? We're about to embark on a journey to discover the best theme parks in Europe – places where unforgettable moments are born, laughter echoes through the air, and lifelong memories take shape. Join us as we explore these incredible destinations that offer a taste of magic, adventure, and family fun. Whether you're a seasoned thrill-seeker or just looking for an escape from the every day, the best theme parks in Europe have something extraordinary in store for you. So, let's fasten our seatbelts and step into a realm of pure joy and adventure!
Why You Need to Visit the Best Theme Parks in Europe
1. Creating Lasting Memories: At the heart of these theme parks lies the promise of crafting enduring memories with your loved ones. Whether it's witnessing the sheer delight on your child's face during their first roller coaster ride or conquering your own fears on a daring attraction, these moments become cherished souvenirs of your time together.
2. Unforgettable Fun: Fun is the essence of these parks, and they deliver it in spades. Each park offers a unique blend of excitement, from heart-pounding coasters to whimsical boat rides through captivating landscapes. Europe's best theme parks guarantee a thrill for every member of your group.
3. Escaping the Digital World: In an age dominated by screens and digital distractions, these theme parks provide a refreshing escape. They transport you to immersive, real-world environments where technology takes a back seat to vibrant colours, exciting sounds, and unforgettable adventures. It's a chance to unplug, reconnect, and rediscover the joy of in-person interactions with your loved ones.
The Best Theme Parks in Europe
Now, let's dive into some of the top theme parks in Europe:
1. Plopsaland De Panne, Belgium
Discover Belgium's most popular theme park with Plopsaland De Panne. With over 50 attractions, all ages will have an unforgettable experience. Try the attraction The Ride to Happiness by Tomorrowland, the most spectacular roller coaster in Europe. You will be catapulted at more than 90km/h and have an exceptional view of Plopsaland De Panne. To make the experience even more unique, Tomorrowland has created a special and exclusive soundtrack.
Children will love DinoSplash to discover the land of the Dinosaurs. You'll sail through a prehistoric landscape and pass living dinosaurs in motion. The boat will pass swirling volcanoes and lava streams.
Maya, the Bee's Flower Ride, will take you to a fairytale world of flowers.
2. Gardaland, Italy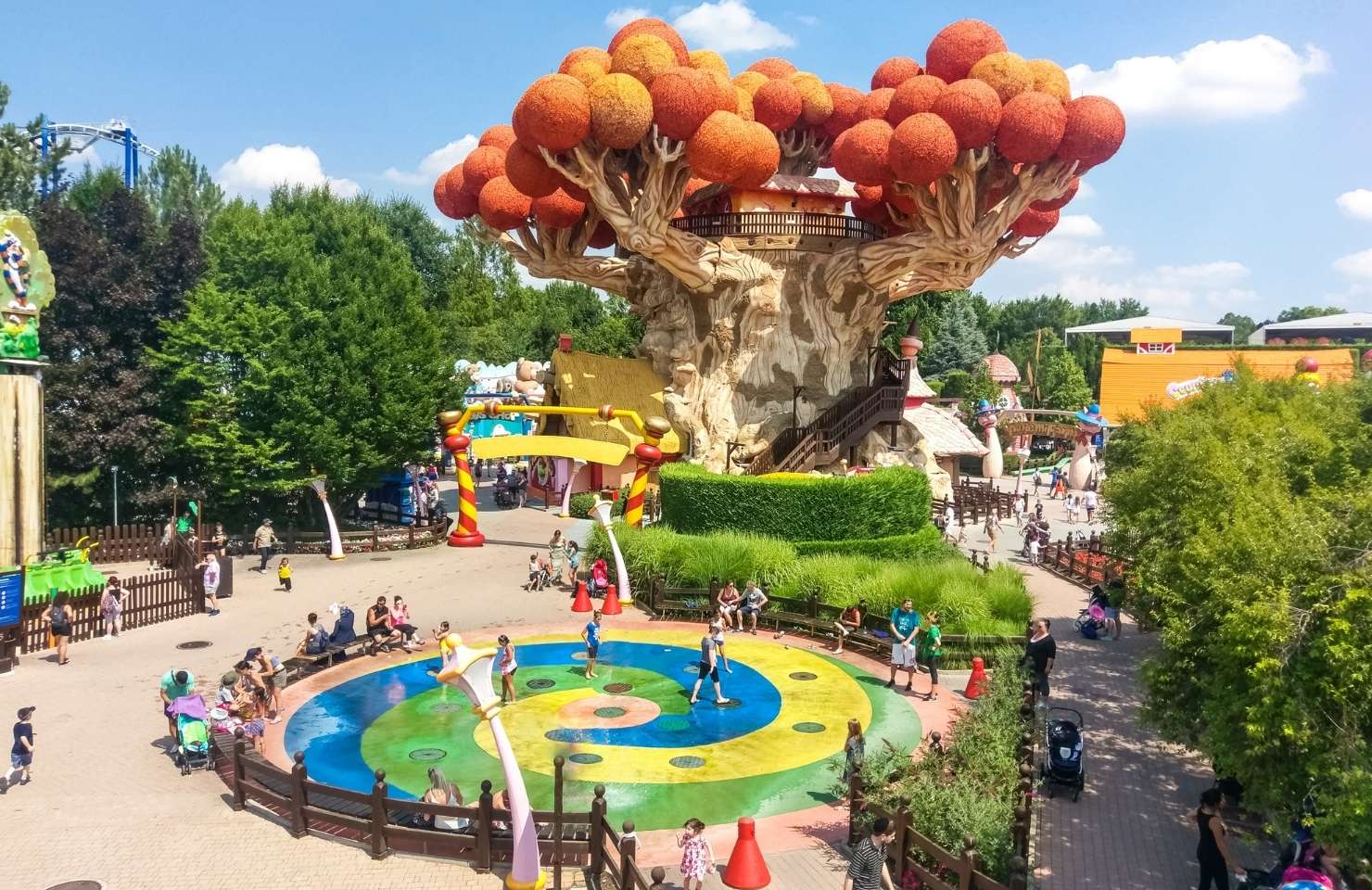 Head to Italy to eat pizza and enjoy the dolce vita while spending a day at Gardaland. The park is known for its thrill rides. Among the must-sees is the Jumanji experience. Enter the wild world of Jumanji on a journey filled with danger where only you can lift the curse.
If you're with your little ones, the world of Peppa Pig is open to you. Meet Peppa in person, visit her house and take a train ride. Your children will be thrilled.
3. Asterix, France
In the land of the Gauls, Asterix and Obelix await you. In the forest of Dogmatix, the little ones can walk through a course that looks like a living garden. Older children can try out the Zeus Thunderbolt, with its high-speed bends and special effects tunnel. Perhaps you would like to see the various shows the park's actors put on? Or meet the emblematic characters? Asterix, Falbala or Getafix? They are  waiting for you in the Gaulish village. You can enjoy a full day at the Asterix theme park by redeeming your special activity gift card!
4. PortAventura World, Spain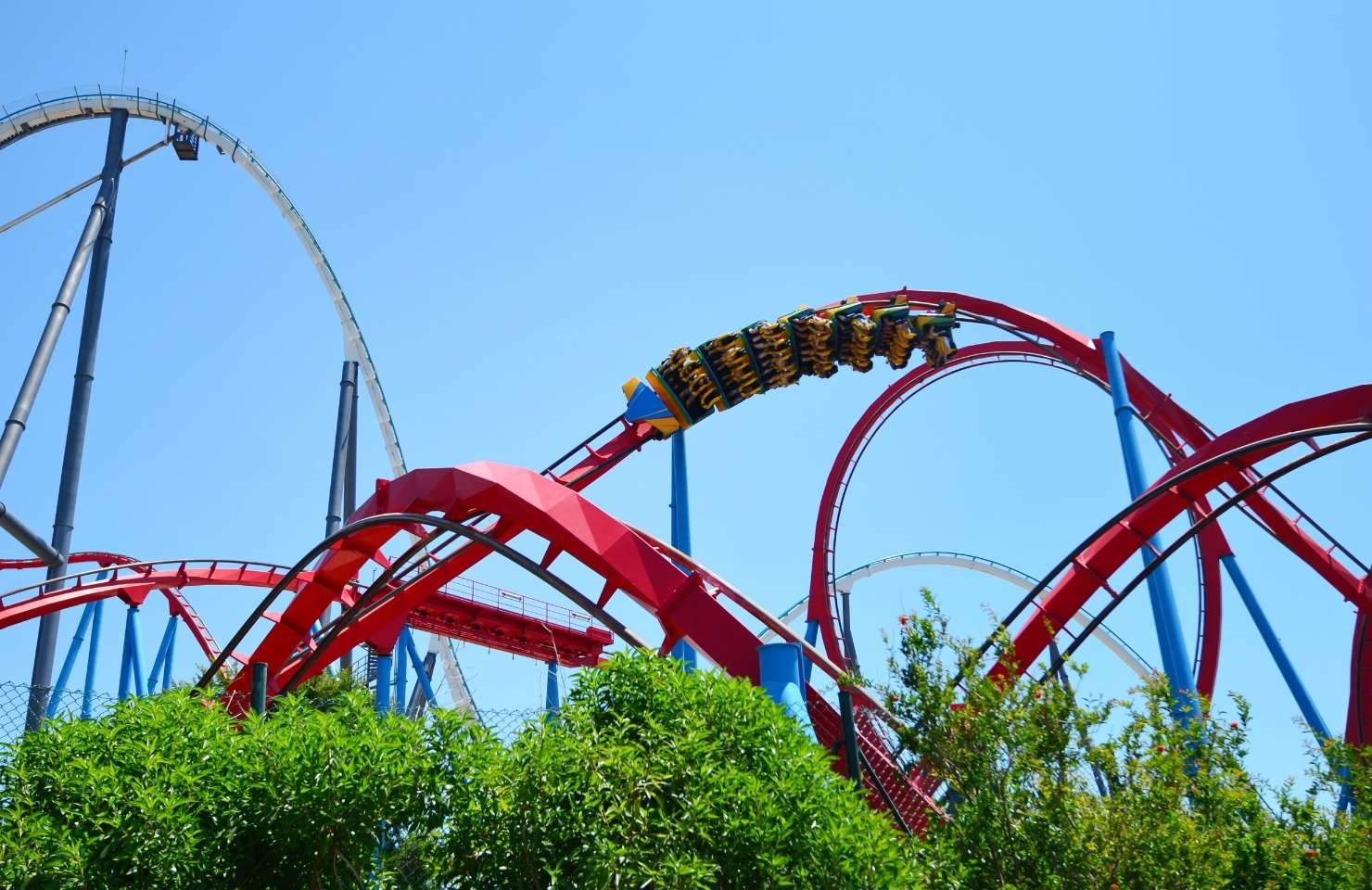 PortAventura World is no less than 3 unique worlds with their specificities:
PortAventura Park
Ferrari Land
Caribe Aquatic Park
PortAventura Park is a vast theme park and has 6 worlds to live a magical experience. In each part of the park, you will find new attractions in China, Polynesia, and the Wild West. It is the ideal park for families.
Ferrari Land is a unique theme park in Europe where you can discover all the secrets of the Italian brand Ferrari and live an unforgettable adventure. In the shoes of a Formula 1 driver, experience crashes, turns and dizzying races. Numerous shows await you every day. We recommend the Rondò Veneziano show, a show with a thousand colours to plunge into the elegance of the 18th century with splendid period dresses.
Caribe Aquatic Park is the park's water park. You can find more than 50,000 square metres to have fun in water games. It's ideal for cooling off in 16 attractions and pools during the hot summer. In a Caribbean setting, become a pirate and try the star attractions such as the Barracuda or the Tropical Cyclon.
5. De Efteling, The Netherlands

Open the doors to a fairytale world by spending a day at De Efteling, the most famous theme park in the Netherlands. The park is in the middle of the countryside, and there is plenty of fun for young and old alike.
For children, the park has designed unique attractions with fairy tale characters. The most famous fairy tales, such as Pinocchio or Hansel and Gretel, are also included in the park. Adults have a wide range of looping and roller coaster rides. Do you know Baron 1898? This attraction will give you a thrill with a free fall of 37.5 metres.
De Efteling is open every day and changes with the seasons. In winter, you can enjoy the many twinkling lights, while in spring, you will admire flowers and whistling birds and chicks.
6. Europa-Park, Germany
Prepare to be amazed at Europa-Park in Germany, a theme park aficionado's dream come true. It's like taking a whirlwind tour of Europe in a single day, with themed areas dedicated to different countries. This park boasts an astonishing variety of rides and shows that will leave you in awe. Whether you're exploring the mystique of a Chinese pagoda or braving the thrills of the Mediterranean coasters, Europa-Park has something for everyone. And when your stomach starts to growl, indulge in culinary delights that transport your taste buds around the world.
7. Tivoli Gardens, Denmark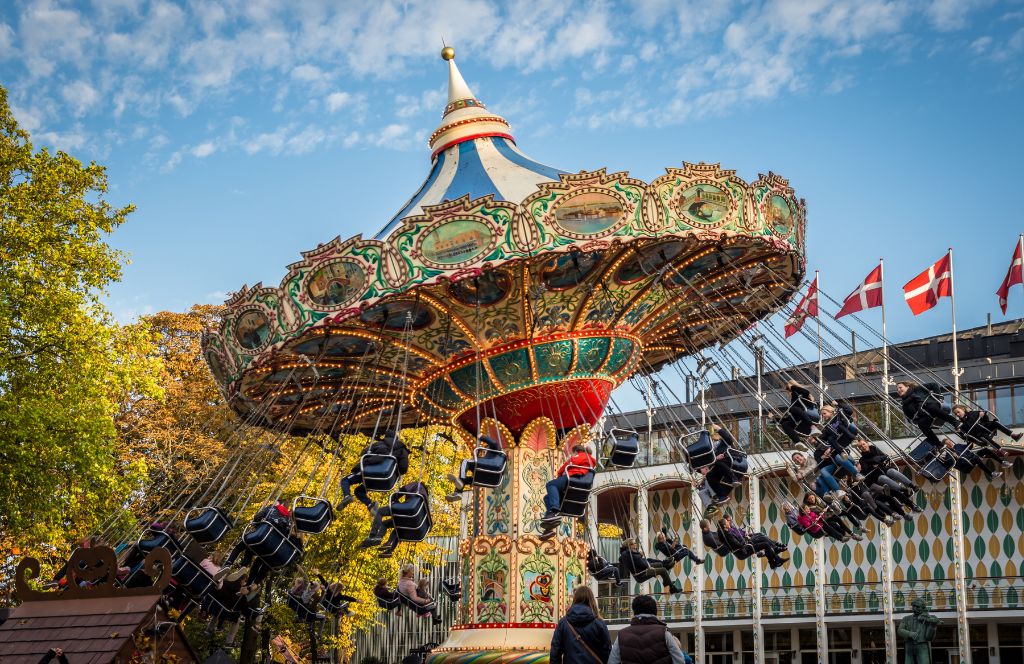 In the heart of Copenhagen, Denmark, lies Tivoli Gardens, one of the world's oldest amusement parks. This historic gem is a delightful blend of modern thrills and nostalgic charm. Tivoli offers something for all ages, from the classic wooden coaster, Rutschebanen, to the enchanting world of Peppa Pig for the little ones. One of the park's unique charms is the way it transforms with the seasons. Whether you're admiring the twinkling lights during the winter season or reveling in the beauty of spring with blossoming flowers and cheerful birds, Tivoli Gardens is a year-round destination for fun and entertainment.
8. Phantasialand, Germany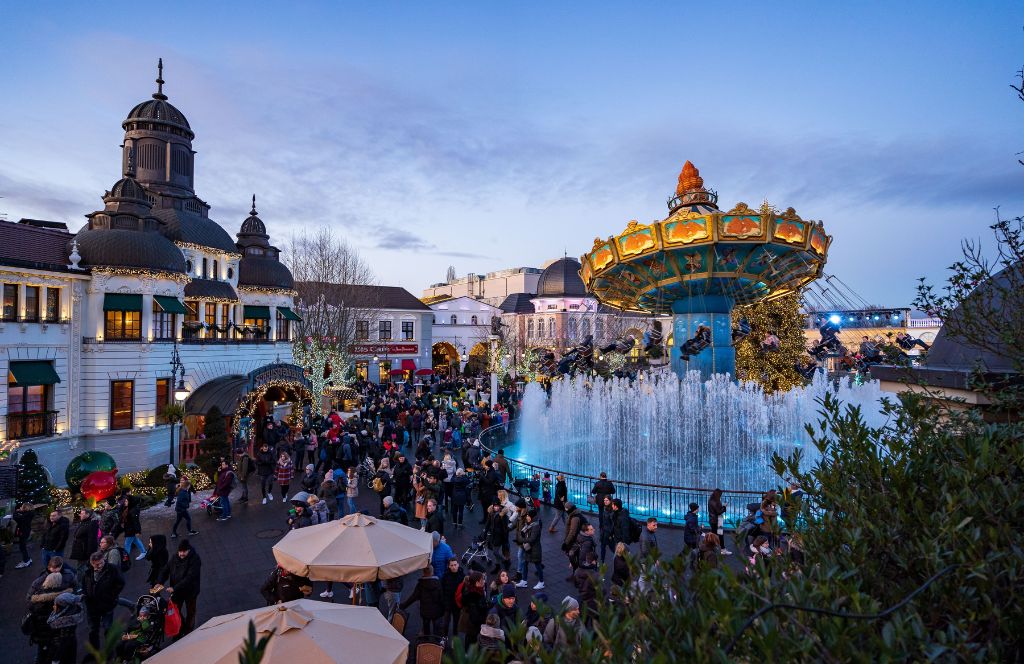 Prepare to be surprised and delighted at Phantasialand, a theme park in Germany that consistently exceeds expectations. With impeccable theming, thrilling rides, and captivating shows, Phantasialand is a must-visit. Brave the gravity-defying Taron coaster and experience the watery wonders of Chiapas. But Phantasialand offers more than just heart-pounding thrills; it also presents a world of culinary delights that will transport your taste buds. From Asian-inspired cuisine to exquisite European dishes, the dining options here are a feast for the senses. So, if you're seeking fun and adventure with a touch of elegance, Phantasialand in Germany should be on your list.
So, are you ready to take your family or friends on a wild adventure in one of Europe's best theme parks? Which one will you fall for?
Give the Gift of Adventure with Activity Gift Vouchers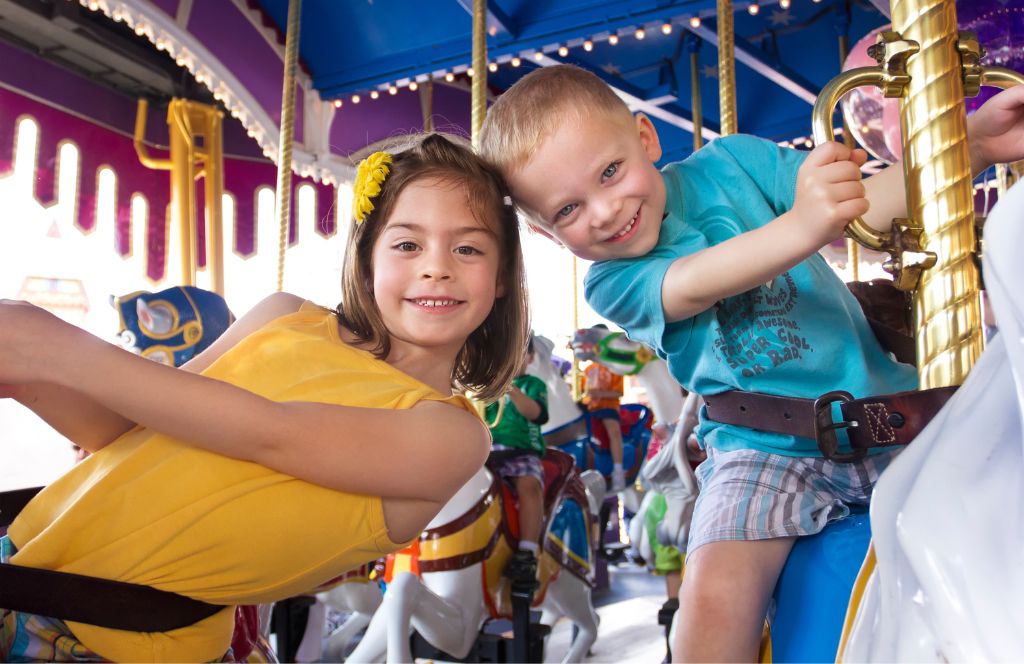 Imagine the joy on a loved one's face when they receive the gift of a thrilling theme park adventure in Europe. With our activity vouchers, you can make this dream a reality. These vouchers offer the perfect opportunity to surprise someone special with a day of excitement, laughter, and unforgettable memories at one of Europe's best theme parks.
But here's the exciting part – you don't need to stick to theme parks alone! Activitygift offers a wide array of experiences beyond the thrill of roller coasters. From history tours that transport you back in time to water sports that make a splash, and from food and drink tours that tantalize the taste buds to cultural explorations that broaden horizons – the possibilities are endless.
How Can I Buy Gift Vouchers for Activities?
Create the Perfect Voucher: You can easily personalise our activity vouchers by adding a message and your own photo so that your loved one feels truly special
Personalise Your Activity Voucher: Make your gift extra special by adding a personal touch. Include a heartfelt message or a note explaining the exciting adventures they can embark on with their voucher. It's a thoughtful gesture that adds a personal connection to the experience.
Redeem your Activity Voucher for an Adventure: Once the recipient receives their activity gift voucher, they can easily redeem it for their chosen adventure. Whether it's a day of thrilling rides at a theme park, a journey through history, a kids day out, or a culinary exploration, they can look forward to an incredible day ahead.
Create Lasting Memories: As your loved one dives into their chosen adventure, they'll be reminded of the extraordinary activity voucher you've given them. The memories they create will be treasured for a lifetime, whether it's the adrenaline rush of a theme park or the cultural enrichment of a history tour.
So, why limit your gift to just one type of experience when you can offer the world of possibilities with our activity gift vouchers? Whether it's a theme park adventure, a museum pass, a historical journey, a water sports extravaganza, or a culinary delight, your loved one can choose the adventure that resonates with them the most. It's a gesture that not only shows your thoughtfulness but also provides an opportunity for them to escape the ordinary and embark on an extraordinary journey, no matter their passion or interest. Make their day one to remember with an activity gift voucher – the key to unlocking a world of adventure in Europe and beyond.