Back to the blog
The 10 Best Amsterdam Museums for Kids
September 26th, 2023
Are you planning a family escapade to the enchanting city of Amsterdam with your little explorers in tow and on the hunt for the perfect Amsterdam museums for kids? Amsterdam, often seen as a hub of art and history for grown-ups, might initially leave you wondering: will my kids be bored out of their minds? But fear not! In this comprehensive guide, we're about to unveil why you need to go on an Amsterdam family holiday and why you'll find 10 incredible child-friendly museums that will keep your youngsters excited and engaged throughout your trip.
From its safety and walkability to its abundance of parks, playgrounds, and family-friendly activities, Amsterdam offers a wealth of experiences that will make your family holiday an unforgettable adventure. So, let's embark on a journey through this enchanting city, discovering museums that will leave your little ones beaming from ear to ear.
Why Amsterdam Family Holidays are an Amazing Travel Choice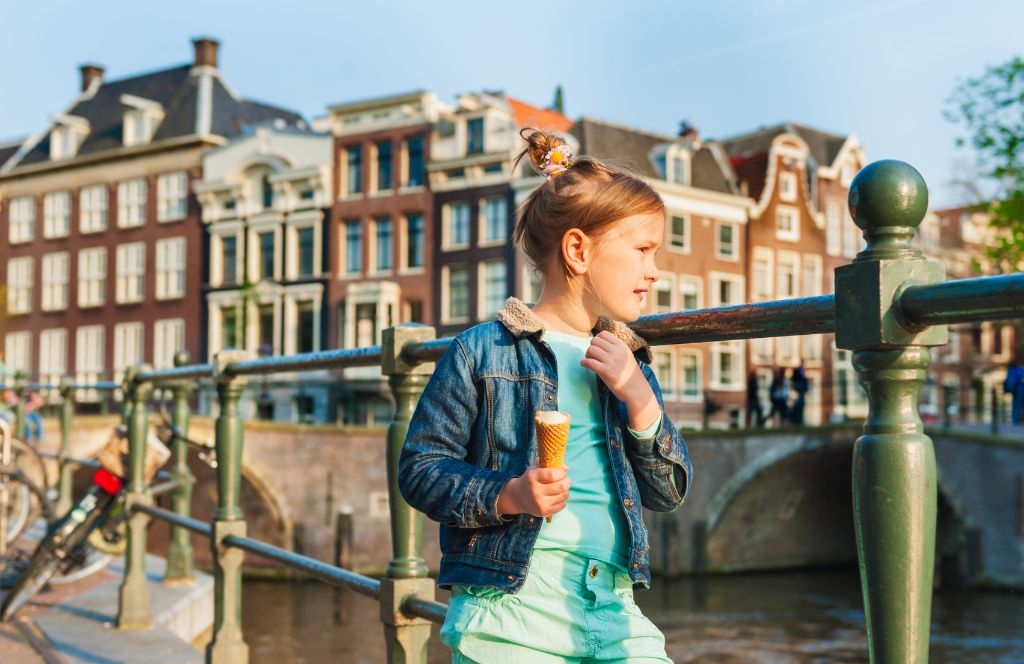 Amsterdam isn't just a picturesque canal-laden city for romantic getaways; it's also an outstanding choice for a family holiday, especially when you're travelling with little ones. This vibrant Dutch capital boasts a range of family-friendly activities and attractions that will keep your kids entertained and create unforgettable memories. Here's why Amsterdam is the perfect destination for families and some fantastic activities you can enjoy together:
1. Safe and Walkable: One of the standout features of Amsterdam is its safety and walkability. The city is well-connected by trams and buses, making it easy to explore with strollers or little legs. The absence of steep hills and compact layouts make it convenient for families to navigate.
2. Parks and Playgrounds: Amsterdam is dotted with beautiful parks and playgrounds where kids can burn off some energy. Vondelpark, in particular, is a green oasis in the heart of the city, offering playgrounds, ponds, and open spaces for picnics and playtime.
3. Canal Cruises: Amsterdam's iconic canals aren't just for romantic boat rides. Many canal cruises are family-friendly, offering guided tours that provide insights into the city's history and architecture. Kids will be fascinated by the houseboats and picturesque bridges.
4. Zoo and Animal Encounters: Artis Royal Zoo, also known as Natura Artis Magistra, offers a fantastic opportunity for kids to see exotic animals up close. The zoo's interactive exhibits and feeding sessions make it an exciting outing for the whole family.
5. Bike Rentals: Amsterdam is a cycling paradise, and renting bikes with child seats or cargo bikes is a great way for the family to explore the city. Amsterdam's flat terrain and extensive bike paths make it safe and enjoyable for even the youngest riders.
6. Pancake Houses: Dutch pancakes, known as pannenkoeken, are a hit with kids. Explore the city's charming pancake houses to savor these delicious treats, often served with a variety of toppings like syrup, fruit, or chocolate.
7. Storybook Amsterdam: Many corners of Amsterdam seem like something out of a storybook, from picturesque windmills to fairy-tale houses along the canals. Exploring these charming neighborhoods with your little ones can feel like stepping into a fairy tale.
In Amsterdam, there's no shortage of family-friendly activities that cater to kids of all ages, making it an ideal destination for a memorable family holiday. From educational adventures in museums to carefree moments in the city's parks and canals, Amsterdam has something to offer every member of the family. So, pack your bags, bring your little explorers, and prepare for an Amsterdam family holiday filled with wonder and joy.
The 10 Best Amsterdam Museums for Kids
Now that we've established why an Amsterdam family holiday is a fantastic choice, let's dive into the heart of our journey. In this guide, we're going to focus on child-friendly museums, which are a highlight of Amsterdam's family-friendly offerings. These museums not only provide an opportunity for your kids to learn but also ensure they have a blast while doing so. But before we delve into the museum magic, here's a valuable tip: consider buying The Netherlands Museum Pass, a key to unlocking cost-effective exploration at over 400 museums nationwide, including many of Amsterdam's top attractions.
1. The NEMO Science Museum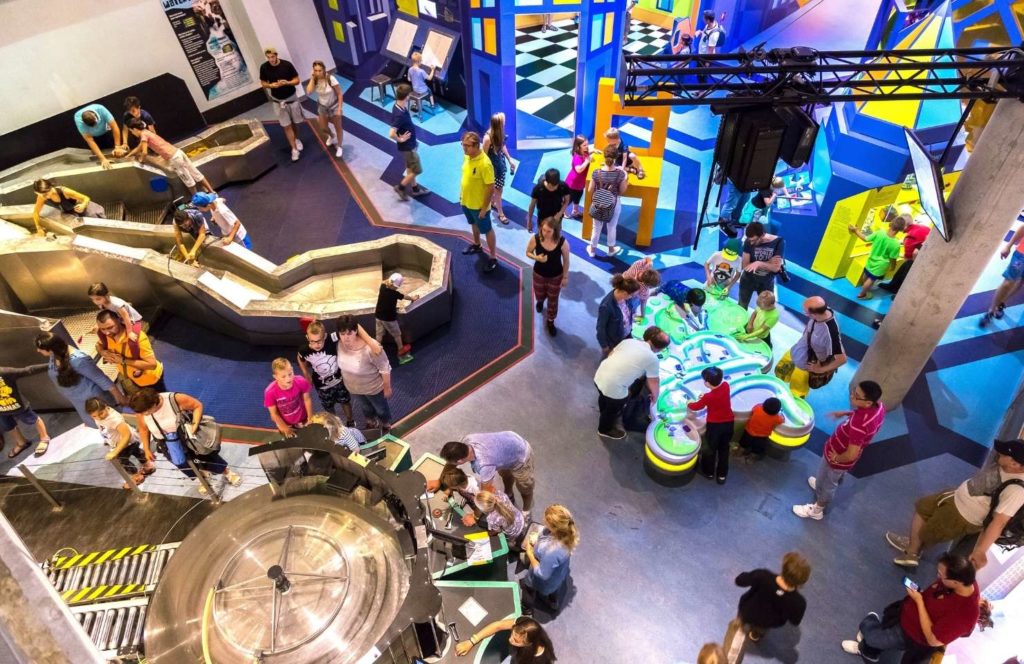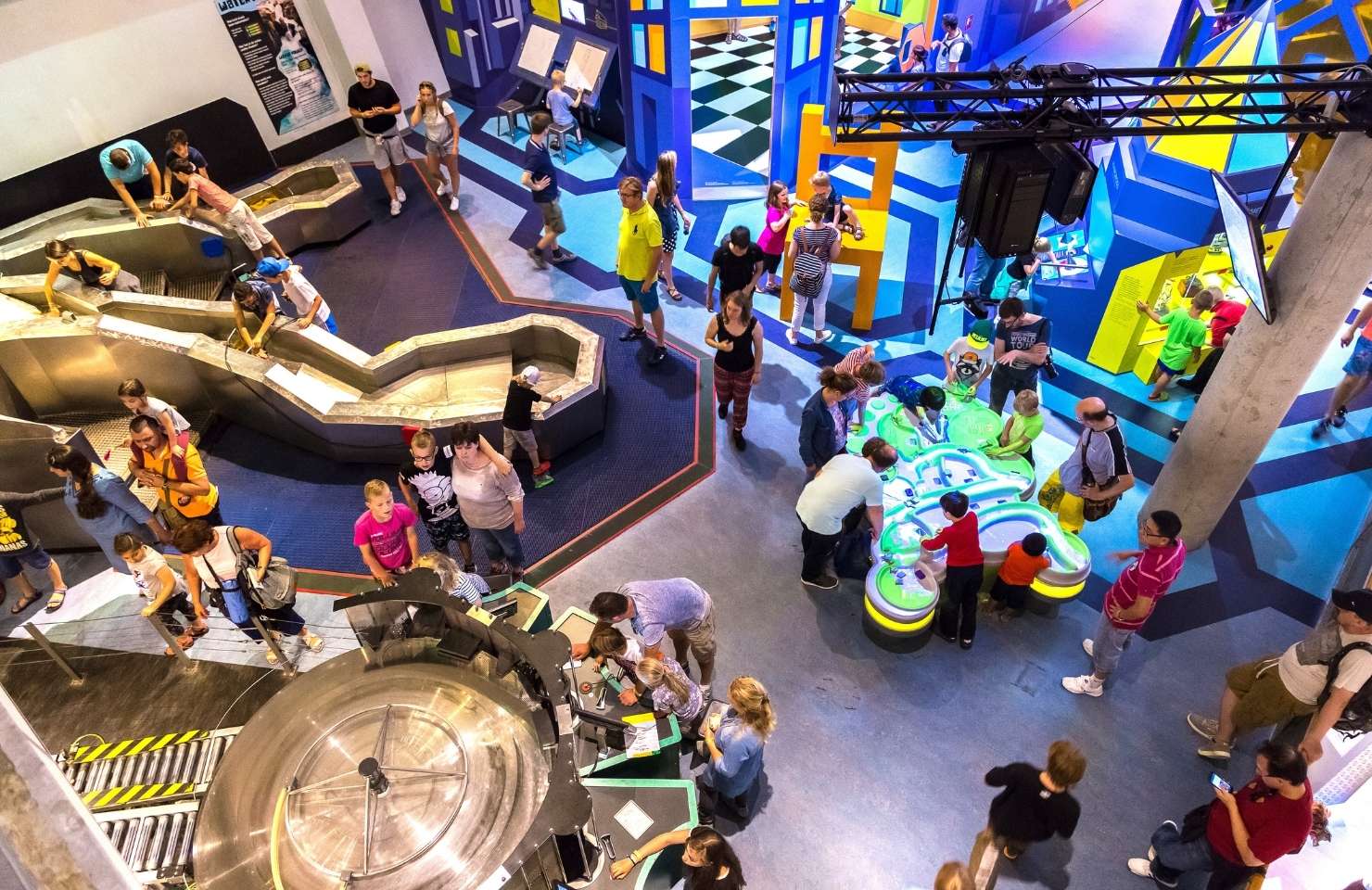 Prepare to ignite your kids' inner scientists at the mind-blowing NEMO Science Museum. This place is like a giant playground of discovery. From building bridges and experimenting with electricity to creating cool chemical reactions, your little Einsteins will be in awe of the hands-on exhibits. And don't even get me started on the rooftop terrace! With water play and renewable energy activities, your kids will be over the moon. Trust me, after a visit to NEMO, they'll be begging you for more science adventures.
2. Tropenmuseum Junior
Ready to embark on a globetrotting adventure without leaving Amsterdam? Then head to the Tropenmuseum Junior! This museum takes your family on an immersive journey through different cultures. Your kids will be captivated by the interactive displays, hands-on activities, and captivating storytelling. They can dress up in traditional costumes, participate in role-playing activities, and even create their own artwork inspired by diverse cultures. It's an experience that opens young minds, builds empathy, and fosters a love for our diverse world.
3. The Maritime Museum : Het Scheepvaartmuseum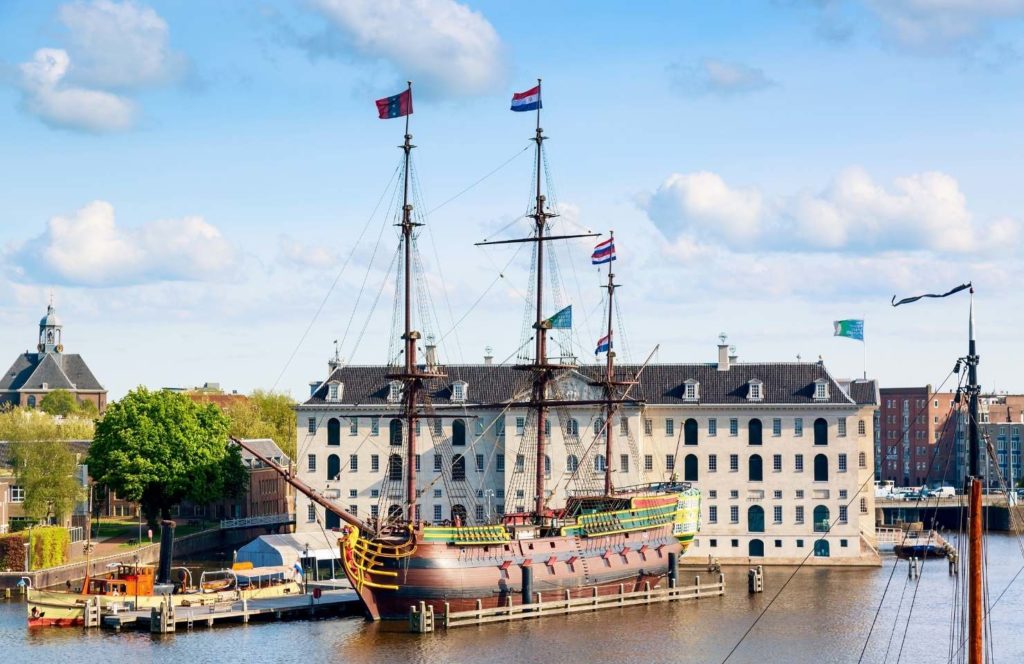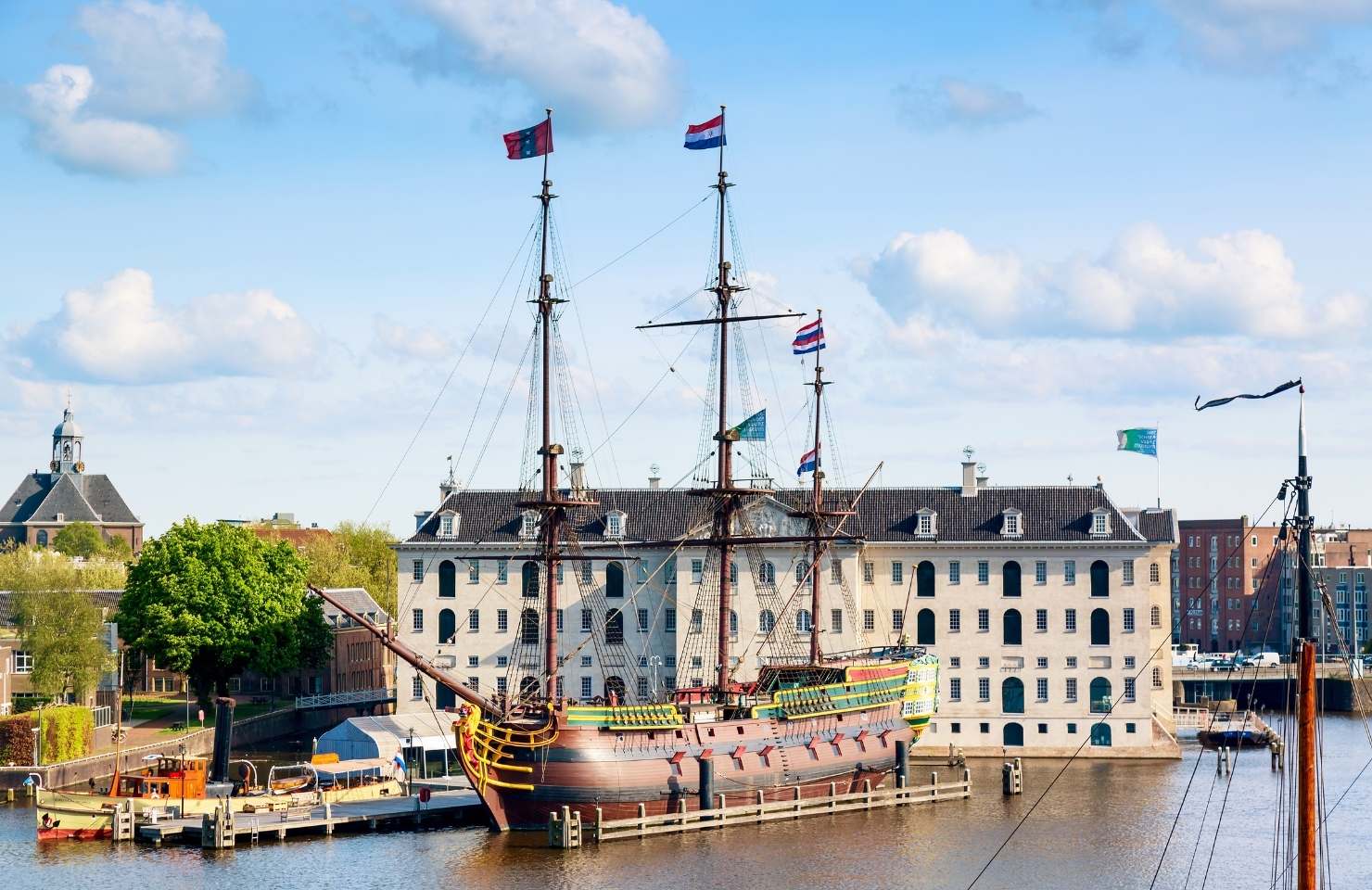 Ahoy, little sailors! Get ready for a swashbuckling adventure at Het Scheepvaartmuseum, with one of the world's largest collections of maritime artefacts, and over 40,000 collections. This museum dives into Dutch seafaring history, and it's a treasure trove of excitement for kids. They can climb aboard a real-life East India Company ship, explore a naval vessel, and even learn to tie knots and hoist sails. The interactive exhibits bring history to life, and your kids will feel like they're sailing alongside pirates and explorers. There's even a giant whale that your child can climb inside and see how its heart beats.
4. The Netherlands Open Air Museum: Nederlands Openluchtmuseum
Time to step back in time and experience history come alive at the Nederlands Openluchtmuseum! This open-air museum is like a magical time machine, taking your family on a journey through Dutch history. From windmills and traditional houses to vintage trams and old-fashioned treats, this place is a history lover's dream. Your kids can try their hand at traditional crafts, interact with costumed guides, and imagine what life was like in the Netherlands centuries ago.
5. Micropia
Prepare for a microscopic adventure at Micropia, the world's first museum dedicated to tiny creatures! This mind-boggling museum unveils the hidden world of microbes – those teeny, tiny organisms that are everywhere but invisible to the naked eye. Your kids will be amazed as they observe live microorganisms and learn about the crucial role microbes play in our lives, from digestion to medicine. They can even get up close with ants in an ant farm and discover the incredible diversity of microbes in our environment. Micropia's mind-blowing exhibits will make your kids realise just how powerful the tiniest things can be!
6. Anne Frank House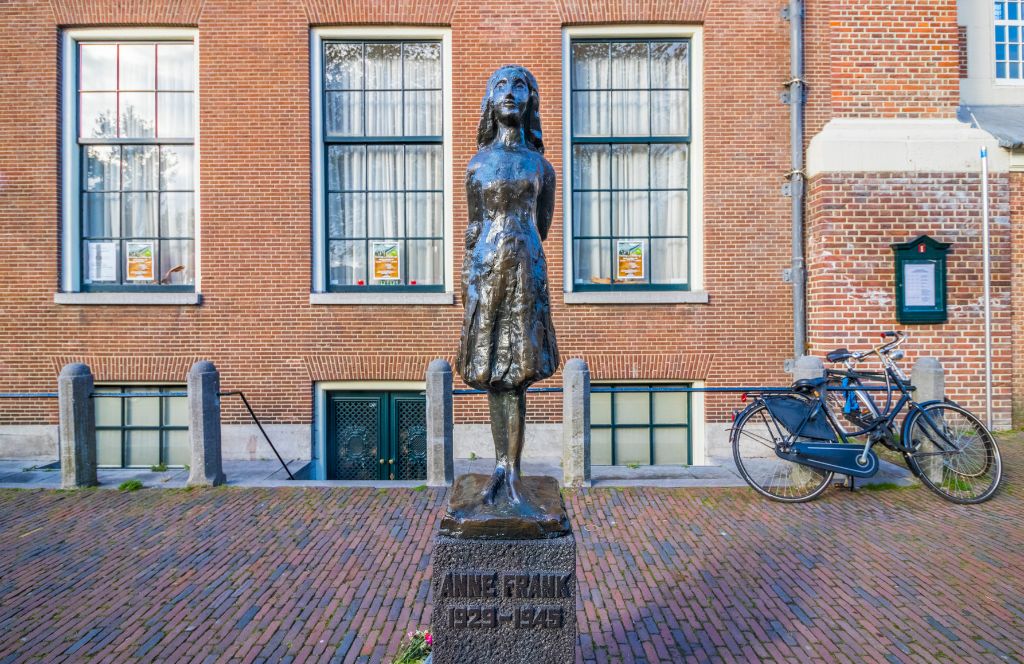 Now, prepare for an emotional and important history lesson at the Anne Frank House. This museum offers a poignant glimpse into the life of Anne Frank and her family during World War II. While the subject matter can be sensitive, the museum provides a thoughtfully curated experience that educates children about the impact of prejudice, discrimination, and the importance of tolerance. Walking through the secret annex, reading Anne Frank's diary, and seeing the actual rooms where they hid will leave a lasting impression on young minds.
7. Natura Artis Magistra (Artis Royal Zoo)
Let's venture into the incredible world of Natura Artis Magistra, better known as Amsterdam's Artis Royal Zoo. This unique museum-zoo hybrid offers a delightful combination of animals, nature, and history. Children can observe exotic creatures, including elephants, giraffes, and lions, while also exploring the museum's natural history collection. From the Butterfly Pavilion to the Planetarium, there's something for everyone. The zoo's interactive exhibits, playgrounds, and feeding sessions make it a perfect day out for the whole family.
8. Nijntje Museum (Miffy Museum)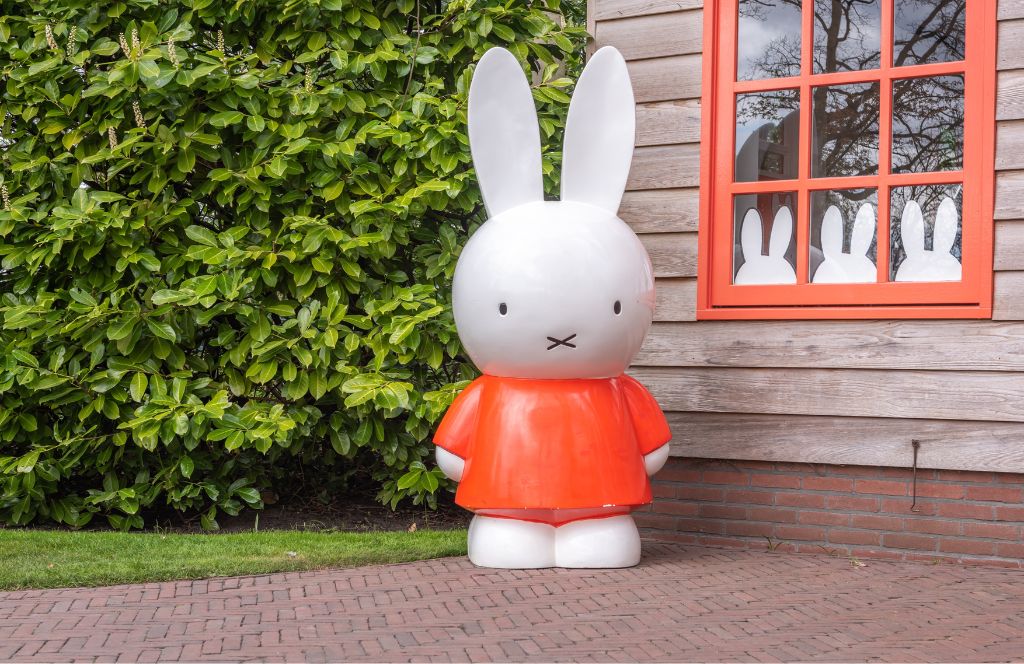 Enter the enchanting world of Miffy at the Nijntje Museum, also known as the Miffy Museum. This delightful space is dedicated to the beloved bunny character created by Dutch artist Dick Bruna. Your little ones can explore Miffy's house, interact with fun exhibits, and even get creative with arts and crafts. It's a whimsical adventure that's sure to bring smiles to young faces.
9. TunFun
If you're looking for indoor fun, TunFun is the place to be. This underground playground, located in a former traffic underpass, offers a variety of play areas, including trampolines, slides, and climbing structures. It's a paradise for energetic kids and a great option for a rainy day (which Amsterdam seems to have a lot of).
10. Madame Tussauds Amsterdam

Our last Amsterdam museum for kids is the iconic Madame Tussauds. Give your children the chance to meet their favourite celebrities and historical figures at Madame Tussauds Amsterdam. The lifelike wax figures make for a fun and sometimes surreal experience. Don't forget your camera for some fantastic photo opportunities!
Now that you have a fantastic list of 10 child-friendly museums and activities in Amsterdam, which Amsterdam museum for kids will you choose? If you're visiting this fabulous city in Autumn, you can also check out our travel guide so that you can make the most out of your time there.
Family Adventures begin with Activity Gift Vouchers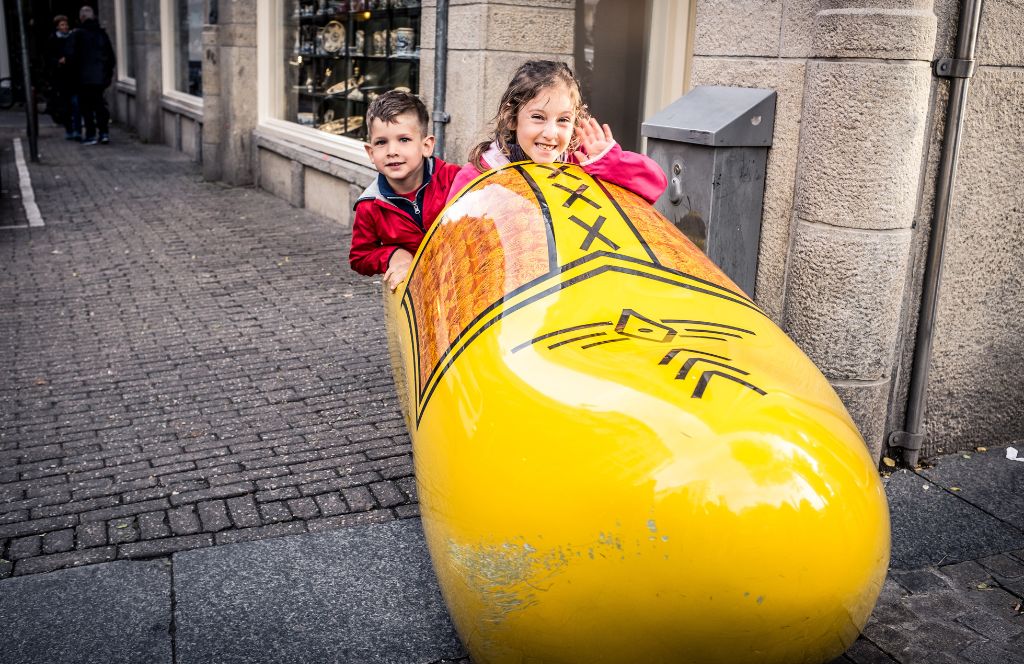 And here's an exciting bonus! If you're looking for the perfect gift to surprise your kids with, consider our activity gift vouchers. With our activity gift vouchers, you can give them the power to choose their own adventure, not just limited to museums in Amsterdam. Let them browse through the options and select the experience that sparks their interest the most, all thanks to Activity gift vouchers. It's a fantastic way to involve them in the decision-making process and make their trip or experience even more special with activity gift vouchers.
So pack your bags, grab your kiddos' hands, and get ready to create treasured memories in the captivating city of Amsterdam and beyond! Whether you explore the wonders of science, dive into different cultures, embark on historical voyages, indulge in wildlife, or simply let your kids choose their adventure with activity gift vouchers to make your family holiday an absolute blast.