Back to blog
4 London Food Tours You Won't Want To Miss
September 1st, 2023
As a melting pot of cultures, there's a reason why London was voted the 'Best Food City In the World' in 2019. That's why we give you our selection of the best London food tours for every foodie.
If you're a foodie who's always in the mood to try everything, this is the tour for you. Taste your way through the city, while enjoying classic British foods and international cuisines. From award-winning fish & chips to a legendary Bagel shop visited by Prince William, you'll be immersed in the city's food scene while exploring local crafts and street art. You'll also get to sample the most authentic greek food in London and the city's iconic hot 'viper wings'. Cool down by grabbing an authentic Italian gelato or profiterole from one of London's many famous markets.
For the foodie that's passionate about all things cheese, this 2-hour walking tour is designed to highlight London's finest cheeses. The delicious dairy crawl will serve up several English kinds of cheese for you to enjoy, complete with interactive trivia to test your knowledge! Kicking off your tour with truffle cheese in Mayfair, you'll stop at Fortnum and Mason's classic cheese counter, dip into gooey baked camembert and round off with prosecco cheese in Little Italy. Trust us, this is one food tour to put on your list.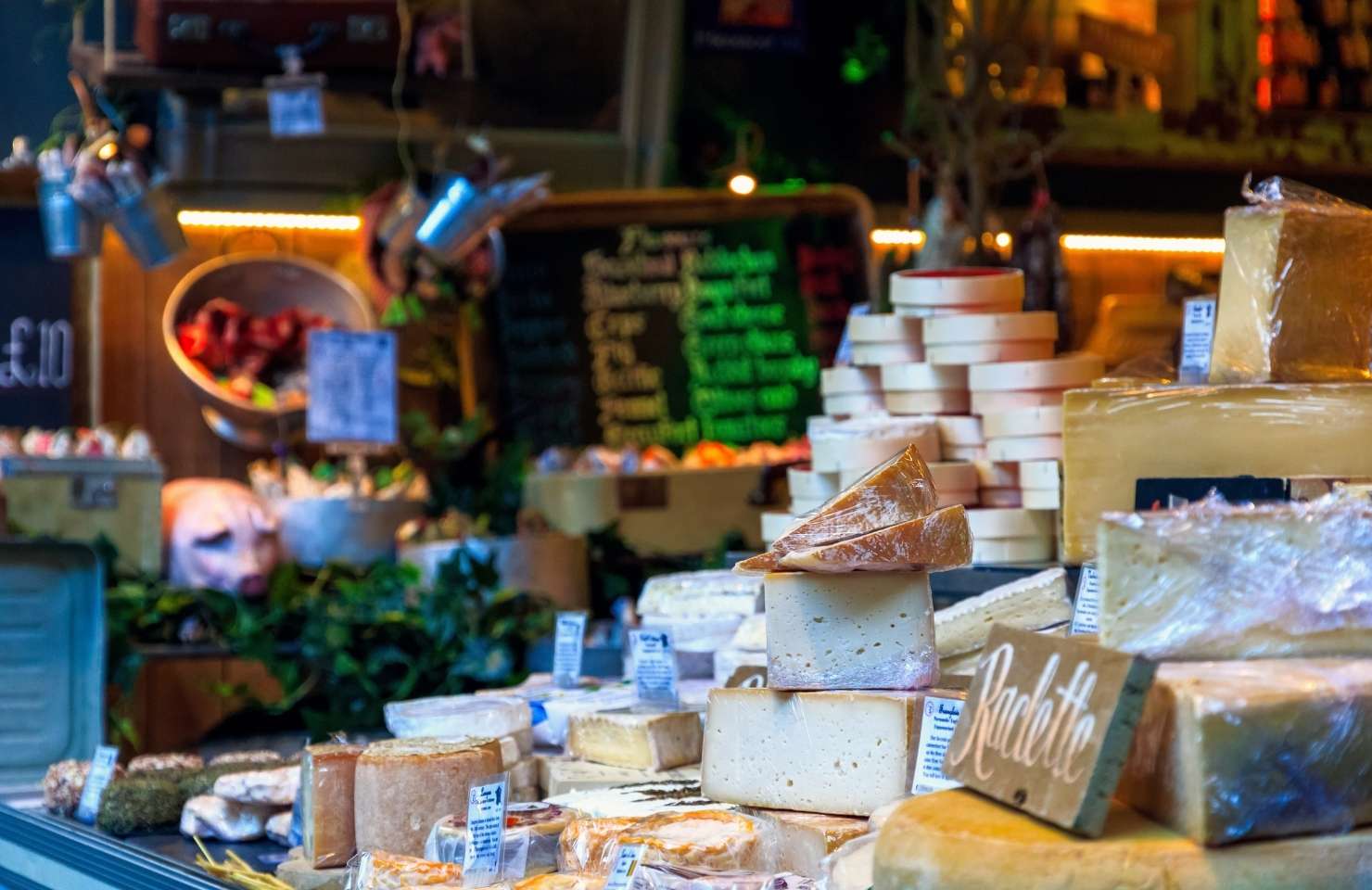 If you're visiting London for the Royal experience, you'll need a food tour fit for the queen! Enjoy a special walking tour of Royal London complete with a visit to Buckingham Palace, Changing of the Guards, secret alleyways and renowned boutiques approved by the royal family. After soaking up the secrets of the Royals, end your afternoon just like they would, with a delicious afternoon tea. Served at the iconic Ritz London, you'll have a chance to savour everything from finely cut sandwiches to freshly baked scones and an exquisite selection of pastries and teacakes. The experience will stay with you long after it is over.
If luxury is what your heart desires, then a luxurious food tour is what you need. Indulge in the spectacular combination of British and French gastronomy during a 6-course meal aboard the top of a luxury coach. With each course complimented by a carefully selected glass of wine, you'll have the opportunity to take in some of the best views of the city while indulging in a gourmet meal. To make it extra special, save the experience for your last day in the city, or celebrate a special occasion with a loved one.
London food tours – Last thoughts
So which kind of foodie are you? Book your perfect food tour with an Activitygift and eat your way through this iconic city. Bon appetite!