Back to blog
7 Best Hidden Weekend Getaways in Texas
November 10th, 2023
The best hidden weekend getaways in Texas are far more interesting than you think. From quirky ghost towns to vast national parks, these are the 7 places to visit if you're thinking of spending a weekend away in the Lone-star state.
Is Texas a good place for a vacation?
Yes, Texas can be a fantastic destination for a vacation, offering a diverse range of experiences to suit various interests. Whether you're drawn to the vibrant culture of cities like Austin, the rich history of San Antonio, the natural beauty of the Hill Country and Big Bend National Park, or the relaxing Gulf Coast beaches, Texas has something for everyone.
What is Texas known for?
Texas is known for its larger-than-life reputation and a rich cultural heritage that has left an indelible mark on American identity. The state is renowned for its cowboy and ranching traditions, epitomized by the iconic Texas cowboy hat and boots.
It's also celebrated for its vast and diverse landscapes, from the arid deserts of West Texas to the lush forests of the Piney Woods in the east.
Texas is famous for its barbecue cuisine, which is a source of pride and passion for many Texans, as well as Tex-Mex cuisine, characterized by dishes like chili, nachos, and tacos. The state's history is deeply tied to its fight for independence from Mexico, as symbolized by the Alamo in San Antonio.
Additionally, Texas is known for its thriving music scene, producing legends like Willie Nelson, Buddy Holly, and Beyoncé, and hosting world-famous events like the South by Southwest (SXSW) festival.
Texas is recognized for its energy industry, being a leading producer of oil and natural gas, and for its role in space exploration with NASA's Johnson Space Center in Houston. Finally, the "Lone Star State" is known for its strong sense of independence and pride, as reflected in the state motto, "Friendship."
The best hidden weekend getaways in Texas
1. Big Bend National Park
Located in: Brewster County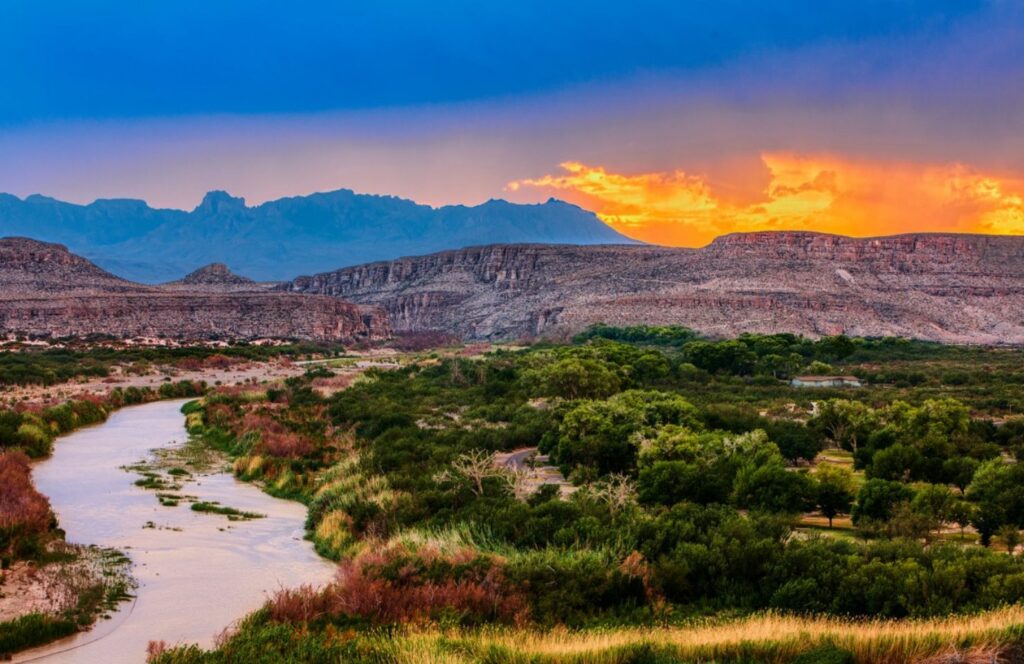 Big Bend's vast and diverse desert landscapes, deep canyons, and the winding Rio Grande River offer some of the most breathtaking and unique scenery in the United States. The park's rugged terrain, including the towering Chisos Mountains, provides ample opportunities for hiking, backpacking, and outdoor exploration.
Additionally, Big Bend is renowned for its exceptional stargazing opportunities due to its remote location and designation as an International Dark Sky Park. It's a haven for astronomers and anyone who appreciates a clear night sky filled with stars.
The park's rich cultural history, including Native American heritage and frontier history, adds depth to the visitor experience. Big Bend National Park's isolation and pristine wilderness make it an exceptional destination for nature enthusiasts, adventure seekers, and those seeking solitude in a remarkable natural setting.
2. Marfa
Located in: Presidio County
Marfa, a small desert town in West Texas, is special for its unique blend of art, culture, and natural wonders. It gained international recognition for its mysterious Marfa Lights, unexplained light phenomena that appear in the night sky.
The town has become an art destination, with minimalist art installations, galleries, and the Chinati Foundation, featuring large-scale contemporary art installations by renowned artists like Donald Judd. Marfa's artistic atmosphere is juxtaposed with its remote desert setting, offering a serene escape from the hustle and bustle of urban life.
Visitors can also stay in unconventional accommodations like yurts and vintage trailers, adding to the town's quirky charm. Marfa's distinctiveness lies in its ability to combine art, mystery, and desert beauty in a way that captivates travelers seeking an offbeat and culturally rich experience.
3. Fredericksburg
Located in: Gillespie County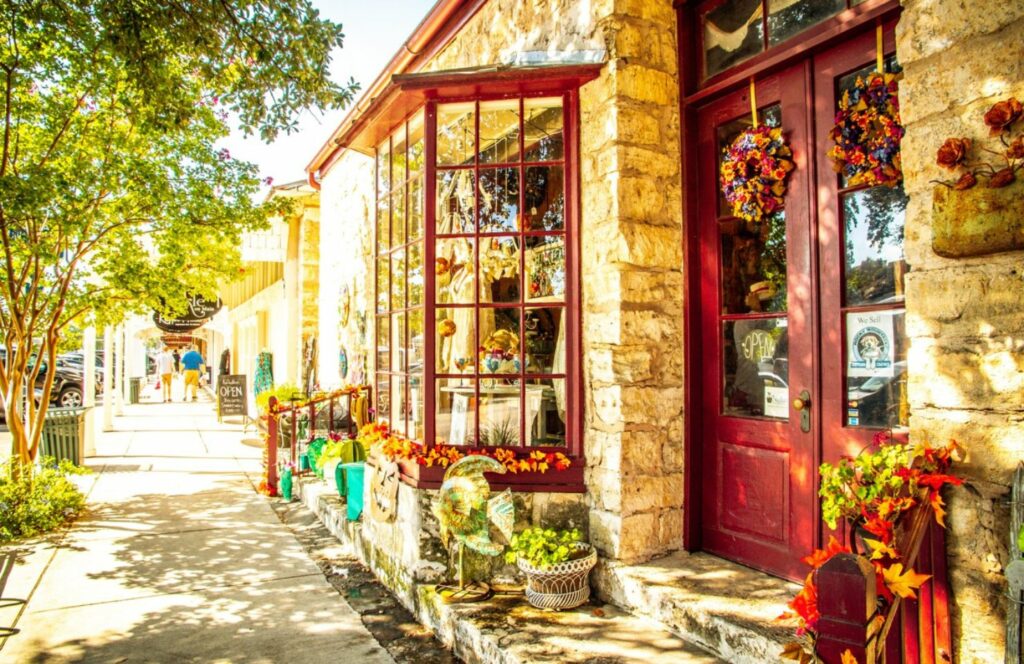 Fredericksburg, Texas, is a special destination for several reasons. Nestled in the heart of the Texas Hill Country, it stands out for its rich German heritage, evident in its architecture, cuisine, and cultural traditions.
The town's historic Main Street is lined with charming shops, boutiques, and restaurants offering a delightful blend of German and Texan flavors. Visitors can explore the National Museum of the Pacific War, dedicated to Admiral Chester Nimitz, a Fredericksburg native. The surrounding Hill Country provides opportunities for wine enthusiasts to visit numerous vineyards and wineries.
The natural beauty of the area, with its rolling hills and wildflower-covered landscapes, makes it an appealing destination for outdoor activities like hiking and cycling. Fredericksburg's warm hospitality, cultural richness, and scenic beauty make it a unique and inviting place to experience Texas culture and history.
See more: Things to do in Austin
See more: Things to do in San Antonio
4. Galveston
Located in: Galveston County
Galveston sits on the Gulf Coast of Texas. It boasts beautiful sandy beaches that draw visitors looking for sun, sea, and relaxation.
Beyond its coastal charm, Galveston has a rich history as a historic port city. You can explore the well-preserved Victorian architecture in the historic downtown district, visit museums, and even take a historical walking tour to learn about the city's past, including its role in the early development of Texas.
Galveston also offers family-friendly attractions like the Moody Gardens, featuring a rainforest pyramid, an aquarium, and a giant-screen theater. The city's diverse dining scene, lively arts and culture, and annual events, such as Mardi Gras! Galveston and Dickens on The Strand add to its unique character, making it a versatile and special destination for visitors of all interests.
See more: Things to do in Houston
5. Palo Duro Canyon State Park
Located between Amarillo and Canyon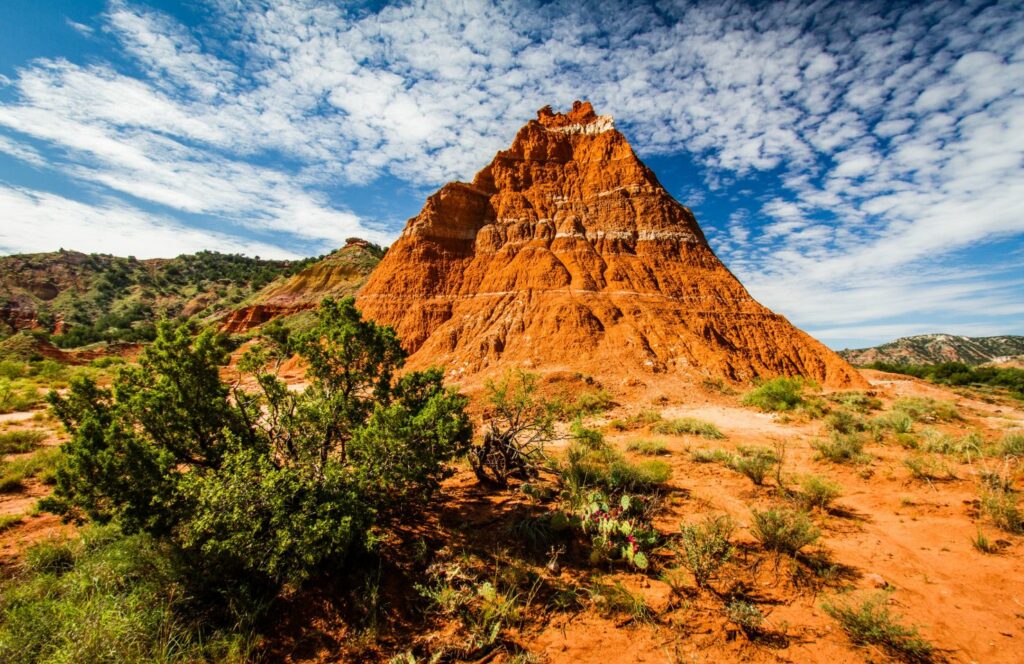 Palo Duro Canyon State Park is often called the "Grand Canyon of Texas" due to its striking resemblance to the famous Grand Canyon in Arizona. This massive canyon, the second largest in the United States, boasts breathtaking and colorful rock formations, including stunning red rock layers that have been carved out over millions of years by the Prairie Dog Town Fork Red River.
Visitors to Palo Duro Canyon can explore numerous hiking and mountain biking trails, go horseback riding, and even enjoy a scenic drive along the rim of the canyon for stunning panoramic views. Additionally, the park offers camping and picnicking facilities, making it an excellent destination for outdoor enthusiasts and nature lovers looking to immerse themselves in the rugged beauty of the Texas Panhandle.
6. Jefferson
Located in: Marion County
Jefferson, Texas, is a unique and charming town known for its rich history and scenic beauty. What makes Jefferson special is its exceptionally well-preserved 19th-century architecture, which takes visitors on a journey back in time.
The town's downtown district is a testament to its historical significance, featuring beautifully restored buildings, antique shops, and quaint bed-and-breakfast inns that offer a glimpse into the past.
Jefferson's location along the Caddo Lake, one of the largest natural freshwater lakes in Texas, adds to its appeal. Visitors can explore the lake's mysterious bayous, go kayaking, and enjoy bird-watching in the lush cypress swamp ecosystem. Jefferson's unique blend of history, natural beauty, and small-town charm makes it a special destination for those seeking a relaxing and immersive getaway.
See more: Things to do in Dallas
7. Terlingua
Located in: Brewster County

Terlingua is near Big Bend National Park in West Texas. It's a desert ghost town with a fascinating history that includes its former role as a mining town for quicksilver (mercury). The remnants of the mining operations, as well as the ruins of the town's structures, give Terlingua a distinctive and somewhat eerie charm.
What truly sets Terlingua apart, however, is its vibrant and quirky community. It has attracted a diverse group of artists, musicians, and free spirits who have breathed new life into the town.
Visitors to Terlingua can enjoy the colorful and laid-back atmosphere, live music at local venues like the Starlight Theatre, and the famous Terlingua Chili Cookoff, which draws chili enthusiasts from all over the country.
The town's stunning desert landscapes, proximity to Big Bend National Park, and unique accommodations, such as desert yurts and vintage trailers, add to its special allure. Terlingua is where time seems to stand still, making it a haven for those seeking a truly offbeat and memorable experience in the heart of the Texas desert.
Keep in mind before you go
Remember that Texas is a large state, so travel times between these destinations can vary significantly. Make sure to plan your weekend getaway accordingly and check for any specific events or attractions that may interest you during your visit.
Activity gift cards: Perfect for their Texas trip
Know someone who's visiting down South? Give them an activity gift card, which gives them the freedom to book and enjoy an activity.