Back to blog
7 Entertaining Halloween Activities For Kids
September 29th, 2023
Halloween is swiftly approaching, making it the ideal time to involve your tiny monsters in exciting and shiver-inducing Halloween activities! At Activitygift, we recognize the significance of creating unforgettable Halloween memories for your children.
This is why we've compiled a list of 12 spectacular Halloween activities for youngsters aged 5-12. Ranging from eerie arts and crafts to a haunted game of hide-and-seek, these unique Halloween activities can infuse some enchantment into your Halloween festivities. Stay with us until the conclusion to learn how our activity gift vouchers can enhance your child's Halloween adventure!
What Activities Are Done on Halloween?
Halloween is celebrated with a variety of activities. Common Halloween activities for kids include trick-or-treating, where children dress up in costumes and go from house to house collecting candy and treats. Many people also carve pumpkins into jack-o'-lanterns, and families often decorate their homes with spooky-themed decorations.
Halloween parties are another popular activity where kids and adults can play games, showcase their costumes, and enjoy themed snacks. Communities or schools may organize Halloween parades, and haunted house tours are also popular. Some people also enjoy watching scary movies or reading spooky stories during Halloween. Halloween activities for kids and adults provide fun and entertainment, making it a beloved celebration worldwide.
How Do You Prepare Kids for Halloween?
Preparing kids for Halloween involves both practical preparations and getting them excited for the festivities. Begin by discussing costume ideas with them and start the process of either making or buying the costumes well in advance. Engage them in Halloween activities for kids such as carving pumpkins, decorating the house with spooky decorations, and making Halloween crafts.
Explain the traditions and safety guidelines of trick-or-treating, and plan the route you'll take. You can also prepare them by reading Halloween stories and watching family-friendly Halloween movies together. The key is to make the preparations fun and interactive, building their anticipation for the holiday.
How Do You Entertain Kids on Halloween?
To entertain kids on Halloween, you can organize various Halloween activities for kids that are both fun and safe. Consider hosting a costume party where they can show off their outfits, or set up a pumpkin carving session. You can also organize a spooky movie marathon or create a homemade haunted house. Don't forget about traditional activities like trick-or-treating or a candy hunt.
The key is to engage their imagination and let them have a memorable experience celebrating the holiday. Including them in the planning process can also be a fun and entertaining way for them to get excited about the upcoming festivities.
7 Spooktacular Halloween Activities for Kids
1. Pumpkin Carving Extravaganza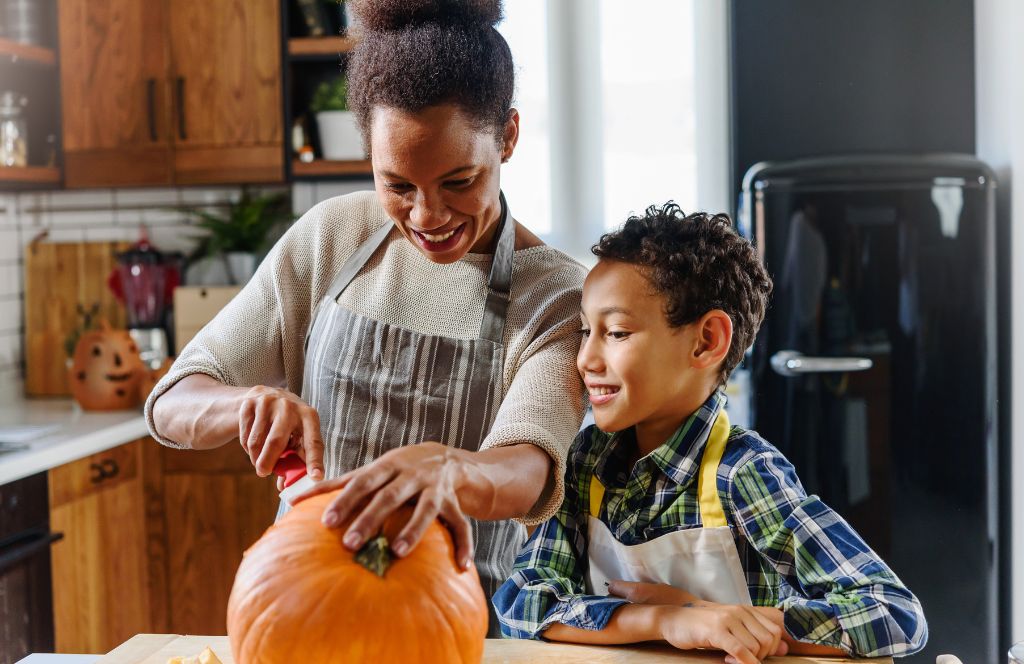 Carving pumpkins is a cost-effective and enjoyable activity guaranteed to entertain children between 5 to 12 years old. All necessary tools for this fun task are easily available at your nearby supermarket at an affordable price starting from £2, offering a convenient and economical way to keep the Halloween spirit alive. Allow your children to unleash their creativity by selecting classic designs such as eerie faces, witches, and ghosts or any of their preferred Halloween figures. Prioritize their safety by ensuring supervision and the use of child-friendly carving kits that come with blunt instruments to avoid any mishaps. This engaging activity will take about 30 minutes to an hour, based on the design's intricacy. Don't discard the carved pumpkin! Roast its seeds for a delicious and nutritious treat. This long-standing tradition, known as crafting 'Jack-o'-lanterns,' has its roots in Irish mythology about a man called Stingy Jack, who ensnared the devil using a hollowed turnip as a lantern. The tradition evolved to include pumpkins when Irish immigrants introduced it to America.
Hence, choose pumpkin carving as an exciting and economical Halloween activity. Enjoy this cherished tradition with your children and dive into its rich, mysterious folklore!
2. Costume Creation Workshop
A budget-friendly costume making workshop presents a fun and imaginative Halloween activity for children ages 5-12. This workshop enables your little ones to express their creativity by creating their very own Halloween costumes. There's no need to spend a fortune on this engaging activity. Basic costume essentials like old clothes, cardboard, glue, and markers can be easily found around the house or acquired from friends, family, or local stores. Allow your children's imagination to soar as they choose to become witches, ghosts, superheroes, or any other character they desire. Once their unique costumes are finished, they can joyfully showcase them at Halloween events and while trick-or-treating.
3. Spooky Storytelling Night
Bring your family together around a campfire in your backyard. If the weather is unkind, you can always set up a cozy make-believe campfire inside your home. This creative endeavor is centered around exchanging stories of the supernatural. Inspire your children to emerge as nascent storytellers by crafting their own spine-tingling and exciting ghost stories. You can easily and affordably construct a campfire in your backyard, and for an indoor arrangement, utilize blankets, pillows, and flashlights to establish the eerie ambiance.
4. A Chilling Treasure Quest
The chilling treasure quest is a thrilling Halloween game suitable for children aged 5-12. Set up a series of hints or puzzles and conceal them in your yard or house. It's easy to find Halloween-inspired gifts or sweets to serve as rewards. As the young explorers navigate through the clues, their anticipation will heighten, and the quest can last from 30 minutes to an hour. After deciphering all the hints, reward them with the goodies gathered in their Halloween-themed containers or pails. This delightful Halloween game is sure to infuse an air of excitement and enigma into your Halloween festivities, making it a memorable event that your children will treasure for many years to come.
5. DIY Halloween Decorations
Assemble basic art materials like construction paper, scissors, markers, glue, and googly eyes for your children to create their own DIY Halloween decorations. Establish a creative area where your young artists can craft paper ghosts, spiders, spider webs, or even eerie bat mobiles to display throughout the house. Typically, the crafting time is an hour or more, based on the intricacy of the decorations.
Upon completion, decorate your home with your children's haunting creations, adding a unique and festive flair to your Halloween decorations. This tradition not only lets your children showcase their artistic talents but also helps in creating a warm and inviting Halloween ambiance enjoyed by family and friends alike.
6. Haunted House Tour

Convert a space in your home into a chilling haunted realm brimming with unexpected thrills by utilizing common household items and your homemade Halloween decorations. Organize a haunting expedition through the shadowy area, filled with concealed frights and eerie spectacles. Allocate one child the role of a tour guide while the rest embark as brave adventurers.
Following the spine-tingling journey, assemble for a post-adventure discussion where children can recount their most beloved spooky experiences. This inventive Halloween tradition encourages creativity and collaboration, permitting your children to savor the excitement of a haunted realm within the comfort and safety of their own abode, crafting precious memories that will endure well beyond the Halloween season.
7. Creepy Cookie Decorating

Get your little ones excited for Halloween with a fun and affordable activity: Spooky Cookie Decorating. You just need simple baking materials like sugar cookies, icing, food coloring, sprinkles, and eerie cookie cutters. Dedicate an hour to bake and cool the cookies, and then watch your tiny decorators unleash their creativity, turning plain cookies into deliciously frightful treats. From phantom faces to pumpkin designs, the decorating possibilities are endless. Once decorated, savor the ghostly creations together or share them at Halloween parties and events.
This engaging Halloween activity for kids not only satiates their sweet cravings but also fuels their artistic flair, adding more joy to their Halloween celebrations. So, assemble your materials, prepare your workspace, and embark on a journey to make some spook-tacular Halloween treats with your children!
Activity Gift Vouchers that Elevate the Halloween Fun

As you organize these thrilling Halloween events for your children, remember that offering activity gift vouchers can inject extra fun into any celebration, Halloween included! Our vouchers can be exchanged for thousands of unique activities, Halloween-related or otherwise. Ranging from exciting adventures to inventive workshops, we have something for everyone, ensuring to delight both children and adults. Gift an activity voucher, and you're bestowing the gift of choice upon your kids. Allow them to delve into their interests and passions and build lifelong memories. Visit our Give page now to craft the ideal activity gift vouchers for your youngsters this Halloween.
Indeed, Halloween is a season for imagination, joy, and unforgettable times with your children. Make this Halloween memorable with these 7 thrilling Halloween activities for kids.