Back to the blog
The 5 Best Mother's Day Activities in the UK
June 12th, 2023
Our mums have always been our rock, haven't they? So, let's go all out this year and show our mums just how much they mean to us. That means it's time for heartfelt gestures and incredible experiences that will create memories to last a lifetime.
We've got 5 of the best Mother's Day activities that you can treat your mum to this Mother's Day. No matter if your mum loves adventure, indulgence, nature, or culture, we've got something special for her. From charming countryside getaways to vibrant city explorations, we've handpicked a bunch of ideas that will make your mum feel loved, appreciated, and totally spoiled.
So, let's jump right into a world of unforgettable Mother's Day gift experiences that will leave your mum with a smile that lights up the room. Together, let's make this Mother's Day in the UK one she'll always remember.
1. Explore the Stunning Cotswolds: A Day of Countryside Bliss

Take your mum on an enchanting Cotswolds day trip, a place renowned for its idyllic countryside, charming villages, and those iconic honey-coloured cottages straight out of a storybook. Immerse yourselves in the beauty of this picturesque region as you wander hand in hand through quaint market towns like Bourton-on-the-Water or Stow-on-the-Wold.
As you stroll along the cobblestone streets, breathe in the fresh country air and marvel at the captivating views that surround you. Pop into local shops and galleries, where hidden gems and unique treasures await. Perhaps you'll discover a handcrafted piece of pottery or a beautiful artwork that catches your eye, making for a perfect souvenir to bring back home.
When hunger strikes, make your way to a traditional Cotswold pub and treat yourselves to a hearty lunch. Indulge in pub classics like succulent roast beef with all the trimmings or a comforting pie filled with delicious locally sourced ingredients.
And if your mum is a fan of Downton (whose mum isn't, let's be real) she's in for an extra special treat as Highclere Castle is just around the corner. Fans of the hit TV series will instantly recognise it as the magnificent estate that served as the backdrop for the show. Head on over and immerse yourselves in the elegance and grandeur of the real-life Downton Abbey, exploring its splendid rooms and beautifully manicured gardens. It's an opportunity to step into the world of the Crawley family and experience a slice of history together.
In the Cotswolds, you'll find a peaceful retreat away from the hustle and bustle of everyday life. Take the time to reconnect with nature as you traverse rolling hills, meander along babbling brooks, and stumble upon hidden gems tucked away in the countryside. Whether it's a quiet moment shared on a cosy bench or a leisurely walk through a blooming garden, these are the moments that will create lasting memories with your mum.
So, pack your sense of adventure and prepare to be captivated by the charm of the Cotswolds. With its stunning vistas, inviting villages, and the added touch of Downton Abbey, this is a day trip that will leave you and your mum with cherished memories and a deep appreciation for the beauty of the British countryside.
2. Serenity and Heritage: A Delightful Bath Spa Getaway with a Touch of Jane Austen

Treat your mum to the ultimate pampering experience with a luxurious spa retreat in the historic city of Bath. Known for its Roman baths, stunning Georgian architecture, and rich literary heritage, Bath provides the perfect backdrop for relaxation and rejuvenation. And to make your visit even more special, why not embark on a unique Bath and Jane Austen walking tour?
Start your day by immersing yourselves in the rich history of Bath with a self-guided audio tour. As you stroll through the city's elegant streets, the audio guide will transport you back in time, sharing fascinating stories and insights about Bath's iconic landmarks and its connections to the renowned author, Jane Austen. From the beautiful Royal Crescent to the Roman Baths and the Assembly Rooms, you'll uncover the hidden secrets and tales that make Bath so enchanting. After your tour, it's time to indulge in the renowned spa culture of Bath. Spoil your mum with a range of rejuvenating spa treatments, from soothing massages to revitalising facials, designed to leave her feeling completely relaxed and pampered. Immerse yourselves in the healing waters of the Thermal Bath Spa, where you can enjoy a dip in the warm mineral-rich waters while soaking up breathtaking views of the city from the rooftop pool.
To complete your Bath experience, why not visit the Jane Austen Centre, a museum dedicated to the life and works of the beloved English author? Delve into the world of Jane Austen and gain insights into the society and culture that inspired her timeless novels. From Regency-era costumes to interactive exhibits, this immersive experience will transport you and your mum to the world of Austen's characters.
End your day on a high by indulging in a delightful afternoon tea in one of Bath's elegant tea rooms. Savour a selection of freshly baked scones, delicate finger sandwiches, and delectable pastries, all accompanied by a steaming cup of tea or a glass of sparkling prosecco. It's the perfect opportunity to reflect on the day's adventures, share stories, and create fabulous new memories with your mum.
3. Embark on a Coastal Getaway to Cornwall: Seaside Serenity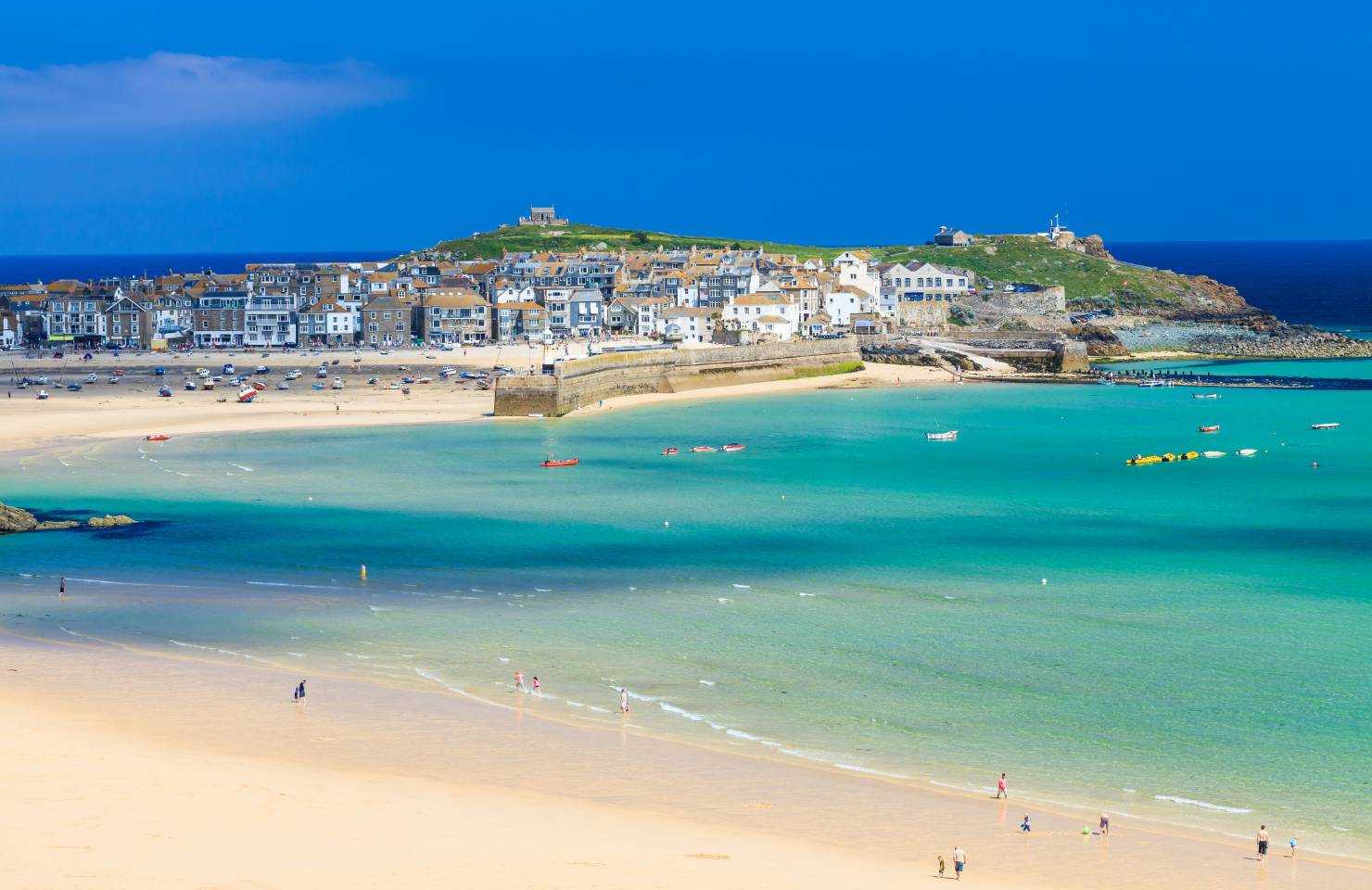 Escape to the mesmerising coastline of Cornwall for an unforgettable Mother's Day getaway where golden beaches and rugged cliffs await. Immerse yourselves in Cornwall's coastal charm by exploring its enchanting fishing villages. Wander through the narrow cobbled streets of St Ives, dotted with art galleries, quaint shops, and cosy cafes. Admire the vibrant hues of the sea and sky as you pause to take in the breathtaking views from the famous Porthmeor Beach. Let the artistic atmosphere of the town inspire you and your mum as you engage in creative conversations and appreciate the local talent.
Continue your coastal adventure to the picturesque village of Padstow, known for its bustling harbour and culinary delights. Delight in a leisurely walk along the waterfront, where fishing boats bob gently in the harbour and seagulls soar above. Explore the charming shops offering unique gifts and local crafts, and indulge in the tantalising aromas that waft from the seafood restaurants lining the streets. Treat your taste buds to the freshest catch of the day, whether it's succulent crab, mouthwatering lobster, or traditional Cornish pasties.
While exploring Cornwall's coastal treasures, be sure to visit iconic landmarks such as Land's End, where you can stand on the westernmost point of mainland Britain and marvel at the vastness of the Atlantic Ocean. Take a moment to breathe in the invigorating sea air and appreciate the sheer magnificence of the natural landscape that surrounds you.
As you create cherished memories with your mum against the backdrop of Cornwall's natural beauty, don't forget to capture the moments through photographs or simply etch them in your hearts. Whether it's watching the sun set over the horizon, sharing laughter as seagulls swoop and play, or simply sitting side by side on a secluded beach, the tranquility and splendour of Cornwall provide the perfect setting for meaningful connection and appreciation.
4. Nature Walk and Picnic in the Lake District
If your mum has a deep love for nature, then a scenic nature walk through the captivating landscapes of the Lake District is the perfect choice for your Mother's Day adventure. Lace up your walking boots and prepare to embark on a remarkable journey that combines the breathtaking beauty of the Lake District with the rich historical heritage of Hadrian's Wall.
Begin your adventure by exploring the stunning landscapes of the Lake District National Park. Follow your knowledgeable guide as they lead you through enchanting trails that wind their way through picturesque valleys, tranquil lakes, and rolling hills. Marvel at the awe-inspiring vistas that have inspired poets, artists, and writers throughout the centuries. This is the perfect opportunity to connect with nature and immerse yourselves in the serene atmosphere of this remarkable region.
As you traverse the Lake District, your tour continues with a visit to Hadrian's Wall, an iconic UNESCO World Heritage Site. Walk in the footsteps of ancient Roman soldiers as you stroll along this ancient fortification that once marked the northernmost boundary of the Roman Empire. Take in the magnitude of the wall, marvel at its engineering prowess, and learn about the fascinating history behind its construction.
To further enrich your experience, the tour includes a visit to the Royal Army Museum, where you can delve deeper into the military heritage of the region. Explore the exhibits that showcase the brave men and women who have served in the British Army, and gain a newfound appreciation for their sacrifices and dedication. The museum offers a unique opportunity to connect with history and understand the profound impact of military service.
Throughout the day, your knowledgeable guide will share captivating stories and anecdotes, bringing the history and natural wonders of the Lake District and Hadrian's Wall to life. This immersive tour allows you and your mum to not only soak in the beauty of the Lake District but also gain a deeper understanding of its historical significance.
As you journey through time and nature, take breaks to savour a delicious picnic lunch amidst the picturesque surroundings. Let the flavours of the region tantalise your taste buds as you recharge and reflect on the incredible experiences of the day. This is a time for heartfelt conversations, laughter, and the creation of lasting memories with your mum.
5. Explore the Enchanting Isle of Skye: Fulfil Your Mum's Island Dreams

Has your mum always dreamed of visiting the mystical Isle of Skye? Well, this Mother's Day, make her dreams come true with a full-day tour from Inverness to this captivating Scottish gem. Get ready for a day filled with breathtaking beauty, ancient history, and unforgettable moments.
As you and your mum embark on this adventure, you'll be greeted by the ethereal landscapes that have inspired countless tales and legends. Picture yourselves walking hand in hand along the sandy shores, with the sound of crashing waves and the scent of sea air filling your senses. The Isle of Skye is a place where time seems to stand still, where nature's raw beauty takes centre stage.
Your journey will take you to iconic landmarks like the Fairy Pools, a series of crystal-clear pools and waterfalls nestled in the enchanting Glen Brittle. Your mum's eyes will light up with wonder as she witnesses the magical hues of turquoise water against the backdrop of majestic mountains. It's a sight that will surely leave a lasting impression on both of you.
And let's not forget about the legendary Old Man of Storr, a dramatic rock formation that seems to emerge from the earth, as if guarding the secrets of the land. As you and your mum stand in awe of this natural wonder, you'll feel a sense of connection to the ancient stories and folklore that have woven their way through Skye's history.
But the adventure doesn't end there. The tour also includes a visit to the iconic Eilean Donan Castle, a medieval fortress that sits proudly on a small island at the meeting point of three lochs. Imagine the excitement in your mum's eyes as she steps foot inside this historic gem, where tales of battles and romance intertwine. The panoramic views of the surrounding Highland scenery will take her breath away, and she'll feel like she's stepped into a fairytale.
Activitygift: the perfect way to spoil your mum
What's more, is that you can celebrate Mother's Day by giving your mum the freedom to choose her own adventure. By presenting her with an activity gift voucher, you're offering her the opportunity to indulge in whatever activity she fancies at the time. Whether she's dreaming of a tranquil spa retreat, a thrilling outdoor adventure, or a cultural exploration, she can select the experience that speaks to her. And if you're looking to spoil your mum with even a remarkable bonding experience further afield, why not explore our blog about mother-child activities in France?
So, go ahead and make this Mother's Day truly unforgettable by giving your mum the gift of choice and adventure. With an activity gift voucher in hand, she can create precious memories and cherish the moments spent together. And if you're feeling inspired to explore even more possibilities, check out our blog for an array of ideas to spoil your mum further afield. After all, the bond between a mother and child knows no boundaries, and there are endless adventures waiting to be shared.