Back to the blog
The 12 Best Christmas Experiences in the UK
October 26th, 2023
The most wonderful time of the year is fast approaching, and what better way to embrace the magic of Christmas than by enjoying some of the best Christmas experiences in the UK? From enchanting UK Christmas markets to sparkling lights and festive traditions, the United Kingdom offers a plethora of unique and memorable Christmas activities to make your yuletide truly special. In this blog, we'll take you on a journey through the 12 best Christmas experiences in the UK, ensuring that you and your loved ones create lasting memories. And, of course, we'll introduce you to the best Christmas gift for the holiday season: multi-activity gift vouchers.
The 12 Best Christmas Experiences in the UK
1. Exploring the UK Christmas Markets

Explore the enchanting Christmas markets that adorn the UK during the festive season. In London, Hyde Park transforms into the iconic Winter Wonderland, featuring over 100 rides, attractions, and a Christmas market boasting handmade crafts and delectable treats. Meanwhile, in Edinburgh, the Princes Street Gardens host the Edinburgh Christmas Market, where you can find unique Scottish gifts and sip on warming mulled wine. Manchester's Albert Square is another must-visit with its internationally renowned Manchester Christmas market, showcasing over 300 stalls and a giant Santa Claus. These Christmas markets are not just about shopping; they're a vibrant celebration of the holiday spirit.
2. Ice Skating

Embrace the magic of winter by ice skating at some of the most picturesque ice skating rinks in the UK. Glide gracefully around the ice rink at Somerset House in London, set against the stunning neoclassical backdrop of this historic building. For a true fairytale experience, head to the rink at the Eden Project in Cornwall, surrounded by tropical gardens and illuminated biomes. And don't forget about the ice rink at Cardiff's Winter Wonderland, where you can skate beneath the twinkling lights of the city's iconic landmarks.
3. Taking in the Christmas Lights

The UK's Christmas lights displays are nothing short of spectacular. London's Oxford Street dazzles with its 1778 dazzling decorations and its famous Christmas lights switch-on event, featuring live performances and celebrity appearances. Up north, Edinburgh's George Street is adorned with over 60,000 lights, creating a mesmerising canopy above your head. Birmingham's Frankfurt Christmas Market is another star in the Christmas lights show, boasting thousands of lights and a giant illuminated Santa Claus. Stroll through these illuminated streets and feel the warmth of the season.
4. Buying a Ticket to the Pantomime
Immerse yourself in the hilariously entertaining world of pantomimes, a cherished Christmas tradition in the UK. Catch classics like Cinderella, Aladdin, or Jack and the Beanstalk, where the audience is encouraged to cheer, boo, and shout "He's behind you!" at the villain. The London Palladium hosts star-studded pantomimes featuring renowned actors and spectacular sets, while the Birmingham Hippodrome is famous for its lavish productions. For a more intimate experience, many local theatres across the UK stage their own pantomimes. It's an interactive and uproarious way to celebrate the season with your family and friends.
5. Attending a Carol Concert
Transport yourself to a world of heavenly music at the UK's traditional carol concerts. Westminster Abbey in London offers a stunning backdrop for the Christmas Eve carol service, where the beautiful voices of the choir fill the historic space. Alternatively, head to King's College Chapel in Cambridge, renowned for its Festival of Nine Lessons and Carols, broadcast to millions worldwide. Across the country, local churches and cathedrals host their own carol services, making it easy to join in the festive singing and soak in the spirit of Christmas.
6. Enjoying Christmas Afternoon Tea

Treat yourself to a quintessentially British experience with a Christmas-themed afternoon tea. Picture yourself sipping on exquisite teas and indulging in finger sandwiches, warm scones, and an array of festive pastries. London's famous venues like The Ritz and Claridge's offer luxurious afternoon teas with a seasonal twist, including gingerbread and mulled wine-flavored treats. For a more intimate setting, explore the charming tearooms in picturesque towns across the UK, where you can enjoy a cozy and heartwarming tea time with loved ones.
7. Visiting Santa's Grotto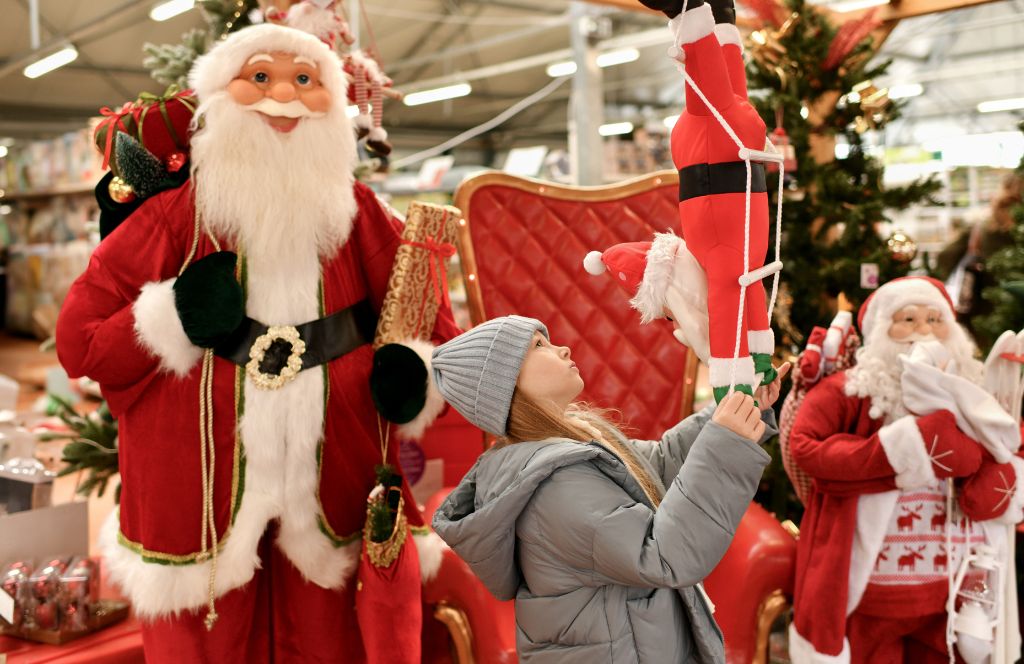 For families with children, visiting Santa's Grotto is a cherished holiday tradition. Dive into a magical world where little ones can meet Santa Claus and share their wish lists in person. Lapland UK, just an hour outside London, transforms into a winter wonderland with enchanting forests and Santa's cosy cabin. Further north in Glasgow, the St. Enoch Centre hosts a stunning Santa's Magical Wonderland, complete with a train ride and meeting Santa. These UK Christmas experiences ensure that children's faces light up with joy as they encounter the man in red.
8. Going on a Festive Walk

Escape the hustle and bustle of the city and embark on a tranquil Christmas walk through the UK's stunning countryside and coastal paths. The Lake District offers breathtaking vistas of snow-capped mountains and frozen lakes, providing a true winter wonderland experience. Alternatively, take a coastal walk along the cliffs of Cornwall, where you can breathe in the fresh sea air and admire the dramatic scenery. These walks are not just an escape; they're a chance to reconnect with nature and savor the peacefulness of the season.
9. Going Christmas Shopping

Get into the festive spirit by exploring the bustling high streets and department stores of the UK, which come alive with holiday decorations and twinkling lights. London's Regent Street boasts one of the most famous Christmas displays, illuminating the path to Hamleys, the world's oldest toy store. Meanwhile, Manchester's iconic Trafford Centre is a shopping paradise with its dazzling decorations and wide array of stores, making it a perfect place to find unique gifts and soak in the festive atmosphere. From boutique shops in quaint towns to the grandeur of city shopping centers, there's no shortage of places to discover that perfect Christmas present.
10. Indulging in Christmas Dinner
Savour the flavours of the season with a traditional Christmas dinner at a cosy British pub or an elegant fine dining restaurant. In London, Gordon Ramsay's restaurants offer exquisite festive menus featuring roast turkey with all the trimmings and decadent Christmas puddings. The Cotswolds, with its charming inns and historic pubs, is an ideal place to relish the warmth of a traditional Christmas meal by a roaring fire. Whether you prefer a grand feast or a more intimate setting, Christmas dinners in the UK are a gastronomic delight that will leave you feeling merry and satisfied.
11. Attending a Festive Show
Get your fill of entertainment by catching a festive theatre performance or a classic Christmas movie screening. London's West End theatres put on dazzling performances of holiday classics like "A Christmas Carol" and "The Nutcracker." The Royal Albert Hall offers spectacular Christmas concerts featuring world-class musicians and choirs. Alternatively, cozy up in a vintage cinema in cities like Bristol or Glasgow, where they screen beloved Christmas movies like "It's a Wonderful Life" and "Home Alone." These shows and screenings are a delightful way to unwind and enjoy the magic of Christmas on stage and screen.
12. Celebrating New Year's Eve in the UK

Bid farewell to the year in style with grand New Year's Eve celebrations across the UK. London's fireworks display along the Thames River is world-famous, lighting up the iconic skyline and drawing thousands of spectators. In Edinburgh, Hogmanay celebrations include a torchlight procession and a massive street party with live music and fireworks over the castle. For a more traditional celebration, head to York, where you can ring in the New Year with the city's historic Minster as a backdrop. These celebrations offer a memorable start to the year.
Which UK Christmas Experience will you Choose?

This Christmas, make memories that will last a lifetime by exploring the 12 best Christmas experiences the UK has to offer. And for the best Christmas gift idea, look no further than our activity gift vouchers.
Activity Vouchers: The Best Christmas Gift
Our activity vouchers are the best way to gift unforgettable experiences, whether it's ice skating, afternoon tea, or tickets to a West End show. When you buy a gift voucher for an activity, you give your loved one the choice of over 50,000 incredible activities in the UK and abroad. Activities in Dublin, the Netherlands or France? Our activity vouchers unlock them all! Plus, our multi-activity vouchers are flexible, making them suitable for people of all ages, interests, and locations thanks to our free worldwide shipping. SO, give the gift of joy this Christmas and let our activity gift vouchers make your Christmas even more magical. Merry Christmas!