Big Bus tour of Washington DC
Washington DC, United States of America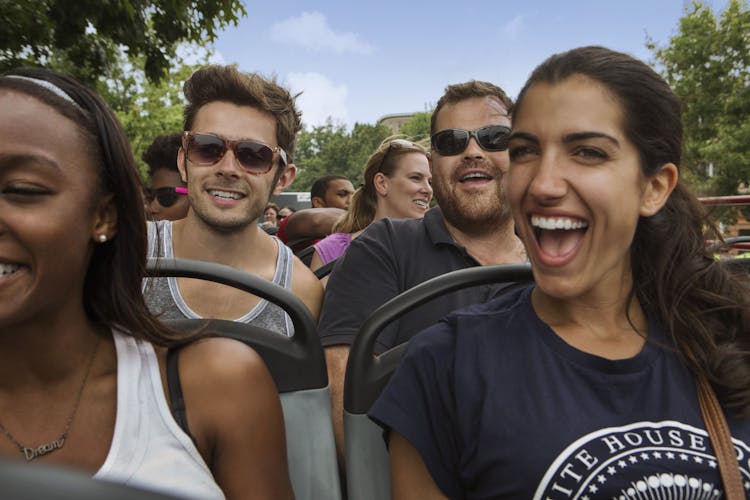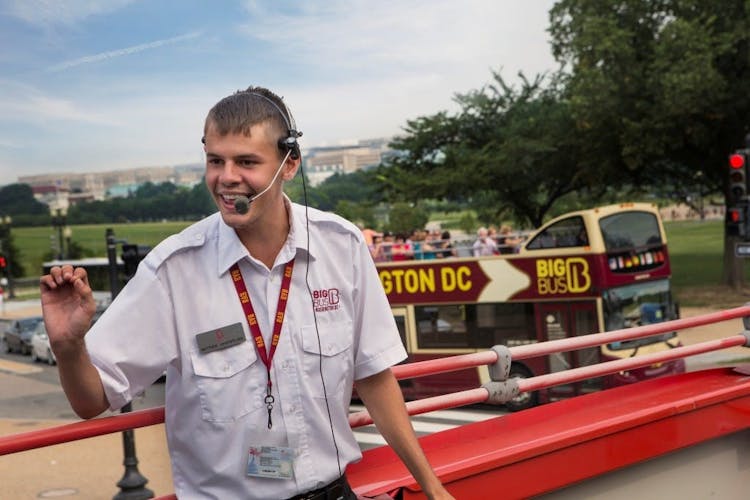 DESCRIPTION
Discover Washington DC from the comfort of a double-decker bus and see local highlights like the Lincoln Memorial, the National Mall and Washington Monument
DO THIS BECAUSE
Experience the best views of the city from the comfort of a double-decker bus
Enjoy the city at your own pace and hop on and off as you wish
Choose the ticket that fits your itinerary the best
Discover the capital city's impressive history as you go through all of Washington DC's highlights on this relaxing hop-on, hop-off bus tour.Drive past top attractions including the White House, The Lincoln Memorial, the National Mall and Washington Monument. You can choose where you want to get off and explore.Choose from the three different tickets available (Discover, Essential, Explore) and plan your trip to Washington DC without any worries.All ticket options include a bike rental offer.
WHAT'S INCLUDED
Discover Ticket: 1-day hop-on hop-off Big Bus tour, bike rental offer from Unlimited Biking
Essential Ticket: 2-day hop-on hop-off Big Bus tour, bike rental offer from Unlimited Biking
Deluxe Ticket: 3-day hop-on hop-off Big Bus tour, bike rental offer from Unlimited Biking
Pre-recorded audio commentary on the bus
WHERE
Redeem printed or e-vouchers from the bus driver or a member of staff at any of the stops. Bikes are to be collected and dropped off at Unlimited Biking Washington DC 998 Maine Avenue SW, Washington DC 20024.
IMPORTANT INFORMATION
Note, service may be suspended and/or altered at any time and without notice. Customers are advised to check the Big Bus website for the most up-to-date information regarding detours and closures, or to download the Big Bus App to live track buses and find stops near them
Vouchers are valid for 180 days from the date of purchase
Tickets valid for more than 1 day must be used across consecutive day
Infants (ages 0-2): free
Red Loop: the first bus departs daily at 9:30 am and the last bus departs at 5:00 pm from stop #1. The duration of the loop is 1h and 45 minutes, and its frequency is every 15–20 minutes
Red Loop stops are: L'Enfant Plaza & International Spy Museum; Washington Monument West; Jefferson Memorial; FDR and MLK Memorial; Lincoln Memorial & Korean War Memorial; Arlington Cemetery; Lincoln Memorial South and Korean War Memorial; Arlington Cemetery; Lincoln Memorial North and Vietnam Veterans Memorial; Natural History Museum; City Center and Chinatown; The White House and Willard Hotel; US Capitol at Garfield Circle; Air and Space Museum; The Wharf and Potomac Boat Cruise
The tour does not operate on Christmas Eve
The audio commentary is available in English, Spanish, German, French, and Portuguese
The tickets include a special bike rental offer: when you rent for 1 hour (minimum) you'll receive an extra hour free bike rental, Alternatively, enjoy $5 OFF per person for any bike tour or Segway tour. All rentals include a helmet, a lock, a basket and a map. No guest under the age of 18 will be supplied with a bike without the consent of an accompanying adult (18+)
REFUND POLICY
Receive a 100% refund if you cancel up to 24 hours before the experience begins.
COOKIE TRACKING FOR THE BEST EXPERIENCE
We use cookies to improve your user experience. By continuing to browse you agree with the use of cookies.
MANAGE YOUR COOKIES
Select and save your tracking preferences:
Remarketing (we use these to feature personalized ads)
Social media cookies offer the possibility to connect you to your social networks and share content from our website through social media. Advertising cookies (of third parties) collect information to help better tailor advertising to your interests, both within and beyond Experiencegift websites. In some cases, these cookies involve the processing of your personal data. For more information about this processing of personal data, check our Privacy & Cookie Policy.
Performance (we use these to improve the website)
These cookies allow us to improve the site's functionality by tracking usage on this website. In some cases these cookies improve the speed with which we can process your request, allow us to remember site preferences you've selected. De-selecting these cookies may result in poorly-tailored recommendations and slow site performance.
Functional (this gives you website access)
These cookies are required for basic site functionality and are therefore always enabled. These include cookies that allow you to be remembered as you explore the site within a single session or, if you request, from session to session. They help make the shopping cart and checkout process possible as well as assist in security issues and conforming to regulations.