Private boat and snorkeling experience with lunch in Hurghada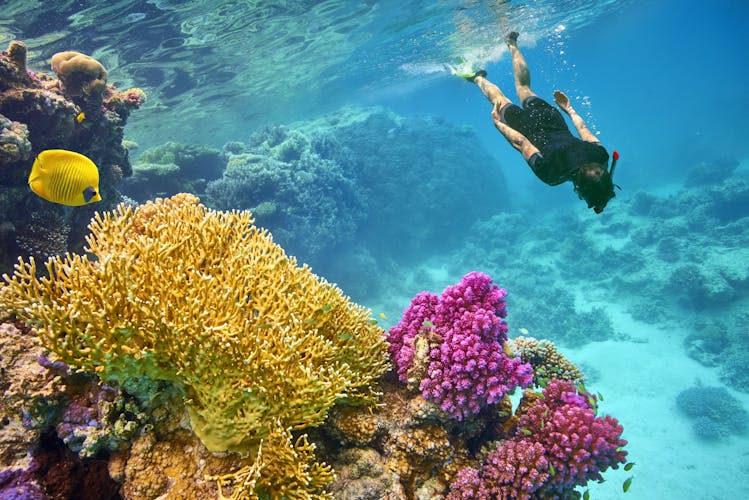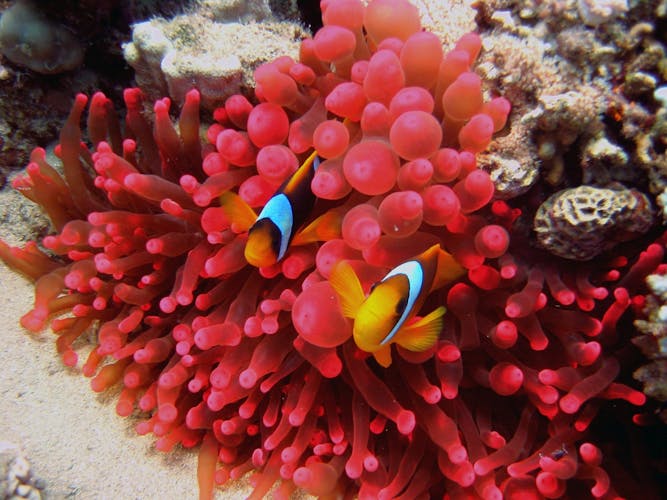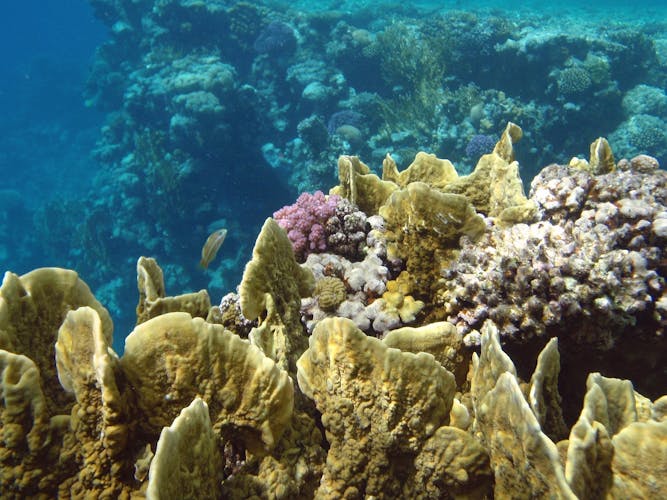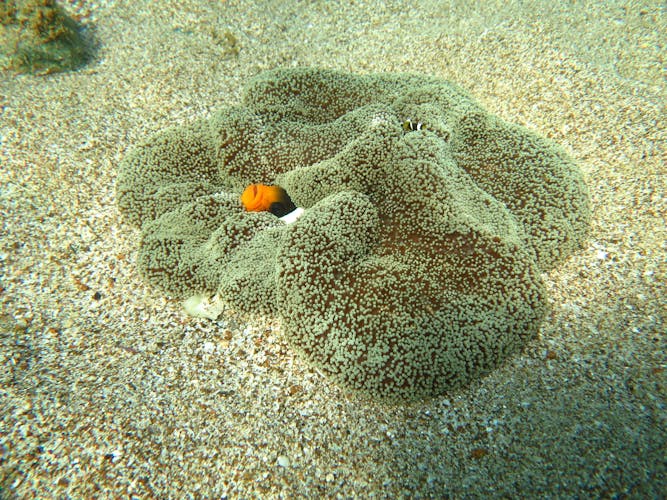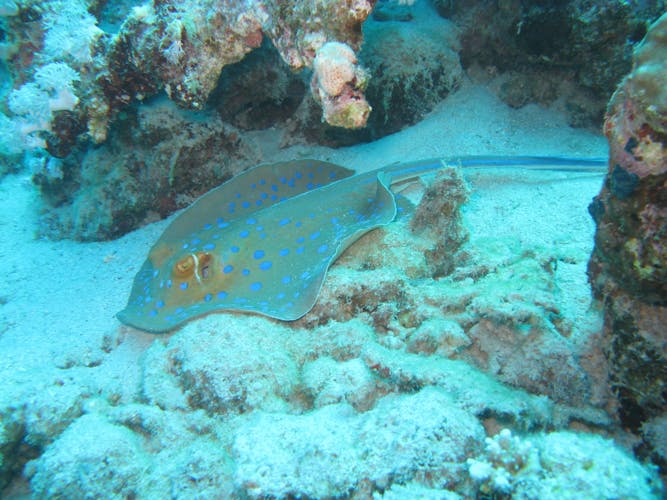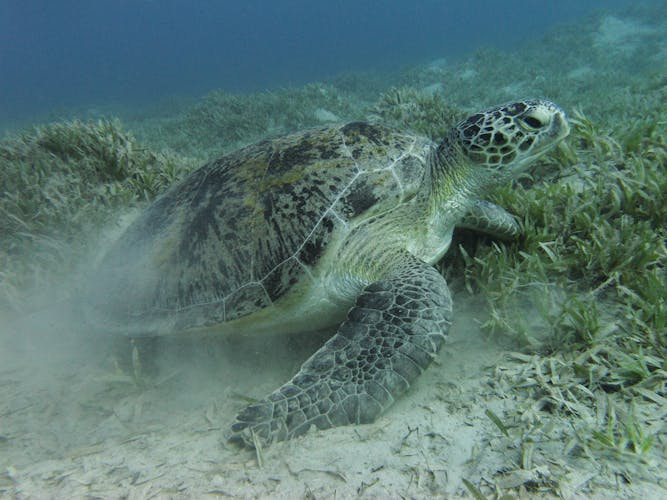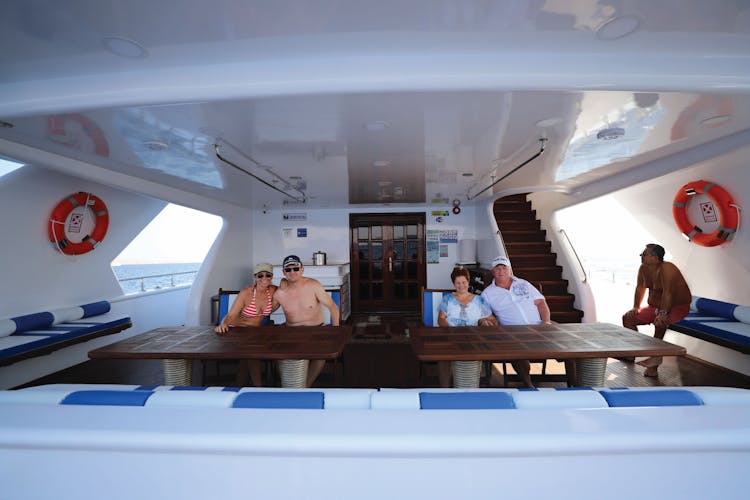 DESCRIPTION
Book your ticket for this snorkeling experience with a private captain, boat and lunch! Discover the crystal clear water and wildlife of the Red Sea in Hurghada
DO THIS BECAUSE
Discover the crystal clear water of the Red Sea in Hurghada with your private captain and boat
Keep your eyes peeled for rays, sea turtles, angelfish, and playful dolphins in their natural habitat
Enjoy a sumptuous lunch buffet served on board with salads and grilled dishes prepared in the traditional way
Explore the Red Sea and its marine wildlife from the boat and up close from inside the water
Enjoy a full-day snorkeling trip with your private captain and boat in the crystal clear water of the Red Sea on the Hurghada coast and relax on the boat's sundeck with your family and friends.With its abundance of marine wildlife and its sheltered clear waters, the reefs of the Red Sea offer some of the most inviting and intriguing snorkeling conditions anywhere in the world. After pickup from your hotel, drive towards the marina to take your private boat and sail to the snorkeling spots. Here,…
Enjoy a full-day snorkeling trip with your private captain and boat in the crystal clear water of the Red Sea on the Hurghada coast and relax on the boat's sundeck with your family and friends.With its abundance of marine wildlife and its sheltered clear waters, the reefs of the Red Sea offer some of the most inviting and intriguing snorkeling conditions anywhere in the world. After pickup from your hotel, drive towards the marina to take your private boat and sail to the snorkeling spots. Here, you'll glide amid the glittering shoals of fish. Keep your eyes peeled for rays, sea turtles, angelfish, and playful dolphins in their natural habitat. Water, soft drinks, lunch and snorkeling equipment are included. Enjoy a sumptuous lunch buffet served on board with salads and grilled dishes prepared in the traditional way.
WHAT'S INCLUDED
Private boat tour with private captain, snorkeling guide, and chef
Full-day private escort guide
Lunch, drinking water and soft drinks
Snorkeling equipment (fins, mask, life jacket)
Environmental fees
Hotel pick-up and drop-off
Additional food and drinks
WHERE
Hotel pickup service in Hurghada is included. Please provide your hotel information, your email and phone number at the time of booking.
IMPORTANT INFORMATION
The suggested starting time would be 8.00 am but you can arrange another time with the local tour operator. You will find their contact details on your voucher
Please keep your passport with you during this tour, as they may request to see your passport and visa
Please wear comfortable clothes and shoes and bring your hat, sunglasses, sunscreen, scarf, camera, and money for tipping
Please bring your towels and swimming suits
Please note that the minimum age for participation in this activity without a guardian is 12 years. Younger children can participate but must be accompanied by a parent or guardian
REFUND POLICY
Receive a 100% refund if you cancel up to 24 hours before the experience begins.
COOKIE TRACKING FOR THE BEST EXPERIENCE
We use cookies to improve your user experience. By continuing to browse you agree with the use of cookies.
MANAGE YOUR COOKIES
Select and save your tracking preferences:
Remarketing (we use these to feature personalized ads)
Social media cookies offer the possibility to connect you to your social networks and share content from our website through social media. Advertising cookies (of third parties) collect information to help better tailor advertising to your interests, both within and beyond Experiencegift websites. In some cases, these cookies involve the processing of your personal data. For more information about this processing of personal data, check our Privacy & Cookie Policy.
Performance (we use these to improve the website)
These cookies allow us to improve the site's functionality by tracking usage on this website. In some cases these cookies improve the speed with which we can process your request, allow us to remember site preferences you've selected. De-selecting these cookies may result in poorly-tailored recommendations and slow site performance.
Functional (this gives you website access)
These cookies are required for basic site functionality and are therefore always enabled. These include cookies that allow you to be remembered as you explore the site within a single session or, if you request, from session to session. They help make the shopping cart and checkout process possible as well as assist in security issues and conforming to regulations.