Caminito del Rey group walking tour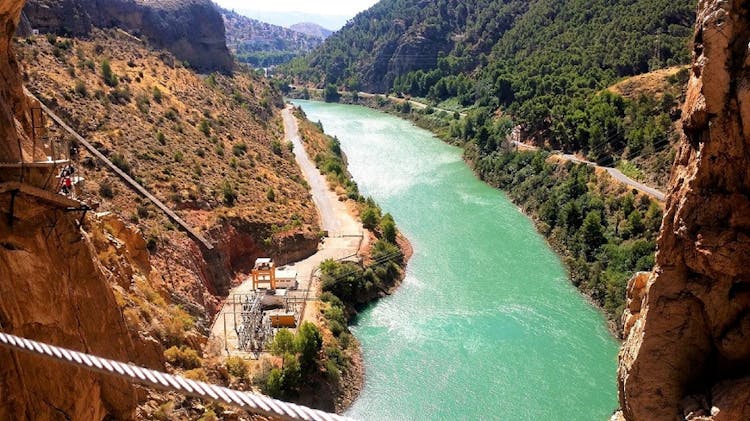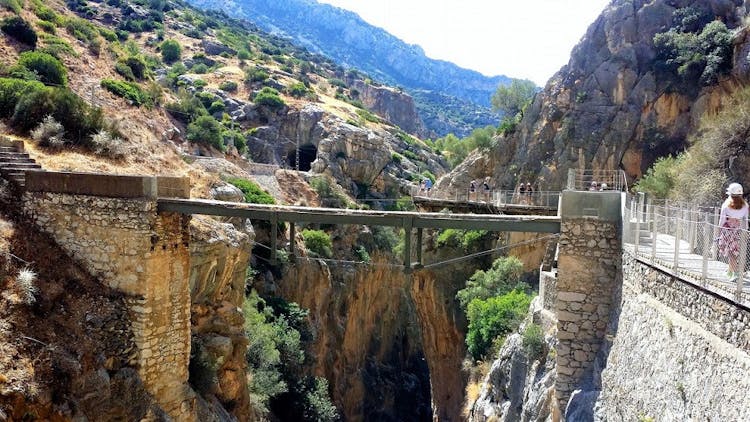 DESCRIPTION
Book your Caminito del Rey group walking tour and learn about its importance in Spanish contemporary history
DO THIS BECAUSE
Discover the Caminito del Rey with an experienced guide
Learn about its importance in Spanish contemporary history
Enjoy stunning views
You will start hiking by "El Kiosko" restaurant located near the entrance of the Caminito del Rey at 10:30 a.m. After a while, the gate of Caminito del Rey will be reached. The guide will explain to you the relevance of this area in Spanish contemporary history due to different components: the electric powerhouse, the railway, the reservoir, etc. Later continue the walkway passing by "Gaitanejos" cliffs, the "Hoyo" valley, "Gaitanes" cliffs, Ribera bridge & finally by the hanging bridge. The…
You will start hiking by "El Kiosko" restaurant located near the entrance of the Caminito del Rey at 10:30 a.m. After a while, the gate of Caminito del Rey will be reached. The guide will explain to you the relevance of this area in Spanish contemporary history due to different components: the electric powerhouse, the railway, the reservoir, etc. Later continue the walkway passing by "Gaitanejos" cliffs, the "Hoyo" valley, "Gaitanes" cliffs, Ribera bridge & finally by the hanging bridge. The tour guide will finish this tour before passing over the hanging bridge. After passing over the hanging bridge you will have to keep walking straight about 20 minutes until reaching the public bus stop to go back to the starting point. It takes with the bus about 30 minutes to go from the bus stop to Kiosko restaurant.
WHAT'S INCLUDED
Bilingual guide (English and Spanish)
Entrance fee
Helmets
Bus ticket (approx. 1.55€ per person)
OPERATIONAL DAYS
See calendar
See calendar for further details
WHERE
IMPORTANT INFORMATION
Comfortable clothes and shoes compulsory
Minimum of 2 participants for this tour
Bilingual tour in English and Spanish
Minimum age of passengers is: 8
REFUND POLICY
Receive a 100% refund if you cancel up to 24 hours before the experience begins.
COOKIE TRACKING FOR THE BEST EXPERIENCE
We use cookies to improve your user experience. By continuing to browse you agree with the use of cookies.
MANAGE YOUR COOKIES
Select and save your tracking preferences:
Remarketing (we use these to feature personalized ads)
Social media cookies offer the possibility to connect you to your social networks and share content from our website through social media. Advertising cookies (of third parties) collect information to help better tailor advertising to your interests, both within and beyond Experiencegift websites. In some cases, these cookies involve the processing of your personal data. For more information about this processing of personal data, check our Privacy & Cookie Policy.
Performance (we use these to improve the website)
These cookies allow us to improve the site's functionality by tracking usage on this website. In some cases these cookies improve the speed with which we can process your request, allow us to remember site preferences you've selected. De-selecting these cookies may result in poorly-tailored recommendations and slow site performance.
Functional (this gives you website access)
These cookies are required for basic site functionality and are therefore always enabled. These include cookies that allow you to be remembered as you explore the site within a single session or, if you request, from session to session. They help make the shopping cart and checkout process possible as well as assist in security issues and conforming to regulations.