Back to blog
Top 11 Amazing Experience Gifts for Parents
August 14th, 2023
Getting a gift for our parents is never a straightforward road. We don't want to be too cliche but also not too niche. The perfect gift needs to fit our parent's interests and energy level. It also needs to be interesting enough to keep them engaged.
On top of that, Mom may have a different idea of what's fun for Dad. You wouldn't want to be caught in the middle of Mom and Dad here, would you? If you're struggling to find a gift that will put a smile on both parents' faces, we're here to help.
Whether it's their wedding anniversary, birthday, or any other celebration, give them experiences, the most memorable gift. Read on to learn more about the best experience gifts for parents.
1. Key West Day Trip with the Conch Train Tour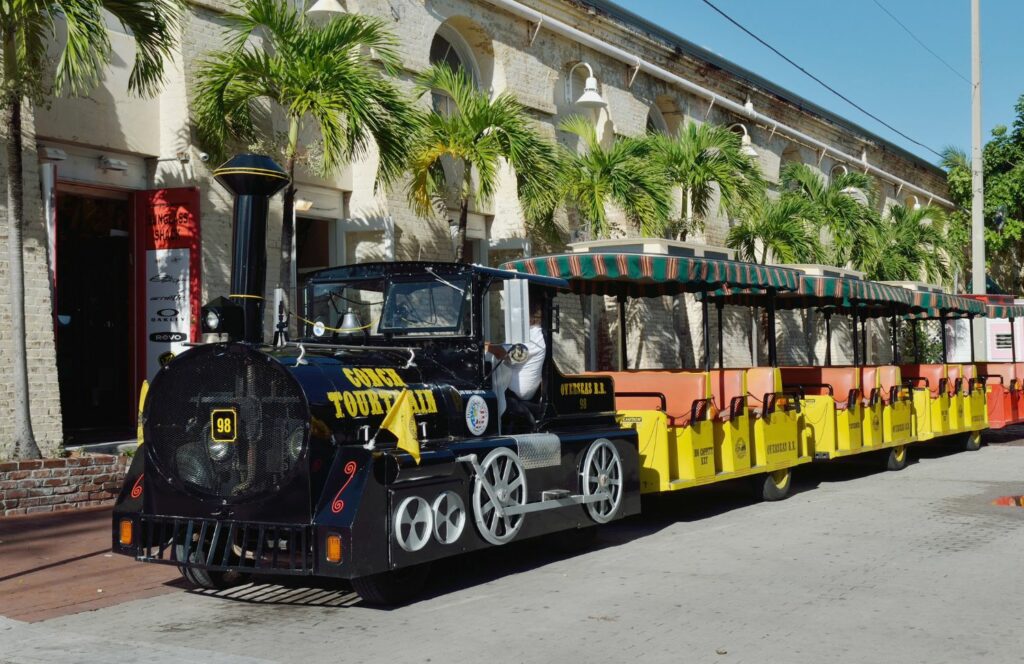 Experience the vibrant charm of Key West through a delightful day trip featuring the iconic Conch Train Tour. Explore the island's rich history and picturesque sights as you ride aboard this unique and historic train, making the most of your visit to this tropical paradise.
Location: Key West, FL
What to expect: The tour starts at 10 Flags at Bayside Marketplace on 401 Biscayne Blvd. Afterward, visitors will embark on a 90-minute magical journey with three stops included. There are rests in between for refreshments and shopping.
Who's it for?: This unique gift experience is perfect for parents who enjoy a tropical vacation in the Carribean atmosphere.
Price: $110 per person.
2. Golden Eagle West Rim Helicopter Tour

Elevate your Grand Canyon exploration with the Golden Eagle West Rim Helicopter tour. Soar above the awe-inspiring landscape, taking in the majestic beauty of the Grand Canyon's West Rim and its striking geological features from a truly unforgettable perspective.
Location: Las Vegas, NV
What to expect: Taking off from Boulder City, the tour includes arial views of the Hoover Dam and Lake Mead, and the magnificent Grand Canyon. The helicopter interior provides a luxe experience with wraparound windows.
Who's it for?: Parents who are pressed for time but want to enjoy the full view of the Grand Canyon can hop on this helicopter ride to get the most out of the Western nature.
Price: $402 per person.
3. Happy Hour Dolphin Exploration
Embark on a unique coastal adventure with the Happy Hour Dolphin Exploration tour on Clearwater Beach. Combine the joy of dolphin spotting with the relaxation of a leisurely cruise, all while enjoying the enchanting backdrop of Clearwater's serene waters during the magical hours of sunset.
Location: Clearwater Beach, FL
What to expect: Spot Bottlenose Dolphins, with a happy hour offering $5 "You Call It" drinks. The Captain shares Gulf Coast insights and celebrity homes, while the provider guarantees 100% dolphin sightings on regular tours, offering a free tour if no dolphins are seen, without an expiration date.
Who's it for?: Adventurist parents with an affinity to dolphins and happy hours.
Price: $31 per person.
4. Chihuly Garden and Glass Tickets

Let your parents experience the mesmerizing world of glass art at Chihuly Garden and Glass. Immerse yourself in the stunning creations of renowned artist Dale Chihuly, as his masterpieces come to life in a captivating garden and gallery setting.
Location: Seattle, WA
What to expect: Step into a vibrant realm of curiosity, creativity, and color at Chihuly Garden and Glass. Explore Dale Chihuly's extensive collection across Galleries, a dynamic Garden, and the iconic Glasshouse, all showcasing his innovative artistry. Your admission encompasses complimentary digital photos, access to hourly gallery talks and garden tours (daily schedule applies), live glassblowing shows (November to May), and a free immersive audio tour (smartphone needed).
Who's it for?: Parents who loves art and want to see a craft performed live. Bonus if they're interested in the works of Dale Chihuly.
Price: $37 per person.
5. Daytime Waikiki glass-bottom boat tour

Embark on a Daytime Waikiki glass-bottom boat tour for an enchanting aquatic adventure. Witness the captivating underwater world through the glass bottom as you glide over vibrant coral reefs and diverse marine life, making your Hawaiian experience truly memorable.
Location: Oahu, HI
What to expect: Experience the magic of Hawaii! Set out on an extraordinary boat tour of Oahu's South Shore from Kewalo Basin Harbor to Lē'ahi (Diamond Head). Aboard the Haleiwa Queen, savor the sweeping view of the Pacific Ocean floor, gliding over lively tropical reefs and a famous Hawaiian shipwreck. Watch for sea turtles, eels, dolphins, reef sharks, and colorful fish through the transparent glass-bottom boat viewports—a truly unmatched ocean spectacle!
Who's it for?: True vacation-goers who loves to learn new things about our planet, especially about marine life
Price: $36 per person.
6. Pirates Dinner Adventure Show in Buena Park

Are you ready for a thrilling journey at the Pirates Dinner Adventure show in Buena Park? Immerse yourself in a captivating pirate tale filled with action, acrobatics, and interactive excitement while enjoying a delicious dinner, making for an unforgettable evening of entertainment.
Location: Anaheim, CA
What to expect: Indulge in a night to remember at Orange County's renowned attraction! Step into a theatrical realm and join the voyage aboard an 18th-century Spanish stage galleon. Engage in an interactive performance brought to life by 150 enthusiastic volunteers, featuring swordplay, aerial artistry, and acrobatics. Amidst the immersive ambiance, relish a lavish four-course pirate dinner.
Who's it for?: Arrrgh, this tour welcomes the daring seafarers who likes good food and and good music.
Price: $73 per person.
7. A Hop-On-Hop-Off Bus Tour of Uptown and Downtown New York

Explore the heart of New York City with the City Sightseeing hop-on-hop-off bus tour, covering both Uptown and Downtown areas. Discover iconic landmarks, cultural hotspots, and vibrant neighborhoods at your own pace as you enjoy the flexibility to hop on and off the bus at various stops.
Location: New York City, NY
What to expect: Discover New York City aboard a panoramic City Sightseeing bus with two hop-on-hop-off routes. Uptown explores Central Park, Fifth Avenue, and landmarks like the Metropolitan Museum, while Downtown showcases Rockefeller Plaza, SoHo, Little Italy, and the iconic Empire State Building.
Who's it for?: If your parents have never visited NYC, this tour is the perfect way to ensure that they don't miss out on any attractions of the Big Apple.
Price: $61 per person.
8. History and Haunts Carriage Tour in New Orleans

Embark on an intriguing journey through the mystique of New Orleans with the History and Haunts carriage tour. Explore the city's rich history and captivating tales of the supernatural as you traverse its enchanting streets by carriage.
Location: New Orleans, LA
What to expect: Step into the 19th century aura of New Orleans on a spooky, one-hour nighttime carriage tour through the French Quarter. Listen to licensed guides recount riveting history, eerie ghost stories, and chilling murder tales, including notorious figures like Madame LaLaurie and Marie Laveau, amidst the city's haunting landmarks.
Who's it for?: Are your parents big history buffs with a morbid curiosity for all things spooky? This tour is designed for them!
Price: $50 per person.
9. A Visit to the Oconaluftee Indian Village

Unlock the rich cultural heritage of the Oconaluftee Indian Village with an entrance ticket. Immerse yourself in the world of the Cherokee people as you explore their history, traditions, and craftsmanship in this authentic village setting.
Location: Asheville, NC
What to expect: Experience the 18th Century Cherokee life in the Oconaluftee Indian Village, where lush surroundings and craft demonstrations offer a glimpse into unique traditions. Explore living history displays, enjoy special seasonal shows and traditional Cherokee dancing, and find souvenirs to commemorate your experience.
Who's it for?: People with a fascination for native cultures of America, and want to appreciate it through stories and dances.
Price: $16 per person.
10. Odyssey Brunch Cruise in Washington DC

Indulge in a delightful brunch experience with the Odyssey Brunch Cruise in Washington DC. Cruise along the iconic Potomac River while savoring a delectable brunch menu and taking in the panoramic views of the city's landmarks.
Location: Washington DC
What to expect: Elevate your weekend with the Odyssey Brunch Cruise in DC! Enjoy a narrated Potomac River cruise with stunning landmarks, accompanied by a delectable plated brunch, coffee, tea, and unlimited mimosas. Relish the elegant atmosphere of the glass-enclosed ship, complete with an observation deck, for a delightful 2-hour experience showcasing Washington DC's skyline.
Who's it for?: Everyone who wants to experience a relaxing brunch cruise in the US Capital.
Price: $101 per person.
11. A Self-Guided Tour or Lake Tahoe

Embark on a full-day adventure with a self-guided bike tour of Lake Tahoe. Explore the picturesque landscapes at your own pace, cycling along the lake's scenic routes and enjoying the natural beauty that this stunning area has to offer.
Location: Incline Village, NV
What to expect: Explore Lake Tahoe's North shore with a self-guided bike tour. Hyatt Regency's sports shop staff will assist in bike selection, safety tips, and you'll ride the lakeshore path, including the East Shore Bike Trail, stopping at scenic spots like Sand Harbor State Park, Memorial Beach, and more. Extend your journey to Kings Beach or along the lakeshore boulevard for a fantastic biking experience.
Who's it for?: Parents who want to explore nature independently can join this tour.
Price: $49 per person.
Experience Gift for Parents: Which one will you choose?
Elevate your gift-giving with an Activitygift voucher, a personalized and unforgettable way to create lasting memories for your parents. Customize it with a special photo and message, creating a cherished keepsake that captures the incredible experience you're gifting.
Say goodbye to last-minute gift worries – opt for an eGift or printable PDF voucher, ready in under 5 minutes. Moreover, the options are boundless, spanning 40th birthday celebrations, international adventures, and even romantic couple activities.
With Activitygift vouchers, your parents have a world of choices at their fingertips – go ahead and spoil them, because they truly deserve it.